Archived News
Cherokee to vote on Council term limits
Wednesday, October 27, 2021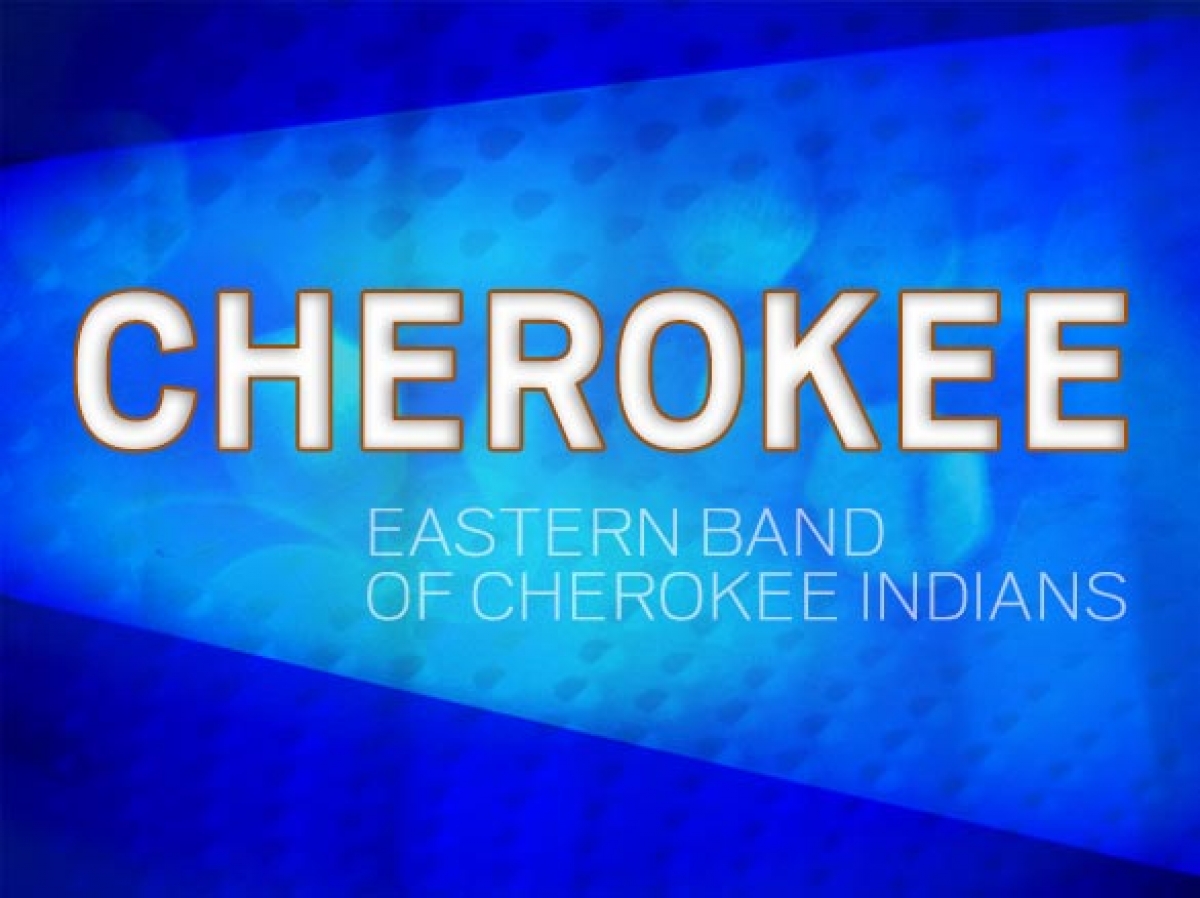 During this month's Annual Council sessions, Tribal Council's structure and compensation loomed large in the discussion — and in the vote.
In sessions held Oct. 11 and Oct. 18, Tribal Council approved a trio of referendum questions aimed at limiting and staggering Tribal Council terms and considered legislation to reapportion the weighted voting system and cut Council pay back to 2020 levels. Though the latter two proposals did not pass, they did elicit robust discussion.
Referendum approved
Currently, Tribal Council members serve two-year terms, with all 12 members up for election in every odd-numbered year. In 2016, Council enacted term limits for the principal chief and vice chief, but not for its own membership — Council members can serve an unlimited number of terms.
Cherokee County/Snowbird voter Robert Jumper — who is also editor of the Cherokee One Feather — brought in a resolution Oct. 11 seeking a referendum vote to change that. Vice Chairman Albert Rose, Big Cove Representative Teresa McCoy and Wolfetown Representative Bo Crowe agreed to co-sponsor it, allowing for the somewhat easier referendum process outlined in the code for referenda submitted by Council members.
"My reason for asking for this vote of the people is that our governing document is no longer sufficient to provide for the civil rights of our people," Jumper wrote in an Oct. 12 letter to tribal leadership. "We have outgrown it and it is important that we begin to make meaningful progress toward replacing it with a more substantive guiding document. And, if that cannot be done through a full replacement with a constitution in the near future, we should not wait to make enhancements to current law to provide those civil rights."
Tribal Council passed Jumper's resolution unanimously. At the ballot box, voters will answer three questions:
• Do you agree to change the terms of office prescribed in the Charter and Governing Document for Tribal Council members from two years to four years?
• If you agree with Question 1, do you agree to amending the law to hold Tribal Council member terms of office to "staggered," with one representative seat from each township being up for election every two years?
• If you agree with Question 1, do you agree to limit the number of consecutive terms a Tribal Council member may serve to two terms?
If voters approve all three questions, each Tribal Council member will be able to serve a maximum of eight years — two consecutive four-year terms — before rotating off the board for at least two years. In the resolution, Jumper writes that the staggered terms would ensure "experienced leadership would continually remain in service for each township" and that limiting the number of consecutive terms would "give opportunity and allow for a fair and equitable way for fresh perspectives to be in elected leadership positions."
The Eastern Band of Cherokee Indians does not have a constitution — rather, it has a Charter and Governing Document that serves as its superseding legal document. For years, a group of tribal members has been working to draft an actual constitution, which would more comprehensively address governmental structure and citizens' rights than does the charter.
Snowbird/Cherokee County Representative Adam Wachacha commended Jumper's submission as a way to begin making some of the necessary changes outlined in the draft constitution in more bite-size pieces.
"I like the approach here because I know when we had the discussion on the constitution, one of the main things that was being pushed back was everything being pushed into one document," he said. "I think this provides the public an opportunity to create an avenue for a smaller leaping-off point," he said.
Other Council members also spoke favorably about the legislation.
"Believe me, you will like going home for a couple, three or four years," said Big Cove Representative Teresa McCoy, who rejoined the horseshoe this month after leaving it in 2017. "You can do so much at home. Thank you so much for this."
"I think it's a good move," added Birdtown Representative Boyd Owl. "Eight years, you can do some tremendous work for the tribe within an eight-year period."
The measure passed unanimously, but Yellowhill Representative T.W. Saunooke cautioned that the tribe is ultimately working with a limited pool of candidates.
"We're not the state of North Carolina, and we're not the federal government," he said. "We don't have millions of people that are eligible to actually run for these capacities. Whenever you start doing the term limits, which I am definitely in agreeance, just know that pool of your candidates is going to dwindle."
One way to further expand that pool, said Jumper, could be to allowing tribal employees' pension to carry on if they're elected to Tribal Council.
"That could be helpful to y'all in gaining additional qualified applicants," he said. "That could be something for you all to consider in the future."
As of press time, a date had not been set for the referendum vote. Because it involves a change to the Charter, passage would require voter turnout of at least 51%, a higher bar than the 30% required for other referendum votes. In the September General Election to select new Tribal Council and School Board members — and participate in an alcohol referendum — only 45.3% of registered voters cast a ballot, and a standalone alcohol referendum in 2018 elicited only a 25.6% turnout. However, in the 2019 election, which included the two chief races, 57.1 percent of voters participated.
The resolution asks that the referenda will be put to the public in 2023, an election year that includes chief's races, offering the best chance of meeting the turnout requirement. While tribal law requires that most referendum votes be held within 90 days of the referendum questions being approved, that time limit does not apply to referenda seeking to change the Charter. No date has yet been set for the vote.
Weighted vote changes voted down
Later in the Oct. 11 session, Yellowhill Representative David Wolfe asked Council to make another significant change to the way it conducts business. His request was voted down with six in favor and six opposed — though the even split translated to a weighted vote of 62-38.
That, said Wolfe, is exactly the problem.
"Us smaller communities, we don't have a chance," he said. "If two larger communities have a will to do something, run this whole tribe, then smaller communities, we're just along for the ride."
Each Tribal Council member's vote is weighted with a value representing the relative population of his or her community, but those weighted values are based on old information. The Charter states that Tribal Council must reapportion weights every 10 years, starting in 1981, based on census data. However, Wolfe said, no census has been conducted since 2001, and the weighted votes have not changed either since that time.
Currently, Wolfetown and Birdtown representatives receive 12 weighted votes, Yellowhill and Big Cove get seven, and Painttown and Snowbird/Cherokee County get six. That means that the four members holding 12 votes need only one other person on the 12-member board to carry a majority.
Wolfe's ordinance proposed changing the weights to 10, eight and seven. Doing so would mean that passing any action would require at least six members to cooperate.
"I'm not trying to take votes away from anybody," said Wolfe. "I'm just trying to represent each and every one of us, whether you live in California, Mississippi, Swimmer Branch or Bunches Creek."
"I understand Wolfe's saying he doesn't want to take numbers away, but that's what you're doing," replied Rose, who holds 12 votes.
All four 12-vote members ultimately voted against the resolution, but it also met opposition from some members who hold fewer votes but want to see a census take place before the weights change.
"I can't pass it until I have actual numbers," said McCoy. "I have to know how many people live in Yellowhill, Big Cove, Painttown, Wolfetown. I just have to know that. Other than that though, I agree with you that the vote in this Council has been so lopsided."
Her fellow Big Cove representative Chairman Richard French joined her in opposing the resolution.
Meanwhile, Snowbird/Cherokee County Representative Adam Wachacha said that, while he agrees a census must be done, adopting the proposed resolution would "provide a push" to move forward with that process.
In fact, Council has already approved funding for a tribal census. In July 2017, Tribal Council voted unanimously to approve Principal Chief Richard Sneed's request for $273,000 to contract with the U.S. Census Bureau to manage the census and pay local workers to carry it out. However, that census was never completed. According to Sneed's office, that's because the tribe's contract with the government required 150 applicants for 35 positions. Only about 30 applied, so the contract was never executed.
During the Oct. 11 discussion, several members voiced the possibility that revised weights based on new census data could have the reverse effect to the one Wolfe intended. Limited housing in other communities means that more and more people are now residing in larger communities like Birdtown — the new weighted votes could skew control of Council even further.
For that reason, other members voiced their support for transitioning from a weighted voting system to a "one man, one vote" system. However, that would be a more complex process requiring a Charter amendment.
"My vote is as important as Bill Taylor's or Boyd Owle's or Albert Rose's or Bo Crowe's," said Painttown Representative Tommye Saunooke, who receives a weighted vote of six. "That's just the way I feel. I think it ought to be one man, one vote. I'd support that in a heartbeat."
Council pay raises will stay
In a walk-in resolution submitted Oct. 18, Crowe sought to walk back the massive pay raises Tribal Council approved for its members in the budget passed last month — but Crowe's measure failed to pass with only four members supporting it.
The pay raises were the result of a broader compensation analysis the tribe commissioned, looking at pay for not only elected officials but also for tribal employees and appointed bodies. The budget included a 5% raise for all employees, followed by further upward adjustments for those who the analysis determined were being paid less than market rate, and then additional changes to address any resulting pay compression issues.
However, it also included a $10,000 bump for freshman Tribal Council members, with a 6% increase for each subsequent term up to a maximum of $157,936 for 10th-term members. The chair receives an additional $15,000 and the vice chair $10,000, with salaries also tied to the Consumer Price Index and adjusted upward for inflation. The pay plan includes a salary of $262,732 for the principal chief and $218,943 for the vice chief.
"It was said that it was across the board, and it wasn't really across the board — tribal employees getting 5% and elected officials, some of them went up 60-some percent," said Crowe. "I just don't agree with that."
Owle, meanwhile, pointed out the demanding nature of the job and the need to make the compensation significant enough to attract people who are likely to serve the tribe well.
"I'm not giving myself a raise, but the people coming in years to come. That's what I'm looking at," he said. "If we get it for the next two years and don't get back in, at least it's set for the future."
If the referendum question seeking limited and longer terms for Council members passes, it could assuage some of the impact of the higher salaries, at least as it relates to the 6% raise per term. With four-year terms and a required two-year break every eight years, the average number of terms served would likely decrease.
The resolution failed to pass, with only Taylor, McCoy, Crowe and T.W. Saunooke voting in favor for a weighted vote of 38-62.