Archived Arts & Entertainment
Cherokee votes no on alcohol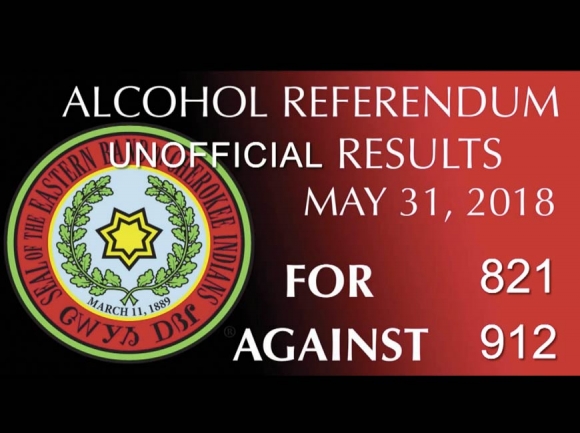 A referendum vote asking Cherokee voters to OK a tribally owned beer, wine and liquor store off casino property failed on two fronts last week — the question received more no votes than yes votes, and turnout fell short of the percentage required to qualify as a valid referendum.
Of 6,779 registered voters, 1,733 voted in the May 31 referendum, a 25.56 percent turnout. Cherokee law requires that at least 30 percent of voters participate to trigger a change in law.
"It's unfortunate that we couldn't get the needed voter turnout to have a valid referendum," said Principal Chief Richard Sneed.
Of those who voted, 52.63 percent voted no to the proposal, which would have allowed the Tribal Alcoholic Beverage Control Board to issue permits so that a tribally owned store could sell beer, wine and liquor on tribal land outside of casino property. The yes vote was 47.37 percent.
Should tribal leaders wish to bring the question before voters again, it will have to wait until after the 2019 elections, in which all 12 Tribal Council seats and the principal chief and vice chief seats will be up for election. That's because Cherokee law states that "An issue that has been brought before the eligible voters and voted upon by referendum/initiative may not be voted upon again until a period of two years has passed." In this case, that would be sometime after May 2020.
Turnout and results varied widely by community, with the referendum question earning a yes vote among Big Y and Birdtown voters, with 50.42 percent and 53.81 percent in favor, respectively. However, in the remaining six communities the answer was no. Big Cove, Cherokee County and Snowbird voters were the most vehemently opposed to the question, with yes votes of 38.34 percent, 35.48 percent and 35.92 percent, respectively. However, turnout in Cherokee County was exceptionally low, with only 7.81 percent of registered voters casting a ballot.
Wolfetown, Painttown and Yellowhill said no by a narrower margin, with 45.85 percent, 49.79 percent and 47.13 percent of voters in favor, respectively.
Turnout tended to be lowest in the communities with the largest proportion of no votes, with Big Cove, Cherokee County and Snowbird all seeing turnout rates below the boundary-wide average. In Big Cove, 24.71 percent of voters cast a ballot, and in Snowbird, 20.72 percent.
On the flip side, the communities that said yes — Big Y and Birdtown — were both above the overall 25.56 percent figure, with 29.53 percent of voters casting a ballot in Big Y and 26.08 percent in Birdtown. Painttown, which was less than a quarter of a percent away from seeing a majority yes vote, had a 28.45 percent turnout, with the community with the next highest yes vote, Yellowhill, seeing a 26.52 percent turnout.
Wolfetown, however, had the highest turnout, at 30.09 percent — its percentage of yes votes was next after Yellowhill, at 45.85 percent.
The discussion that ultimately produced the referendum vote began shortly after the 2017-2019 Tribal Council was sworn in. Councilmember Lisa Taylor, of Painttown, was upset that some restaurants near the Blue Ridge Parkway had been granted alcohol permits as the result of a loophole in a state law. In multiple previous referendum votes, Cherokee voters had voted against allowing alcohol anywhere except casino property, so Taylor wanted a new referendum in order to get rid of the so-called Blue Ridge Law permits. Attorney General Mike McConnell advised Tribal Council that referendum results would not affect those permits. However, the referendum discussion continued on with Council eventually settling on the question voters decided May 31.
"When the people of this tribe speak, this government is supposed to listen," said Taylor. "The results of this recent alcohol referendum couldn't be clearer — the people do not want to expand alcohol outside the casino with the ABC store and I couldn't agree more."
Proponents of the referendum question included Chief Sneed, who said during public discussions on the topic that loosening alcohol laws would prove essential to diversifying Cherokee's economy and boosting tourism. During a May 15 town hall meeting, he said that approving establishment of the single ABC store would be a responsible way for the tribe to "ease into" expanded alcohol sales. Currently, alcohol sales are allowed only on casino property or at one of the restaurants qualifying under the Blue Ridge Law.
"There's a lot of emotion attached to it because of abuse in the past," Sneed said May 15. "It was just trying to take a very leveled and metered approach to moving into it."
Opponents of the measure, meanwhile, often cited the enormous toll that alcohol has taken in the community and said they'd be against any changes that would make it easier to access.
"I don't think it's a good thing at all, because it's too close," said Debra Locust, 53, of Birdtown, when The Smoky Mountain News caught up with her during a series of random interviews with voters last month. "If they have to ride a little further, let them ride a little further. I know it may be big money for the tribe, but we've always voted against stuff like that."
The election was the first one the tribe held since a report investigating the September 2017 elections found evidence of ballot tampering, causing substantial differences between the original machine count of votes and hand recount that took place later. Election Chair Denise Ballard did not respond to multiple requests for comment when contacted before the election about how the recommendations contained in the investigation report had been implemented to ensure security this time around.