Archived News
Designs unveiled for Jackson pool
Wednesday, September 22, 2021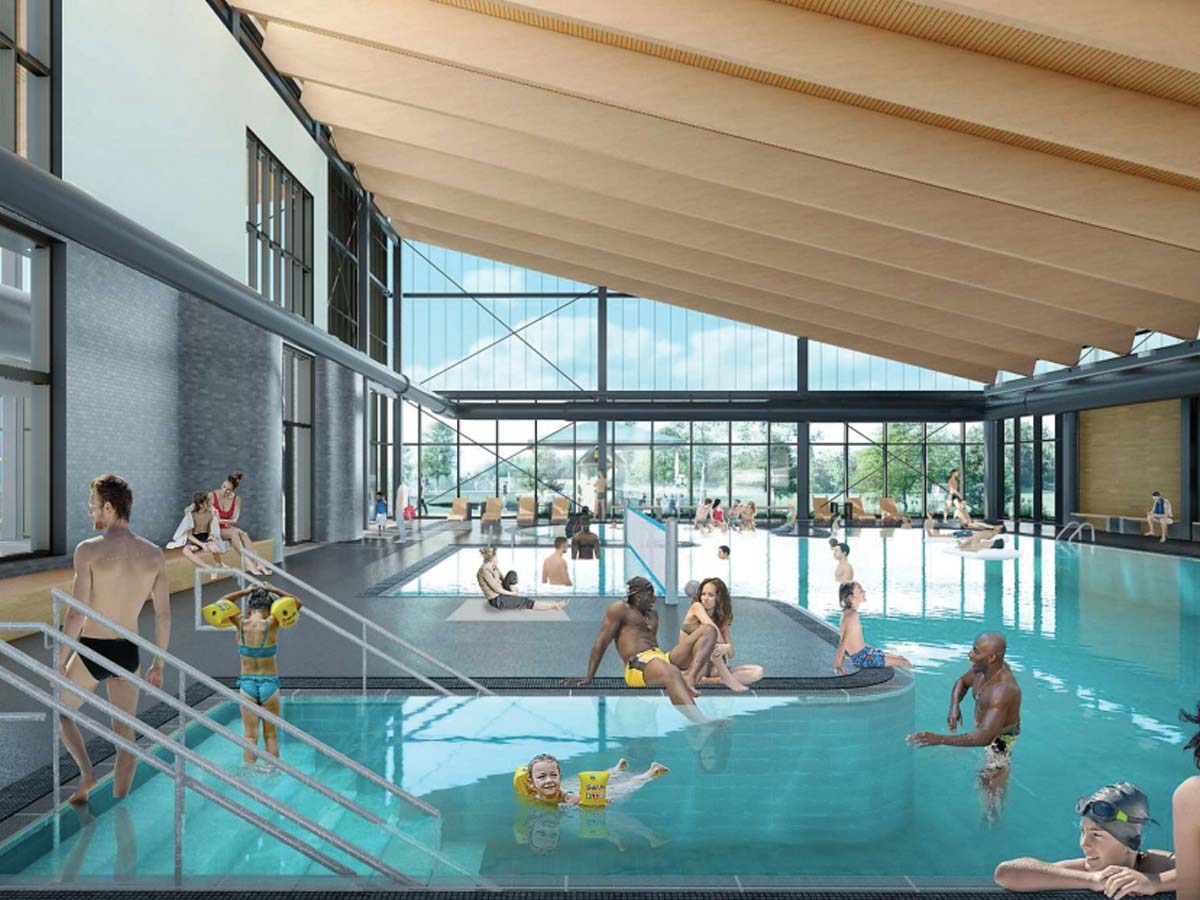 Sunlight and transparency between pool spaces are key to the pool's design. Clark Nexsen rendering
Waves, water and mountain streams will be key design elements at Jackson County's new indoor pool complex, commissioners heard during a Sept. 14 work session with the company carrying out the $20 million project.
"I know this topic has kind of gone off the radar for a few months, but there has been a lot of work that's being done and accomplished," said County Manager Don Adams.
Designs and renderings from Asheville-based Clark Nexsen are now complete, and the next step is to prepare the construction documents that companies will use to bid on the project. If all goes according to schedule, those documents will be complete by April, with the bidding period running from May to June of next year. Construction will start in June or July, wrapping up by the end of 2023 or beginning of 2024.
The 30-minute update Sept. 14 included extensive discussion of the design concepts and building layout , including a 3D tour of the planned 30,800-square-foot complex. The building will be co-located with the existing Cullowhee Recreation Center and will include a new lobby area to serve the entire complex. Walking down the hall from the reception desk, locker rooms will be on the right with pools on the left — first a six-lane competition pool featuring an aquatic climbing wall and then a leisure pool complete with vortex, basketball nets and a splash pad. A pair of party rooms will sit next to the leisure pool.
Clark Nexsen Principal Chad Roberson told commissioners that, after brainstorming concepts with county staff, designers came away with the charge to create a space that would feel dynamic, natural and joyful. From that, they set out to plan the meeting of the two pool spaces to have the "dynamic quality of moving and cresting water," and to wherever possible call up the idea of mountain streams flowing over rocks and through trees. Toward that end, the design incorporates transparent walls and elements of wood and stone.
Jackson County residents had been pushing for years to build an indoor pool, but the project's immense anticipated cost perennially stymied the effort, as multiple boards of commissioners questioned whether voters would still want a pool if building one required a tax increase. In 2020, the board put that very question directly to the voters, who approved a $20 million bond for pool construction with a slim majority of 51.41%.
At the time, the total project was estimated at $19.95 million, with $380,000 in annual operating costs. However, those figures could change due to inflation and ongoing supply chain issues. Typically, said Roberson, costs will escalate 5-8% in any given year, but escalation since last year is at about 25%.
"There's a lot of procurement issues right now. Roofing is very difficult to get a hold of. Single-ply membrane roofing is very difficult to get a hold of," he told commissioners. "A lot of manufacturers are not guaranteeing delivery, and they're not guaranteeing a price until they are able to deliver. Our hope is and the way things seem to be trending is in the springtime it would calm down a little bit."
The $19.95 million estimate was based on a 2020 study Clark Nexsen performed prior to the November vote. But the company will refine that estimate as it finishes the construction document process, providing the county with additional numbers in the spring.