Archived Arts & Entertainment
MerleFest returns, giving up-and-coming acts a huge opportunity
Tuesday, September 21, 2021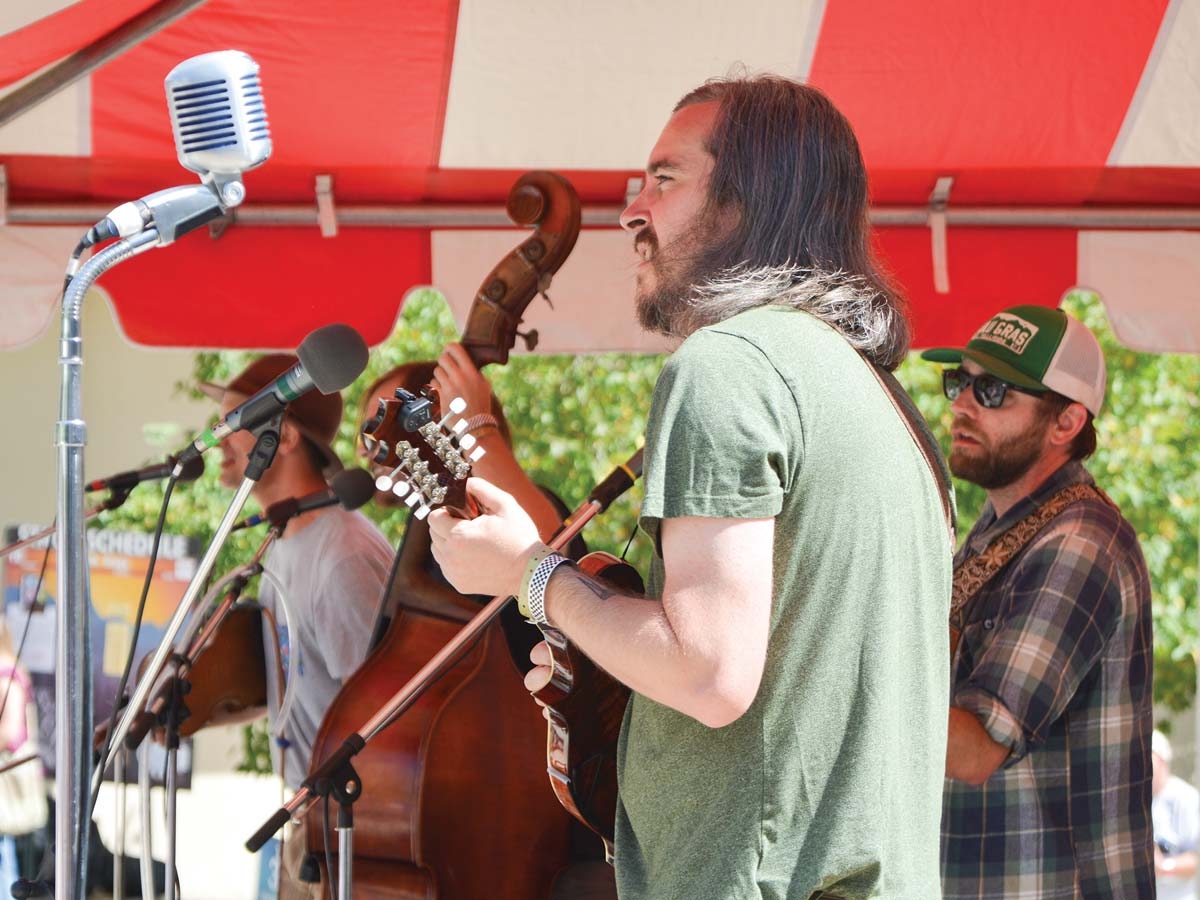 Raleigh-based Into the Fog performs at MerleFest in Wilkesboro Sept. 18. Cory Vaillancourt photos
MerleFest has been the premier "traditional plus" music festival in the country for decades, launching the careers of many well-known American roots musicians. Last year, COVID-19 forced the cancellation of the Wilkesboro, North Carolina, event, disappointing first-time performers — especially smaller regional acts.
This year, many of those performers were glad to be invited back, appearing in a band competition on Sept. 18. Although they were overshadowed by headliners like Sturgill Simpson and Melissa Etheridge, the winner of the competition earns not only bragging rights, but a performance slot for the next day — solidifying MerleFest's role as a proving ground for up-and-coming acts.
It all started in 1988 when Wilkes Community College horticulture professor was looking to build and, most importantly fund, a sensory garden on the campus.
"On the board was a man that happened to know Doc Watson and he said, 'You know I think we could go up and see Doc and see if he'd come down and maybe do a benefit concert to raise money to build these gardens,'" said Festival Director Ted Hagaman.
Born in Deep Gap, North Carolina, Doc Watson is a legendary figure in American music. Watson agreed to perform, on two conditions. The first was that the festival honor Watson's son Merle, who'd recently been killed in an accident, and the second was that Doc could bring his friends.
"The very first festival they brought two tractor trailer flatbed trucks, put them out in the field, and created a stage," Hagaman said. "All the artists that had promised Doc that they would come came, and these are people from the Grand Old Opry like Earl Scruggs and Grandpa Jones and Chet Atkins and just a whole plethora of great musicians, they all came for free."
Now 33 years later, the festival has grown from around 2,000 attendees to as many as 80,000 over four days. But not all of them are there to see headliners like Balsam Range, Mavis Staples and the Tedeschi Trucks Band.
"There are so many wonderful musicians in Western North Carolina, it's a shame they don't get a platform a lot of times to show their talent," Hagaman said. "So we did come up with this about 6 or 8 years ago and said, you know, 'Why don't we do a competition?'"
Since 2015, the competition has showcased regional talent and boosted the careers of winners like Ashley Heath and Her Heathens, and national touring act Fireside Collective.
The competition is invite-only, with festival bookers scouring the scene for bands they think could fit in future MerleFest lineups.
This year's roster included eight bands — Radford, Virginia, string band Gate 10; New River Valley-based Blistered Hearts; Statesville guitarist Eli Yacinthe; Nashville's Hannah Juanita; Boone act Handlebar Betty; Raleigh jamgrass group Into the Fog; Asheville darlings Andrew Scotchie and the River Rats; and Haywood County's own The Maggie Valley Band.
The Maggie Valley Band notched its first MerleFest performance as part of the band competition. Cory Vaillancourt photo
"We got the invite in our email I think in November of 2019 and we just ignored it. OK, I'll say I ignored it since I deal with the emails," said Caroline Miller, who with sister Whitney fronts the Maggie Valley Band. "I ignored it because I thought it was spam."
It wasn't, and two weeks later a follow-up email convinced the sisters, who were ecstatic.
But on Friday, March 13, 2020, just 45 days out, MerleFest 2020 became yet another casualty of the Coronavirus Pandemic. Hagaman said the decision to cancel was heartbreaking, but correct.
"Honestly, when it happened and I found out it was canceled, I cried," Whitney said. "It was like, I know there's bigger things happening right now with the pandemic but I was just like, 'Yeah, wow, we lost this too.'"
Hagaman said MerleFest invited every performer back for 2021. Some weren't able to make it, but most, like TMVB, were.
"Honestly, seeing the talent and seeing the people that we know are here, I'm just overwhelmed and honored to be here, thankful to be here," Caroline said Sept. 17. "Not feeling out of place, but just extremely honored for sure."
Each group of performers was given 15 minutes to perform on the Plaza Stage, under the watchful eyes of three judges — all members of a group called The Local Boys.
"You get such a broad spectrum of types of bands, types of music, you don't know what to expect," said John Aaron, one of the judges. "I hadn't seen any of these bands. I wasn't familiar with any of these bands before and I hadn't researched any of them. Sometimes I do research. This year, I chose not to. I thought, I'm going to come in cold and let them surprise me and I'll find out when I see them."
The competition was hosted by beloved Western North Carolina singer/songwriter Mark Bumgarner.
"I see every year it getting stronger across the board. We've always had strong acts, but this year it seems like they all just really brought their own element," Bumgarner said. "We had a great variety of music, a lot of incredible musicianship, a lot of really good, tight bands, band interaction and band identity."
At the conclusion of the competition judges deliberated for several minutes, pouring over scorecards that rated the groups on stage presence, material selection, musicianship, flow of the show and time management.
In the end, it was Into the Fog that took home top honors — and the coveted performance slot.
"We just love playing music," said Winston Mitchell, mandolinist. "Hopefully playing bigger stages, getting our music out to more people and, just doing what we love. But I just want to say real quick we as a band really hate to think of music as a competition, so it's really hard to feel like we won a trophy or something like that. There's some amazing bands that played and and we're super fortunate to have won."