Archived News
What's new in downtown Sylva?
Wednesday, September 08, 2021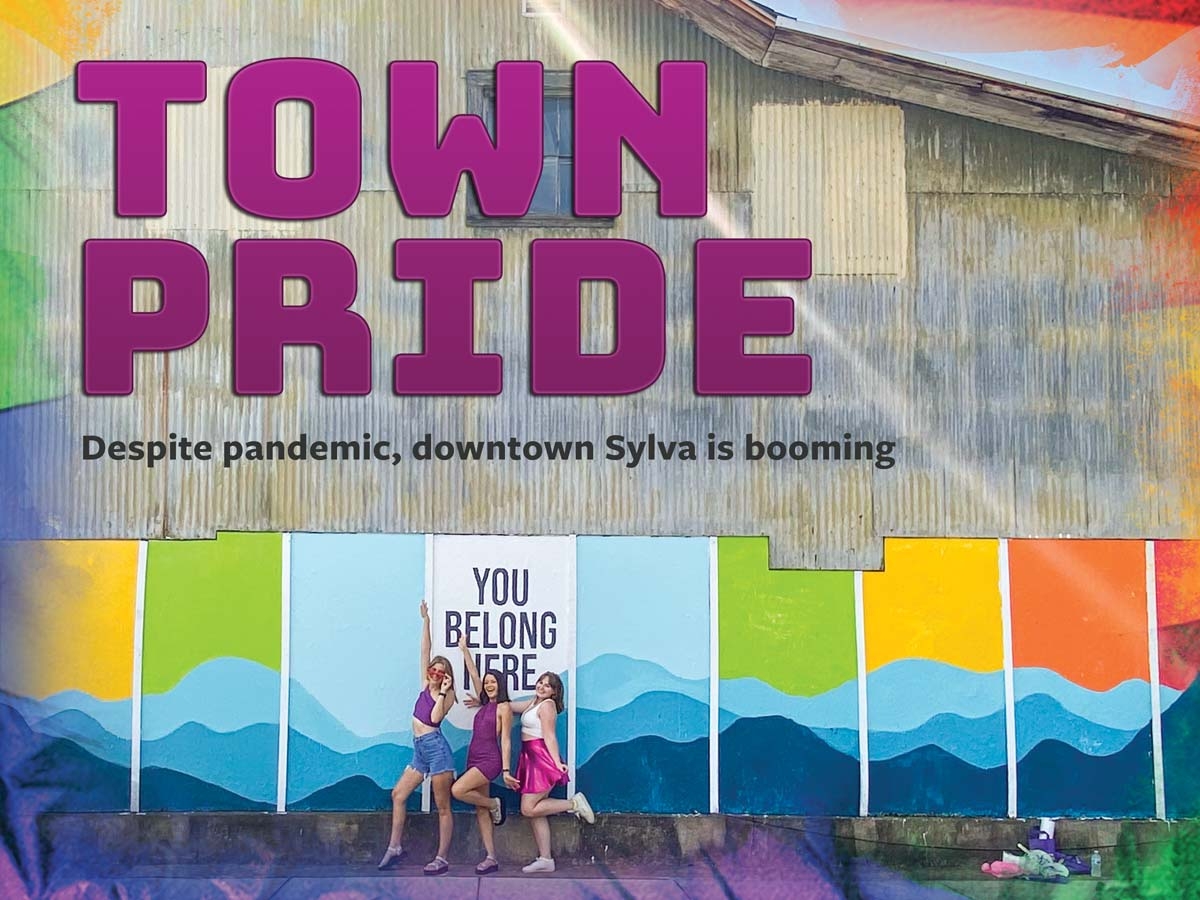 WCU students Kinley Cook, Laila Figaroa and Megan Gorman stand in front of Sylva's new mural by Worth LaRose. Hannah McLeod photo
Like the rest of the world, Sylva has had to grapple with the ongoing Coronavirus Pandemic and the ensuing economic fallout. However, Sylva not only maintained a healthy, downtown business district, it has added new businesses and new elements to the downtown scene throughout the course of the pandemic.
"We knew opening a business during a pandemic was a risk, but we also knew people need community, connectivity, movement and expression," said Crystal Snover, co-owner of Studio 505. Snover and Taisir El-Souessi opened Studio 505 in October 2020.
According to town records, since January 2020, at least 35 new businesses have opened in Sylva. Those openings occurred across 14 months, and the new businesses provide a spectrum of services in Sylva which is now home to a host of new, independently-owned restaurants.
SEE ALSO: Labor shortage will be focus for Sylva's new downtown director
Ilda , at the confluence of Main and Mill streets, combines fine Italian food and fresh Appalachian ingredients. Owners Crystal Pace and Santiago Guzzetti moved to Sylva from Brooklyn to open the restaurant.
Lucy in the Rye, owned by Constantinos Mitsides, serves breakfast and lunch, offering diner classics as well as chef creations. Mitsides also owns The Yoga Mill, housed just above the restaurant. Both businesses opened in October 2020.
Jame , a Mediterranean style restaurant, was opened by Don Panicko and Cecilia White in April. Panicko and White also own White Moon coffee shop and Dark Moon cocktail bar. While Jame is open for dinner, The Market at Jame is open each day 11 a.m. to 5 p.m. offering ready-made salads, sandwiches and other lunches, as well as grocery items. The market also has an outdoor patio for customers to enjoy their food.
Everything Bagel opened in September 2020. Jessica DuBoise owns this breakfast and lunch spot which offers New York bagels, sandwiches, salads, coffee and pastries.
A Shot Above photo
Arts & Culture
Visitors to Sylva may have noticed a new mural on Mill Street. The side of Dixie Mae, an antique store, is now adorned with panels painted the colors of the rainbow and a soft, sloping mountain range. In the middle are the words "You Belong Here."
Economic Development Director Bernadette Peters and Sylva Pride founder Travis Rountree coordinated with the owners of the building in the effort to get the mural done. Artist Worth LaRose and her wife Sarah LaRose collaborated on the design and creation of the mural.
SEE ALSO: Sylva shows community 'Pride'
"We felt the need to include mountains because, obviously, we're in Appalachia and then the phrase 'You belong here.' That's a pretty common phrase that you'll see in different areas to demonstrate inclusivity and belonging. So it's for LGBTQ folks, but it's also for people of different races, people with different genders, all of those types of things," said Rountree.
Sylva celebrated its inaugural Pride Celebration Saturday, Sept. 4, complete with live music, a parade and a family-friendly drag show. Over 500 people attended the festivities in celebration and support. Several businesses around Sylva decorated doors and windows for the event and some restaurants even had specials themed for Pride.
Rountree has plans for an annual pride event in the years to come, as well as educational and entertainment LGBTQ opportunities for Jackson County.
Homegrown business
Among the other 35 new businesses in Sylva are Studio 505, The Blue Hippie, Lola's Gifts, Blue Ridge Forage, Salon 1718, Pinnacle Relief and Snake Song Plant Apothecary, providing culinary and medicinal herbs, plants, pottery and flowers.
"Owning a business in Sylva is amazing," said Snover. "We love our local community. At Studio 505, we offer group classes as well as individual lessons and the studio is also available as a private rental space. So, the nature of our vision is community."
SEE ALSO: Sylva wraps up summer festival season
The Jackson Arts Market continues to offer a space for businesses outside the confines of a brick and mortar storefront. The market takes place every Saturday and Sunday from 1 to 5 p.m. with a host of local vendors, craft makers and musicians. That's where Blue Ridge Forage, established in February of this year, sells its wares, in addition to farmers markets in the region. Owned by Chloe Burnette-Turner, Blue Ridge Forage offers Appalachian-foraged edible and medicinal herbs and mushrooms.
Organizations such as the Jackson Arts Market, Sylva Pride, Jackson County Farmers Market and Concerts on the Creek demonstrate a community interested in not only attracting visitors, but also in creating a sustainable, quality experience for its residents.
Leave a comment
1

comment
I'm not sure what's going on in Sylva but it seems that the queers are invading from Asheville.

Friday, 09/10/2021