Archived Arts & Entertainment
Cosmopolitan country: Sylva restaurant combines fine Italian, Appalachian culinary delights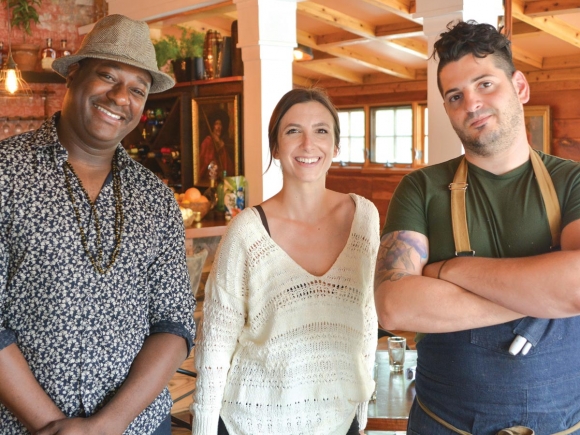 Antoine Maurice Hodge, (from left) Crystal Pace and Santiago Guzzetti. Pace and Guzzetti own/operate the establishment, with Hodge the bar director. (photos: Garret K. Woodward)
For several years, the small building at the corner of Main and Mill streets in downtown Sylva has sat dormant. Once the beloved Meatballs restaurant (from 1983-2000), the structure has gone through numerous reincarnations, only to once again remain silent — a space of potential and promise awaiting its next chapter.
"A few years ago, we were trying to open our own restaurant in Brooklyn," said Santiago Guzzetti. "At that time, the three of us were working at a place in Brooklyn. Crystal [Pace] was the lead server, I was the sous chef, and Antoine [Maurice Hodge] was the bar director. But, we couldn't make it happen — the timing wasn't right."
On a recent afternoon, Guzzetti leans back into a seat in the middle of Ilda, a culinary destination at the intersection of not only Main and Mill streets, but also fine Italian fare and the freshest seasonal ingredients from Western North Carolina.
With a slight grin, Guzzetti retells the long, whirlwind path to the here and now, the countless steps taken by himself, his wife, Crystal, and their good friend, Antoine, that ultimately led the trio to Sylva and greater Jackson County.
Opened this spring, Ilda has become the latest culinary sensation to put down roots in a small mountain community quickly becoming a foodie hub in Southern Appalachia.
"There's a lot of space to grow in a town like Sylva, and this area is so rich in food and culture," Pace said. "And, for me, I've just wanted to be part of all of that again — I always wanted to come home."
Born and raised in Jackson County, Pace is the daughter of famed local stained-glass artist, Bob Pace, and stepdaughter of Karen Martar, who owned and operated Meatballs. For Crystal, it's a full circle kind of thing to inhabit the exact property she grew up in, helping her stepmom serve food and bus tables.
Originally from Argentina, Guzzetti learned how to cook and create recipes from his Sicilian grandmother. After bouncing between world-class establishments in his native country and Spain, he eventually landed in New York City, ultimately crossing paths with Pace and Hodge amid his culinary travels.
"Santiago and I came down here to visit my family in 2019 and started kicking around the idea of opening a restaurant in Sylva. After we had our son, we wanted to raise him in the mountains like I was," Pace said. "And this building was available to renovate back into a restaurant. So, everything kind of clicked and started to fall into place after that."
The buildout of Ilda was expected to finish by Spring 2020. But, with the pandemic and shutdown, a temporary wrench was thrown into the couple's plans. And yet, it didn't stop them.
Instead, while awaiting the right moment to launch Ilda, they went next door and befriended the fine folks at The Wine Bar & Cellar. Pace and Guzzetti began serving up small plates of handmade dishes, all to complement the bottles of wine being paired with the meals.
And as the shutdown of 2020 continued, Hodge, hovering up in New York City, kept seeing how busy The Wine Bar & Cellar was through Pace's Instagram. With the entire culinary industry of The Big Apple closed until further notice, Hodge, a nationally renowned mixologist, reached out to Pace about possibly finding some work opportunities in Sylva.
"My lease was up in New York in December [2020], they were looking for help down here, and it seemed like the perfect time for me to go and do something. All of these signs made sense — I needed to be here," Hodge smiled. "I'm inspired by everything and I document everything. I'm always trying new mixtures and ways of approaching classic cocktails. It's just like with certain chefs, where you go to see the beauty of the plates and experience the delicious food, but with beverages."
With the impending dinner crowd trickling in, Pace, Guzzetti and Hodge get up from the small table and head for their respective stations at Ilda. Smiles and joyous curiosity reciprocated by both sides of the conversation. The kitchen is in full swing and the bar is buzzing — just another night of culinary magic emerging from the corner of Main and Mill.
"We want to see Sylva grow and grow. We want people to appreciate food for the artisan craft that it is, and share our passion for food with others," Pace said. "There are so many great things happening in this community, and we hope to be part of that."
Want to go?
A blend of Italian and Appalachian fare, Ilda is located at 462 West Main Street in Sylva. Hours are 5 to 10 p.m. Tuesday-Thursday, noon to 10 p.m. Saturday and noon to 9 p.m. Sunday. www.ildainsylva.com or 828.307.2036.