Archived News
Jam on: Hillbilly Jam returns to Maggie Valley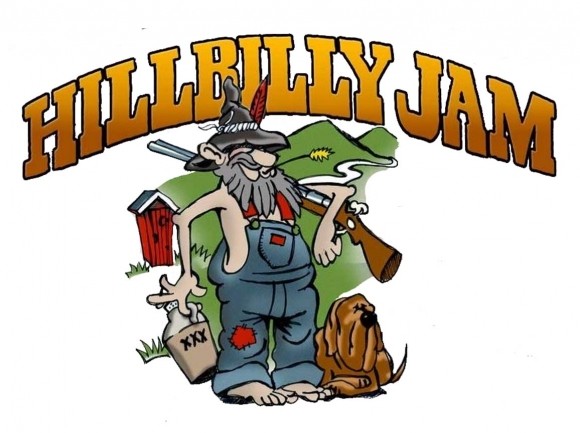 If you think it's hard to sum up what, exactly, Hillbilly Jam is, you're not alone.
"Hillbilly Jam is a place where you can come, everybody meets everybody, and when they leave, we're all family," said Becky Ramey, the driving force behind the popular annual event. "We have a car and a bike show, we have the Hatfields and the McCoys in a tug-of-war, we have 14 bands, we have vendors, we have food, and we have a ball."
More than just a festival, Hillbilly Jam takes over Maggie Valley twice a year — once in summer, and once in winter — and represents a celebration of "hillbilly" culture. On the two main festival days, the Wade L. Reece Memorial Stage will be packed morning, noon and night with performers like local favorites Mile High Band , up-and-comer Tricia Ann Pearl and Warner-Chappell Music Nashville recording artist (and Weaverville native) Joe Lasher Jr.
But no self-respecting hillbilly celebration would be complete without acknowledging the ancient art of moonshining, and the contributions that illicit white corn liquor has made to the cultural identity of Maggie Valley and Western North Carolina. Well-known television moonshiners Roy Grooms, Mark and Digger, Chico, Mark Rogers, Garmer and Butch are all scheduled to appear.
Indeed, the festival has its roots in the name of one of the world's most iconic shiners, Maggie Valley native Marvin " Popcorn" Sutton . Hillbilly Jam was originally known as the Popcorn Sutton Jam, until a falling out with the late Sutton's family forced Ramey to find a different name. She settled on Hillbilly Woodstock, which quickly earned the festival a letter from a New York law firm representing the owners of the 1969 Woodstock Music Festival, who claimed trademark infringement.
Finally settling in on the name "Hillbilly Jam," the festival has retained its outlaw character throughout those early speedbumps, and draws attendees who rush to fill Maggie Valley's restaurants, hotel rooms, gift shops, taverns and cash registers, year after year.
Terry Frady, Ramey's partner and partner in crime, said he's met people from across the country at Hillbilly Jam.
"People from 23 states come to Maggie Valley for the summer Jam," Frady said. "We marked the board last year, and we had people from Oklahoma, California, Texas. We're bringing all those people into Maggie Valley."
Before the party starts, Jammers will meet at the relatively new Valley Tavern, located inside the Smoky Falls Lodge, on Thursday at 2 p.m. and receive a police escort to the Maggie Valley Nursing and Rehabilitation home. There, they'll lift the spirits of residents with hot cars and cool gifts, like books and candy.
This year's jam kicks off at 6 p.m. on Thursday with a free pre-party at the Valley Tavern, featuring a performance by Ricky Gunter Band. From there, the merriment moves to the spacious Maggie Valley Festival Grounds for two more days of revelry and winds up on Sunday as any celebration of hillbilly culture should — with old-time Gospel singing on Sunday morning.
A scaled-down indoor version of the summer Jam, still based mostly around live music, will take place from Feb. 23-26, 2022.
"The reason we started that one is that Terry and I, we're so busy during the summer Jam that we wanted to be able to meet all the people that come and be able to enjoy them," Ramey said. "We just can't do that at the summer Jam."
Hillbilly Jam 2021 schedule of events
The 12th annual Hillbilly Jam will take place in and around Maggie Valley from Thursday, July 22, through Sunday, July 25.
Featuring live music, comedy, crafts, television moonshiners and a car and bike show, the festival runs from 10 a.m. to 10 p.m. (or so) on Friday and Saturday. Tickets are $10 per day. Children ages 10 and under are free.
For more information, visit www.thehillbillyjam.com.
Thursday, July 22 – Valley Tavern, 1550 Soco Rd., Maggie Valley
• 6 p.m. pre-party featuring Ricky Gunter Band. No cover.
Friday, July 23 – Maggie Valley Festival Grounds, 3374 Soco Rd., Maggie Valley
• 10 a.m. to 4 p.m. 8th annual Hillbilly Show & Shine car and bike show
• 2:30 to 4 p.m. Wayne Buckner & the Shooting Creek Band
• 4:15 to 5:45 p.m. Mile High Band
• 6 to 7:30 Ricky Gunter Band
• 7:45 to 9:15 Ryan Perry Band
• 9:30 to 11 p.m. Crocodile Smile
Saturday, July 24 – Maggie Valley Festival Grounds, 3374 Soco Rd., Maggie Valley
• 9 a.m. to 5 p.m. 8th annual Hillbilly Show & Shine car show
• 11 a.m. to 12:30 p.m. Jon Cox Band
• 12:45 to 2:15 p.m. Ali Randolph
• 2:30 to 4 p.m. Tricia Ann & the Wolfpack
• 4 to 6 p.m. Hatfields vs. McCoys tug-of-war, car and bike show awards
• 6 to 7:30 p.m. Kaitlyn Baker
• 7:45 to 9:15 p.m. Dirty Grass Soul
• 9:30 p.m. Joe Lasher Jr.
Sunday, July 25
• 10 a.m. Old-time Gospel singing. No cover.