Archived News
Hillbilly Jammers get high on the mountain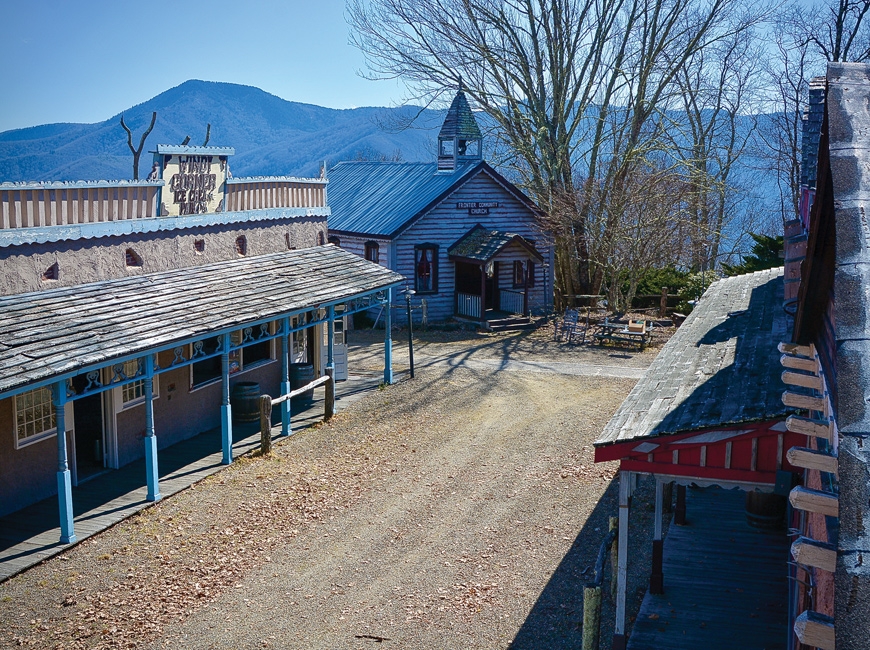 Although weathered, Ghost Town's main street still retains much of its character. Cory Vaillancourt photo
Attendees of this year's Hillbilly Winter Jam kicked off the annual fest with a special treat — a private visit to a cherished remnant of Maggie Valley culture.
"Everyone I talk to wants to come and see this place. Everybody," said Becky Ramey, Hillbilly Jam organizer, of the long-closed Ghost Town in the Sky amusement park.
On Feb. 24, Ramey and co-organizer Terry Frady led a small group of almost 50 people to the top of Buck Mountain, among them, a number of personalities from the Discovery Channel series, "Moonshiners."
"A lot of my moonshiners said that they had never been since they were children, and so when I took it on myself to call each and every one of them and invite them, it was unbelievable how happy they were," Ramey said.
Finding an exciting destination has become somewhat of a tradition for the Hillbilly Jam, which began 12 years ago as a summer event.
"Each year during Hillbilly Jam, Terry and I, we try to find something different for the moonshiners to help them enjoy Maggie Valley," Ramey said. "Last year, we took them to the site where Popcorn Sutton made his moonshine — the real site — and they loved that."
For the past five years, Hillbilly Jam has added a winter weekend event as well.
"Terry and I are so busy during the summer jam that we wanted to be able to meet all the people that come and be able to enjoy it with them. And we can't do that at the summer jam," she said. "We're just too busy."
The visit to Ghost Town gave Ramey and Frady the chance to visit with old friends, in a setting where many of them had long ago made memories of a lifetime. Others in attendance haven't been around as long as Ramey and Frady, but still had the chance to hold enduring recollections of the once-bustling Maggie Valley landmark.
"I was born and raised here. I've never lived anywhere else. And I don't really want to," said Maggie Valley recording artist Tricia Ann Pearl. "When I was younger, I was up here like every weekend. It was a really fun experience. I remember running around and thinking it was so cool, just because all the gunfighters knew who the curly-headed little girl was running around every weekend. And I always enjoyed watching the gunfights and the saloon dances and everything. It was really, it was unique."
Pearl has since recorded a music video at the park for a song called "Home," upon which she collaborated with Canton singer/songwriter Keil Nathan Smith.
"It's about Ghost Town. It talks about Cataloochee and [Maggie Valley banjo legend] Raymond Fairchild and the moonshiners," she said. "It's a really cool song."
Pearl, now backed by a band and billed as Tricia Ann and the Wolfpack, expects to record a new album soon, and thinks the legacy of Ghost Town is something she'll address again, in song.
"You know, people think Disney World is magical in its own way," she said. "It's got that magic to it, and I feel like Ghost Town is that for Maggie Valley."
The next Hillbilly Jam is slated for July 22-24, at the Maggie Valley Fairgrounds.