Archived News
Harrah's chips away at job vacancies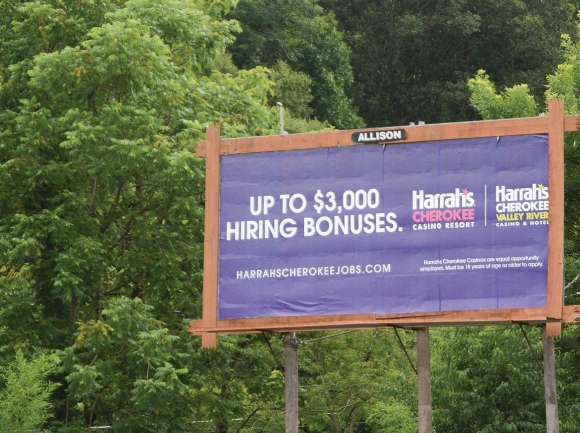 Billboard signs all along U.S. 74, like this one just outside of Waynesville, advertise Harrah's financial incentives for new hires. Holly Kays photo
Now carrying double the vacancies it had in the summer of 2019, Harrah's Cherokee Casinos is feeling the effects of a labor shortage that's challenging businesses nationwide — but the situation has improved significantly in recent months.
"We have openings across the board for sure, but we see challenges with housekeepers, security officers, stewarding, cleaning specialists, those front-of-house positions that have a very big job in front of them, keeping our facility clean and sanitized," said Regional Vice President of Human Resources Leeann Bridges .
Harrah's currently has more than 600 open positions, and while about 100 are related to an expansion to the Cherokee facility set to open this fall, there are about 400 open positions for existing operations in Cherokee and 140 at the Valley River Casino & Hotel in Murphy. During the summer of 2019, Cherokee carried about 200 open positions and Valley River had 60-70 — about half the current number.
To make up for the dearth of employees, some departments are working six days per week — especially during holidays — and Harrah's is trying to schedule part-time staff for as many hours as they can while still classifying them as part-time.
"With our outlets and such we are able to run on a regular schedule," Bridges said. "With our restaurants we did have to pull back a little bit initially going into Memorial Day, but we've been able to open those back up to what we would typically have."
In April and May, said Bridges, more than 700 positions were open in Cherokee and 170 in Valley River. While the Cherokee positions did include some recruiting for the expansion, the casino is actually hiring more expansion-related positions now than it was then. In the spring, Harrah's was mainly hiring for managerial positions, while it's now looking for more front-of-house workers.
In May, Harrah's announced a pair of new hiring policies designed to help with the recruitment problem. It raised wages for all positions and boosted the starting pay rate for non-tipped positions to $15 per hour. In addition, Harrah's began offering hiring bonuses ranging from $500 to $3,000.
"We're slowly seeing the positive results of those initiatives, and I think it's going to take us a little bit longer to get to where we need to be than in years past," said Bridges.
The labor shortage is a problem industry-wide , and there are multiple reasons for it, she said.
"The easy answer, maybe the most obvious is the unemployment supplement," she said. "Is that impacting? Yes, absolutely it is impacting, but we are seeing a lot of people who have simply chosen to switch careers. COVID certainly put a spin on the whole work-life balance, and I think that people have responded to that in some cases. I think that we have folks who are still nervous about being in a guest-facing, highly public, lots of volume (position). So, I really do feel it's a combination of many different things."
It will take more than just better pay to fill all those positions, she said. The world has changed, and casino leadership must be willing to think out of the box and consider "what can we do to make working here more flexible and more available to folks."
The casino's ability to successfully meet that challenge will have significant consequences for both the tribe that owns it and the region as a whole. Casino revenues make up about half the tribal budget and pay out thousands of dollars each year in per capita checks to tribal members. The casino's economic ripple effects are huge, and the business employs about 5% of workers in the far-western counties.
After the expansion in Cherokee opens this fall, the casino will turn its attention to Murphy. Tribal Council just approved a $275 million master plan to expand that facility, so the need for workers is likely only to increase as time goes on.