Archived News
Labor shortage hits WNC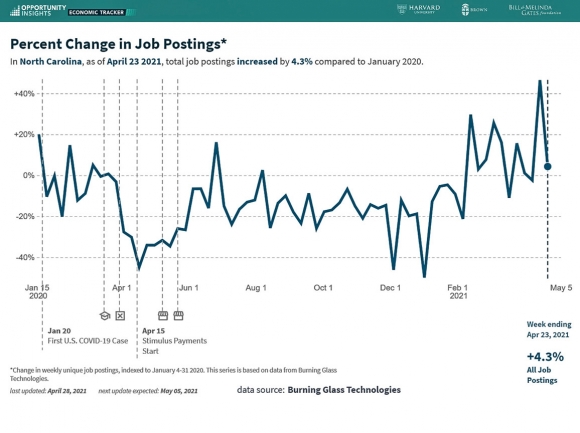 "Were there any cars in the parking lot when you got here?" Lisa Morris asked.
She already knew the answer. It was 10 a.m. on a Thursday and the NCWorks Career Center parking lot in Waynesville was deserted except for staff vehicles.
"When we had to close the office in March, everything was in full force. The phones were ringing off the hook and cars and people were coming to us for help," she recalled. "It was crazy."
As the director of the NCWorks Center, Morris prepared her staff to return to the office after being closed for months during the height of the COVID-19 pandemic. She said she felt like she was preparing for Black Friday, thinking they'd be bombarded with folks needing help finding a job. She and the staff were ready, but the people never came calling.
"We are still doing virtual appointments for re-employment, but traffic is down," she said, letting out a sigh.
Morris supplied The Smoky Mountain News with the lengthy article she's been reading entitled "The Demographic Drought — How the approaching sansdemic will transform the labor market for the rest of our lives."
The report by Emsi, a leading provider of labor market data to economic development professionals, gives some advice on how leaders should respond to the "vanishing workforce." The shortage of workers was evident before the pandemic, but 2020 accelerated the problem and now the nation must adjust.
According to the U.S. Department of Labor, four million Americans quit their jobs in April, the most on record since the government started recording labor turnover in 2000. Reasons cited were looking for better pay, wanting to continue working from home and some realized how dissatisfied and burned out they were with their job.
"I speak with leaders of big companies every day, and this issue is on their minds. In fact, at company after company I've heard the same thing: we need to rethink our entire strategy because we simply cannot find the people and skills we need," wrote Global Industry Analyst Josh Bersin.
Many political pundits have claimed the stimulus funding and $300 a week in federal unemployment benefits that continue to be paid out during the pandemic in North Carolina is what's keeping people from returning to work. That's not what Morris knows to be true.
"If every person cycled off of unemployment right now, we'd still be in a labor shortage," she said. "We're still in a labor shortage because our Baby Boomers all retired out of the system and anyone that was able to retire during the pandemic, did retire. Women have left the workforce because they've had to homeschool this past year and because of the childcare situation. And so, so many millions of women had to leave the workforce. So, unemployment is a very small slice of the pie."
There has been a mass exodus of Baby Boomers leaving the workforce — the number of Baby Boomer retirees increased by over one million in 2020. To make matters worse, the children and grandchildren of the Baby Boomer generation are not replacing the boomers quickly enough in the workforce — thousands of them opting out of looking for work — leading to a record-low labor force participation rate.
Lastly, the U.S. is experiencing the lowest birth rates in its history. The national birth rate hit a 35-year low in 2019 and the size of the working-age population has been shrinking since 2008, according to the data.
The pandemic had a major impact on women in the workforce. Just before the pandemic hit the U.S., Labor Department data showed that women outnumbered men in the paid workforce, but that changed quickly when childcare centers were shut down last spring. According to Emsi, 2.4 million women left the workforce from February 2020 to February 2021.
Now that childcare centers are back in full operation and the federal government is rolling out childcare income tax credits for families, women are starting to return to work. According to the U.S. Jobs Report, women gained 56 percent of the jobs in May 2021, that's a gain of 314,000 jobs, but still nowhere near a full recovery.
While the job seekers walking through the door at NCWorks are few and far between, Morris has been mainly focused on helping employers find people to fill vacancies — and it hasn't been easy.
During the last hiring event held in April, Morris said NCWorks had 20 employers needing to fill various positions and only 27 applicants showed up looking for a job.
While she doesn't know anybody that isn't hiring right now in Haywood County, Morris said much of their work lately has been trying to find employees for the major manufacturers in Haywood County, including Evergreen Packaging in Canton, Giles Chemical in Waynesville, Sonoco in Waynesville and ConMet in Canton.
Employers are having to work harder to find employees and are offering incentives like Morris has never seen done before around the region. She said most employers have had to increase their starting pay while several major employers have increased starting pay by several dollars an hour plus offering a sign-on bonus and other benefits they didn't offer before.
"If you will just come to work, they're offering sign-on bonuses that I've not seen in the past — and I've been here a long time," she said.
While places like Evergreen and Giles Chemical may still be offering starting pays of $15.50 an hour, Morris said jobseekers should keep in mind that these companies also have plenty of opportunities for advancement after the 60-day probationary period. Through incremental raises and promotions, she said local folks can make a good living in manufacturing.
"We're trying to fill 30 spots at Evergreen right now," she said. "I'm also struggling with nurses and everything else in the medical field. Also, I think we can all see the restaurant world has been hit the hardest because they were closed and now they're trying to get back to full capacity, but also grocery stores, stocking jobs — the essential jobs — have been hit hard."
The NCWorks Center is also there to help other businesses as well, including restaurants, retailers, hotels/motels and many more. Businesses are also making more concessions than they usually would when it comes to their hiring processes.
"We have employers that may not have hired someone with a blemish in their background now saying they'll hire someone with a blemish — a criminal record," Morris said. "Employers should know there are certain tax breaks for hiring people with a criminal record. We held an expungement clinic back in April so we're working with that population as much as we can to get them back to work."
She said some large retailers are now embracing the idea of "come to work as you are," which means they're hiring people with brightly colored hair, tattoos and piercings. Jobseekers with tattoos and facial piercings have typically had a harder time finding work because of strict appearance policies.
As of last week, NCWorks had about 300 job openings posted for Haywood County. If you type in the Waynesville zip code into the search bar, more than 10,000 positions in the region pop up.
"This isn't a Haywood County problem — it's a statewide problem, it's a national problem," Morris said. "We're trying so hard to meet the demands and we're just in a labor shortage."
On the jobseeker side of things, Morris said it's a great time to find a job or to find a better job.
Many Haywood County residents still drive to Buncombe County or beyond for work because the pay has typically been better closer to Asheville, but Morris said it's a good time for people to look to see what might be closer to home for the same amount or more money.
"I think a lot of people are always looking for something better without the drive to Asheville," she said.
Jobseekers still need assistance when it comes to navigating the NCWorks system online to apply for jobs. NCWorks staff is available to help people look for jobs, create a resume and cover letter, build basic computer skills, navigate the online unemployment claim system and more. The office has free Wi-Fi that can be accessed from the parking lot even when the office isn't open. During business hours, job seekers can use the computers for free.
"Those that can help themselves, they're at home helping themselves, but we're seeing older people that are having a hard time navigating the unemployment side of things," she said. "But things have changed in recent years, so if you haven't looked for a job in more than five years, it can be frustrating. We understand and we're empathetic. That's what we're here for and we want to help."
NCWorks is also expanding its community outreach to work more closely with Haywood Pathways Center as those residents are ready to get back into the workforce. Staff will also have a presence at the public libraries where jobseekers typically use the computers and free Wi-Fi to search for work.
"I think that people will begin cycling off of unemployment and we're going to see an uptick of people starting to come in to see us in September. Sept. 4 is the last day that the extension money is going to be out there," she said.
NCWorks has a number of programs to help people get back to work — programs to help veterans find employment, programs for participating employers to find workers, and much more. The Workforce Innovation Opportunities funding allows the NC Works Center to help pay for tuition and books for people wanting to earn their degree if they meet the low-income requirements.
For more information and job resources, visit ncworks.gov.