Archived News
Former linebacker Gash looks to sack Cawthorn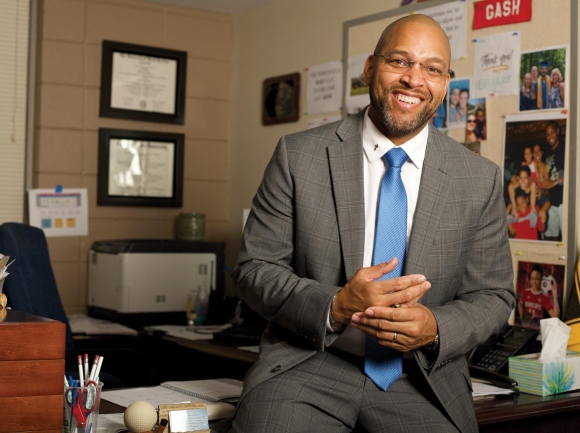 Henderson County educator Eric Gash is the latest candidate to announce an NC11 bid. Donated photo
Right now, life seems to be about full-circle moments for Henderson County native Eric Gash, who describes himself as "a son of the soil."
A married father of three, Gash has been a pastor for 15 years, is a volunteer chaplain at the Hendersonville Police Department, a rescue scuba diver and recently became the principal of the elementary school he once attended.
"Yeah, it's almost like a dream come true. I remember, very vaguely, walking the halls of Bruce Drysdale Elementary," Gash said. "Of course, things have changed. It's been remodeled and certain facilities have been added, but yeah, it's kinda surreal walking through those halls, knowing that 45 years ago I was walking the same halls, only a little bit shorter."
The June 1 entry of Gash into the 2022 Democratic Primary Election as a candidate for the 11th Congressional District seat currently held by Republican Rep. Madison Cawthorn presents the possibility of another full-circle moment for Gash — from following in the leadership of his coaches, his teachers and his mother to potentially representing them in the U.S. House.
"I'm trying to do the best I can to be a blessing to the community that was so great and gracious to me and my family growing up," Gash said.
Gash joins what's already become a crowded primary field, with fellow Democrats like Buncombe Commissioner Jasmine Beach-Ferrara, Mills River veteran Josh Remillard, Asheville social worker Bo Hess, Bronze Star recipient Jay Carey and small business owner Katie Dean launching their own campaigns in the first six months of Cawthorn's term. Wendy Nevarez, an Asheville Republican, has also entered the field.
All of them will have an uphill battle against the freshman Cawthorn; a recent internal poll suggests Cawthorn's Republican constituents are pleased with his service thus far, and his heavily Republican district isn't likely to change much after redistricting takes place this year.
The Smoky Mountain News: The other day on Twitter you said something like "I'm an elementary school principal and if Madison Cawthorn was my student, he'd be in detention" or something like that. Why?
Eric Gash: Well, from his role in helping to spread "The Big Lie" to cheering on the Capitol riots to voting against pandemic relief, I knew I owed it owed it to my family, to my students, to my community, to my faith to do something about it. So I decided to run for Congress. From my playing days as a linebacker at North Carolina, as a teacher and the principal at my old school, from being a pastor of my own church and a volunteer chaplain, I'm prepared to lead this community because that's what I've been doing my whole life. It's important we realize that we need leadership at every level here in our district and that's the leadership deficit that I see.
The Smoky Mountain News: As we look at this congressional district over the past 10 or 12 years, there remain a number of issues that continue to come up every election cycle. One of those is guns. There's a phrase out there you've probably heard, "common sense gun reform." What does common sense gun reform mean to you?
Eric Gash: Common sense gun reform is just being responsible. It means having background checks and some sort of regulation on the internet [sales], you know, you can order any part and make anything. I think it's just being mindful that we all live in a society and community together, and we have to look out for one another. The greatest call is to love your neighbor as yourself. I believe everyone has a right to own firearms to defend themselves in whatever way they see fit. I'm a concealed carry holder, but being responsible means handling with care.
SMN: Another component of that, that we've seen in Congress recently, is red flag laws. Do you support more comprehensive red flag laws?
EG: It's important when we look at having the responsibility of owning a firearm that the responsibility rests on individuals just being mindful of their neighbor. I'm not for taking guns from anyone. If you're aware, for example that your family member is in distress, I think it is the responsibility of first and foremost those people who are close to you as your neighbor to maybe try and intervene and look out for you and help you out.
SMN: We started this conversation talking about persistent issues in NC 11 over the past decade or more. Another one of those is Medicaid expansion. Now, that's a state matter for the legislature to decide and they continually decide against it and the reasoning that I always get is that the federal government is funding 90 percent of the expansion population right now, but there's no guarantee that Congress continues that in perpetuity. Can you see yourself standing up there defending the federal funding for Medicaid expansion for people in North Carolina?
EG: That's a good question. Some of my top priorities when elected would be to look at education and increasing STEM programs to help prepare kids for jobs that don't even exist yet. Healthcare is one of those top-tier issues and it boils down to being able to take care of the least of these, and looking upon folks with love and compassion. That's really my angle that I'm coming from, it's gotta be common sense from top to bottom, whatever issues we look at, but being able to look upon our neighbors with compassion, because not everybody is as fortunate as we are, and just being able to aid folks where possible is definitely at the top of the list.
SMN: Another persistent issue, and this one goes back much further than just a decade or two, is abortion.
EG: When you look at that, it's settled law. There's no debate about it. But you know, I'm a pastor, minister of the gospel and that's about the whole life. What I mean by whole life, there are those who are just focused on protecting the first nine months and then leaving you to yourself. We have 75 or 80 years of life left. I'm conscious of the whole life and protecting not just the first nine months, but the next 75 to 80 years. Nobody's pro-death, Cory, you know what I mean? But folks are seriously wanting to protect folks' right to make decisions for themselves. Not everybody is where we are.
SMN: Over the past decade, we've seen marriage equality finally come to be the law of the land. What are your feelings on protecting that?
EG: Once again, that's settled law. I'm for folks being able to decide for themselves who they choose to love, how they choose to love. As for me and my house, once again, being a minister of the gospel there are certain parameters based on my faith that I adhere to, but folks shouldn't be dictated as to who they can and can't love.
SMN: It sounds like you're on a little bit more of the conservative side of the Democratic Party. Would you say that's accurate?
EG: I would like to think of myself as a moderate. Just being common sense, not everyone will agree, I don't think everyone ever has agreed with everything everyone's believed or said, but it's about giving everyone a voice at the table and hearing out everyone and just knowing that everyone's opinion needs to be valued and heard. Moving forward, um, we have to be able to work together and build bridges. There are far too many people that are hurting in our country and right here in our district because there's too much fighting going on. It's important that we have folks that will represent the voices and the concerns of District 11. And that's what I intend to do.
SMN: As a moderate how do you feel that you can win this primary when you're going to be talking to Asheville voters, most of whom I would imagine are to the left of you?
EG: Over the last few weeks, I've had a number of conversations with folks and the biggest issues that we're having now out of the current leadership in District 11 is, he's about communications and not constituents. We need somebody who's going to represent all of the voices of District 11 and that's what I intend to do. I've received probably a couple dozen phone calls and voice messages and text messages from folks who are unaffiliated. I've had conversations with folks who are registered Republican. I was actually in the post office the other day and a gentleman comes up to me and he says, "Eric, I've been a registered Republican all of my life, but I know you, I believe in you. And I trust you, I'm switching my affiliation to independent or unaffiliated so that I can vote for you in the primary and then for you and the general."
Leave a comment
4

comments
Cawthorn has been a disgrace to the 11th District, we need someone more moderate and someone who will be there on House votes which Cawthorn has not. Cawthorn has no experience other than doing photo-opts

Friday, 06/18/2021

Every registered Democrat is our enemy and a clear and present danger to America.

Friday, 06/18/2021

Eric Gash is a fake, phony fraud. You are not fooling anybody.

Friday, 06/18/2021

Every registered Democrat is our enemy and a clear and present danger to America.

Friday, 06/18/2021