Archived News
Sizing the force: Sylva debates police staffing needs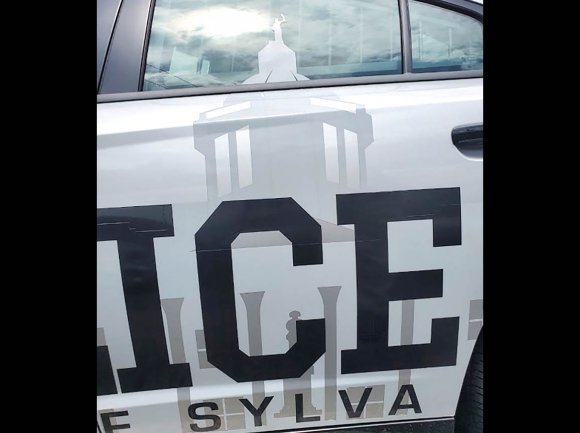 Sarah Dearmon was the only person who spoke during the May 27 public hearing for a proposed Sylva town budget that calls for an 18 percent increase over the general fund from 2020-21. But her comments directly addressed the main debate board members and town citizens have grappled with during this year's budget process.
"In Sylva we currently have 5.4 officers for every 1,000 people," said Dearmon, a Cullowhee resident who works in Sylva. "With two additional officers you'd have 6.1 officers for every 1,000 people. I don't really understand what justifies the need for that, especially without an increase in crime."
This year's property revaluation bumped the town's value by 14.5 percent, generating an additional $345,000 with a flat tax rate. However, rising costs and employee pay increases quickly ate away that capacity. Town commissioners are considering upping the rate by 1.5 cents per $100 to fund a new part-time sanitation position and a new police officer position. Police Chief Chris Hatton had originally pushed for two new officers.
Less crime, more action
The proposal has ignited a debate in Sylva about how many police officers a small town needs. The 2021-22 budget now under discussion would dedicate 32.9 percent of the general budget to the police department.
"I think the question that our community is asking right now is, 'Is the cost of that level of policing versus the other things we could have with that money and do for our community worth it?'" Commissioner David Nestler said in a phone interview.
Nestler is the only one of the board's five voting members who opposes raising taxes to add a new police officer. He says his opposition is rooted in an analysis he conducted of police department data from the past six years.
When making his budget request , Hatton told commissioners that demand for police services had exploded in the past year, with calls for service and officer actions combined rising from 8,199 in 2019 to 13,500 in 2020 — a 60.7 percent increase.
However, Nestler said, his analysis shows that calls and actions related to actual crime remained mostly flat between 2015 and 2020. Overwhelmingly, the increase came from proactive actions, especially security checks at businesses and banks. No data was entered for those categories until 2019, and between 2019 and 2020, actions/calls in these categories rose by 473% and 605%, respectively. Other categories with large increases between 2019 and 2020 include patrols at town parks and security checks at day cares and churches.
Nestler believes there's no need for taxpayers to fund additional officer salaries.
"There is no exponential increase in crime in Sylva. Nor does there appear to be an increase overall in crime at all," he wrote in his analysis. "Most crime categories are showing a decline in numbers."
Nestler said he's not suggesting that officers aren't overworked but said the town should "look to alternative solutions to this problem since crime doesn't appear to be the driving factor behind the increases in actions."
Hatton allows that 2020 was an unusual year for everybody, and that it wouldn't be wise to enact a staffing change based solely on data from the last 12 months. Officers undoubtedly took more proactive actions in 2020 than is typical — both in the lockdown phase of the pandemic when calls went down and officers spent their time doing safety checks instead, and during the summer when protests kept the town on edge and business owners asked officers to keep an eye on their properties at night.
"I think it's important to remember that the need for an additional officer at the Sylva Police Department didn't just happen recently," he said. "Previous police chiefs have also recognized the need and they also requested an additional officer, but they were denied. We last added to our staff in 2008. Obviously, our town has seen a lot of growth since that time."
In an interview Hatton gave The Smoky Mountain News five months after his August 2019 hire, he stressed the challenges his department was facing from increased demand for services. Between 2016 and 2019, calls for service increased 30 percent and total arrests more than doubled, including triple the number of felony arrests.
Debating overtime
In January 2020, Hatton told the town board that if he didn't get more officers, service would inevitably suffer. During this year's budget process, Hatton emphasized the toll that lack of staffing has taken on his force, telling town commissioners that over the last year, officers stayed past their scheduled time to go home for a total of 620 hours and averaged 1,000 hours in overtime every year for the past three years. His force is overworked, he said, and it's damaging morale, recruitment and retention.
Commissioner Greg McPherson said he'd support adding an officer after hearing that overtime statistic, noting that the town was already paying nearly an entire salary's worth in overtime hours. However, commissioners were surprised when the proposed budget included a $10,000 increase in budgeted overtime, not a decrease.
"The reason we increased our 2021-22 overtime budget wasn't to get more money," said Hatton. "It was to make that line item more realistic."
Over the last four fiscal years, actual overtime expenditures have ranged between $4,247 and $9,644 over budget. The proposed amount for 2021-22 is roughly even with actual expenditures for the current fiscal year. The coming budget year will include two Greening Up The Mountains festivals — the entire force must work the day of that event — as well as training for new officers and catch-up for existing officers who could not participate in planned trainings during the pandemic.
However, Nestler's takeaway is not that Sylva needs more police but that the police need fewer shifts.
"The conclusion I drew from looking at the data is that Sylva is over policing," he said. "Am I surprised that the officers feel overworked? Not at all. If you're over policing your town, then you're probably overworking your officers."
Hatton, meanwhile, said that his department is often getting by with the bare minimum. When fully staffed, the police department has two officers on day shift and three at night, though two officers is considered acceptable for night as well should a scheduled officer be unable to work.
Police per capita
Sylva already has far more officers per capita than almost any town in the four-county area.
According to a 2019 report from the Federal Bureau of Investigation, cities with fewer than 10,000 residents average 4.2 officers per 1,000 people. Most area towns have a ratio below that number. According to payroll data The Smoky Mountain News collected in 2020, Bryson City has 3.5 officers per 1,000 residents, Canton has 3.7, Franklin 3.8, Waynesville 3.2 and Clyde 3.4.
Sylva, meanwhile, has 5.2 officers per 1,000 residents, and that number would rise to 5.6 with the addition of another officer.
Hatton has defended that higher ratio, pointing out the large number of non-residents his force polices, including ever-increasing numbers of tourists and Western Carolina University students. In 2011, WCU had 7,627 undergraduate students; by 2020, that number had increased to 10,979.
"Sylva PD is not only tasked with policing and providing service to the Town of Sylva, to those 2,800 residents, but they need to provide services to anyone who happens to be here at any given point in time," WCU Criminal Justice Professor Cyndy Caravelis told the town board during an April 22 presentation. "I drive back and forth several times a day between Cullowhee and Sylva, and I see state tags from about 10 different states every single time I head through."
Sylva's police force is also responsible for policing the busy N.C. 107 corridor, which has traffic counts exceeding 30,000 vehicles per day.
A busy road right through town is also a key characteristic for the only other town in the four-county area with a police-to-resident ratio exceeding Sylva's. Maggie Valley, which serves a large seasonal population and whose narrow town limits hug U.S. 19, has 5.7 officers per 1,000 residents according to SMN data.
Nestler agrees that Sylva has some unique characteristics that could affect the officer-to-resident ratio, but he also believes that most towns have something unique about them that affect demand for policing.
"Sylva is not unique in that," he said. "Also, if you have the increased burden of policing due to Western students, is that a burden that Sylva residents should exclusively pay for? And my answer to that is no, the county should help bear the burden."
During his time on the board, Nestler has often voiced the opinion that town residents should get more coverage from county law enforcement, because they pay taxes for both departments. He's gone so far as to question whether Sylva even needs its own police department given that the county sheriff's office is located less than a mile away. Hatton, meanwhile, is adamant that a local police department is vital to serving citizens in the more densely populated business hub and county seat that is Sylva.
"The Sylva Police Department is tasked with protecting and serving the people and visitors within the town limits of Sylva," he said. "The Sheriff's Office is tasked with the entire county. The people of Sylva need a community police department that solely looks out for their unique interests."
The town board is slated to vote on the 2021-22 budget during a meeting at 5:30 p.m. Thursday, June 10, to be held via Zoom and streamed on the "Town of Sylva NC" YouTube channel . To give public comment, contact Amanda Murajda at This email address is being protected from spambots. You need JavaScript enabled to view it..
Leave a comment
3

comments
Abolish the Town Police Force and contract out with the County Sheriff's Dept. You would end up with more officers for less cost as you will not have to pay for a chief or building.

Monday, 06/28/2021

The police dept is excellent and friendly. I try not to do any business in the city of Sylva because city manager Paige Dowling is difficult to work with. She believes that being city manager gives her the right to treat people anyway she wants. Paige Dowling is a liberal as is the city itself. This makes doing business in Sylva extra difficult.

Sunday, 06/06/2021

Currently, from Michigan, I was looking in Sylva for a second home. I searched long and hard for the perfect property. I found it! The price was more than it was worth to me, based on comparable sales. The seller was asking 1.2m, in my mind, another 200k was needed for updates.

My plan at the time was to close on the sale of the home, then purchase the two downtown commercial buildings I had my eye on. Making an approximate 4.1- 5m dollar investment into Sylva over the next six months.

The whole plan fell apart as a result of my due diligence. Searching the internet for crime stats for Sylva, my research showed that the town and much of the surrounding area had QUITE A HIGH CRIME RATE. According to the US government and other sources, It had one of the top three highest crime rates in North Carolina and higher than similar small towns nationwide.

I was going to speak with the mayor and police chief for their take on the crime problem but had gotten disenchanted, with the town and surrounding area. I packed up my checkbook and when elsewhere.

Thursday, 06/03/2021