Archived News
Divisive sign catalyzes Back the Blue rally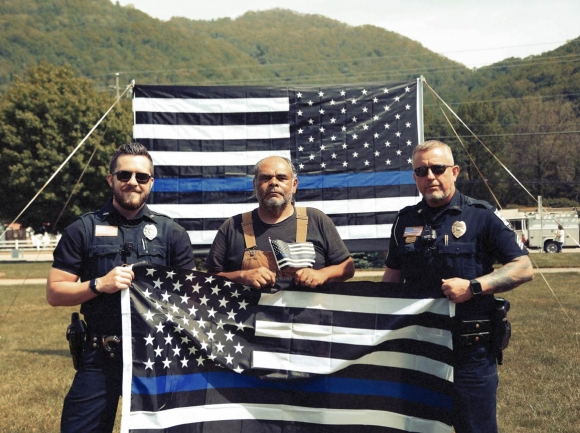 Maggie Valley police officers pose in front of the Back the Blue flag. Jeffrey Delannoy photo
Maggie Valley Town Hall Pavilion and the surrounding grassy area were ablaze with the black and blue flags of a Back the Blue Rally on Saturday, May 22, in support of local law enforcement. The event came in response to the message that has been displayed on one Maggie Valley hotel sign for the last several weeks: "ACAB! The Barrel is Rotten."
The Black the Blue rally was organized by Steven Rich, who also started the Facebook group "Maggie Valley Patriots."
"The purpose of today is not political in any way," said Rich as he addressed the crowd. "The purpose of today is not to walk down the sidewalk to that hotel and wave flags. It's not about them. We don't need to respond to them, they have enough problems of their own."
The event was reminiscent of a carnival, complete with music, guest speakers, food, door prizes and a 50-50 drawing. Several people stood on the sidewalk and waved flags and signs with messages like "honk to show support," at cars passing by. The response of blaring horns could be heard throughout the day.
Two of those holding signs, Eric and Lisa Overhultz, said they were tired of the negative rap law enforcement has been getting on such a broad scale.
"They [the motel owners with the 'ACAB' sign] are certainly within their First Amendment rights, but I also feel like it should be done civilly," said Eric.
For the Overhultzes, the event was overwhelmingly positive.
"There are a lot of cars beeping and waving and everything. No one's yelled anything negative. I mean, where would we all be without law enforcement? Same with all emergency personnel," said Lisa.
During the Back the Blue Event, less than one block away at the Our Place Inn, the hotel owners responsible for the divisive sign — Kitty and Cody Currin — hosted a cookout with friends.
"We're hosting this during the same hours as the Back the Blue rally, just to kind of have extra eyes around the place. It's not like a political protest by any means. It's just the means of keeping our community safe without having to involve the police," said Kitty.
Both gatherings remained peaceful throughout the day, though one family did walk down to the hotel, stand in front of the sign and wave their Back the Blue flag. Several cars also took the time to drive through the Our Place Inn parking lot and eye the peaceful cookout attendants menacingly.
The Currins say they posted ACAB, the acronym for "All Cops Are Bastards," on their sign to start a conversation around policing. They recently changed the second part of the message on their sign to say "reopen behavioral health urgent care," which refers to the 24-hour behavioral health urgent care program at the Balsam Center that was closed last year due to reductions in state funding.
"We've kind of localized our conversation to things that we can control. So that's one of the things that we recently changed our sign for, that's addressing the Balsam Center, the behavioral health urgent care, the 24-hour one that was closed last year," said Kitty. "One of the things that we want to do is reduce police responsibilities. And one of the ways that we can do that is giving them other places to take people besides jail. And for people experiencing a mental health crisis or drug crisis, that would be a behavioral health center."
The Currins don't want important conversations around policing, poverty or mental health resources to get swept under the rug.
Conversation has indeed erupted around the community since people first caught wind of the hotel sign. Many businesses around Haywood County displayed messages on their own signs in support of law enforcement or hung Back the Blue flags in solidarity.
However, several of the more than 75 attendees at the rally said it would be difficult to have an actual conversation around policing when it started with the derisive and generalizing statement on the motel's marquee.
"A conversation generally doesn't start with words like 'bastard' and generalizing a group of people, particularly the group of people that I know and have worked with for years of my life, who have by and large been willing to commit their lives and their time to making the lives of other people better," said Bill Wilke, a candidate for the 2022 Haywood sheriff's race.
Wilke did say he would "keep the door open" for conversation.
"It's incumbent upon us to rise above that and continue to reach out. And I think if they're willing to reduce that rhetoric and set aside the ACAB and waving the flag to defund the police and stop attacking what's at the heart of what police officers do. I think that there will be some point at which we can come together, sit down, have a talk, because let's face it, not all cops are perfect. Our hiring processes are not perfect."
Several elected officials attended the Back the Blue rally, including Haywood County Sheriff Greg Christopher, Maggie Valley Mayor Mike Eveland, and Maggie Valley Aldermen Twinkle Patel, and Phillip and Tammy Wight. Almost the entire Maggie Valley police force was at the event, as well as Chief of Police Russ Gilliland who was one of the guests slated to speak to the crowd. Western North Carolina's Congressman, Madison Cawthorn, R-Hendersonville, had stated his intentions to attend the event but later rescinded his commitment.
Ellen Pitt was the first to address the crowd. She has represented Mothers Against Drunk Driving in Western North Carolina since 2003. She is an advocate for sobriety courts, also known as drug or DUI courts.
"No matter how much reimagining, sitting around in useless meetings or rioting is done by the woke mob, there can be no change and no reform until the courts, the community, and yes, the churches start doing their jobs," said Pitt in her address to the crowd. "The police don't need you to line up at a ceremony when one of them is shot or stabbed or dragged to death trying to stop a car. They need you every day. They need you in the courts, they need you out in the community and at election time, they need you at the polls."
Pitt described some of the deep-rooted problems she sees in the justice system, such as recidivism rates, disparities of access to things like drug courts in different regions, and other policies she says have to be changed at the legislative level.
"What's going on up the street here, with the language and all, that doesn't help anything. I think we can all agree to that. I do think that right now in our country police officers are being vilified all of them together," Pitt told the Smoky Mountain News. "I won't say there's never been a bad officer."
The next speaker was Rondell Lance, President of the Asheville Fraternal Order of Police. Lance was found guilty of assault on a female after a Black Lives Matter Protest over the summer, when cops were trying to clear an area.
"For you to say that all cops are bad, then you say, well, we want to have a conversation, you cannot have a conversation if you're starting out with all cops are bad. There's no room to talk," said Lance. "So don't buy into that rhetoric, 'we want peace and harmony, we want community.' No they don't. They want to take over, they want anarchy."
At one point in his speech, Lance insinuated that all Black Lives Matter, reform law enforcement and defund the police protestors were an invading force coming from outside Maggie Valley and outside the county.
"I've sat down with Black Lives Matter, I've dealt with them, I've talked to them, I know their agenda. I know how they work," said Lance. "You would think, 'why would anybody come all the way up here to Maggie Valley to protest?' They know they can work their way in. They are organized, they are well-funded and their agenda is to cause disharmony in this community, their agenda is to disrupt this community and their agenda, the biggest thing that they use is fear."
The Currins, community members at their cookout, the organizers and the majority of marchers in last summer's BLM protests, however, were residents of Haywood County.