Archived News
Sign, sign, everywhere a sign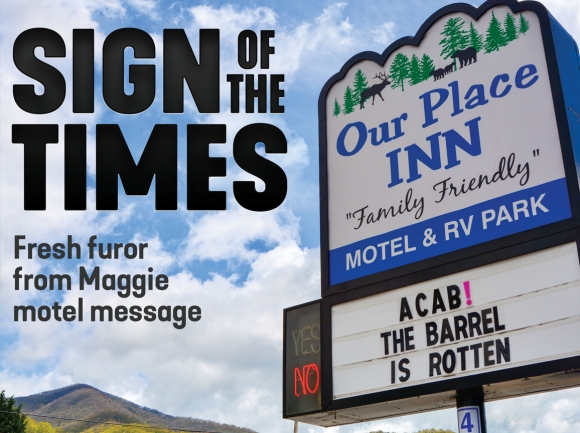 Last summer, the tiny Haywood County tourist town of Maggie Valley was rocked by not one but two peaceful "Black Lives Matter" marches that quickly became heated and confrontational, while also disrupting traffic and commerce.
Last week, the owners of a Maggie Valley motel ignited a fresh furor by posting an anti-police message on their sign that's since resulted in death threats and a visit from the FBI.
Now, community leaders are calling for calm as a "Back the Blue" rally is scheduled in response.
Much like last summer, the conversation over police reform is taking place not in person, but in separate camps — on social media, on marquees and on opposing sides of Soco Road.
Much like last summer, the intense divisiveness may be a sign of things to come.
Police officers from Maggie Valley keep BLM marchers and counter demonstrators separated during a march in 2020. Cory Vaillancourt photos
Elk bring cars to a halt on Soco Road from time to time and just the other day some random horses showed up to do the same, but traffic on the main drag of the idyllic, family-friendly Appalachian tourist town of Maggie Valley usually flows into attractions like restaurants, the distillery, the ski resort, the gem mine, the putt-putt course or one of the vintage 1960s-era mom-and-pop motels.
Usually, the signs out front of them say things like, "Welcome to our valley," or "Kids eat free," but last week one of them displayed a different kind of message.
The sign at Our Place Inn uses the acronym "ACAB," which originated in the 1940s in the United Kingdom but was adopted last summer by groups of demonstrators calling for police reform after the May 25 murder of George Floyd by Minneapolis police officer Derek Chauvin.
ACAB stands for "All Cops Are Bastards."
In 2020, Our Place Inn owners Kitty and Cody Currin took on central roles in a pair of local Black Lives Matter marches, as law enforcement officers from Maggie Valley, Haywood County and Waynesville were all that stood between the 30 or so BLM marchers and hundreds of counterdemonstrators yelling and waving Confederate flags.
At the time, Mayor Mike Eveland called the encounters "chaotic and grossly confrontational."
Since then, the Currins say they've been involved in a zoning dispute with the town and were issued a littering ticket over what they say is a compost heap, which is why they haven't backed away from the controversy their sign has generated.
"Do I believe that every single individual cop as a person is a bastard? I don't believe in judging the individuals themselves," said Kitty. "They might be perfectly fine individuals, but once they put on that uniform, they're not just an individual, they are representative of a system that is faulty."
While some would describe the Currins' "ACAB" statement as a sweeping oversimplification of national problems with policing, Cody disagrees with the theory that criminal acts committed by bad apple cops like Chauvin are simply misanthropic deeds by misguided individuals — the sign also reads, "The barrel is rotten."
"When one police officer abuses authority or misuses the trust of the community and a 99 other police officers don't stick up or say anything about it, then in my opinion, all 100 are responsible for the misuse of authority," he said.
The Currins say they posted those sentiments on their sign along busy Soco Road so as to start a conversation. It appears they've succeeded.
A Canton-based food insecurity nonprofit, called Feeding the Multitude, announced on May 2 that it would sever ties with Our Place Inn. The Currins had been working with Feeding the Multitude through Haywood Outdoor Pantries to supply their own food pantry — the shed at the center of the zoning dispute.
The story also caught the attention of national outlets like Law Enforcement Today and Glenn Beck's Blaze Media , just as Our Place Inn was bombarded with negative internet reviews despite being closed for renovations.
Cody said he's received "hundreds of calls, day and night" both in support of and in opposition to the sign, and Kitty says they've received death threats on social media.
"You're f—-ing dead," Kitty said, reading a few of them from her phone. "I see that you posted 'ACAB' on your advertising billboard. Well, I for one hope you have someone rob you at gunpoint, rape your women, beat the hell out of any kids you have and then shoot your idiot ass and not one of those police 'bastards' you hate does a thing to protect your sorry ass."
Shelley Lynch, public information officer for the Federal Bureau of Investigation's Charlotte field office, confirmed to The Smoky Mountain News that an FBI agent had been sent to the Currins' motel "out of an abundance of caution" in response to a tip submitted to the FBI's national hotline about the threats.
At least a dozen other merchants in Maggie Valley and across Haywood County have posted messages on their own signs, reiterating longstanding regional support for police.
"We proudly support our law enforcement. One love, all humanity," reads the sign outside A Holiday Motel, just down the street from the Currins' motel.
Robert Edwards, owner of A Holiday Motel, said that he's talked to members of the business community in Maggie Valley — of all political stripes — and said that most of them believe the broad generalizations of the law enforcement community posted on the Currins' sign are just as bad as stereotyping people based on race, color or creed.
"The grotesque message being displayed is just a disgusting and divisive message that shouldn't be tolerated," Edwards said. "If there is an issue that needs to be addressed, it certainly could be addressed, but a more loving message is healthier for everybody."
A healthier message is exactly what Rev. Chris Westmoreland is advocating for as tensions over the Currins' sign continue to rise.
"I don't think this conversation gets elevated when we try to reduce it to sound bites, and I think a billboard is a soundbite and the law enforcement folks in our community and in our congregation that I've talked to felt very indicted by that," said Westmoreland, who serves as lead pastor at one of Haywood County's biggest churches, Long's Chapel. "The law enforcement officers that I know want to have a meaningful conversation about community policing and how we are expecting them to do too much in their role. They're begging for those conversations."
In a letter to his congregation on May 8, Westmoreland wrote that he was grateful for those who serve the community in law enforcement while also acknowledging that troubling disparities exist in the justice system as a whole.
"I've certainly been in churches before — not in the church I currently serve — where there were all kinds of icons and symbols of God, but God was kind of hard to find," he said. "I've been in justice centers that are named 'justice centers,' but they seem to be the antithesis of justice, where not a ton of justice happens. The challenge for me is, how do we help stand in that space where we don't just talk about some of those problems, but where we actually stand in the gap and actually walk with folks and begin to understand?"
Westmoreland looks to his faith for a good starting point towards mutual understanding.
"Blue lives matter, and Black lives matter. We ought to be able to hold those two things together," he said, "because those two things are not opposites of each other."
Messages of support for law enforcement have popped up well outside of Maggie Valley, like this one in Hazelwood.
Not long after the sign outside the Our Place Inn went up, calls for a response began to emerge on social media.
"I am proud to announce that on Saturday, May 22 from 10 am to 4 pm we will be having a peaceful sidewalk march in support of our LEO," reads a May 6 post in a private Facebook group called Maggie Valley Patriots. "A back the blue rally."
At the time, the group was headed by a man named Steven Rich, although it's not clear if it still is. A subsequent post by Rich in the group brags about banning Mountaineer reporter Kyle Perrotti, and a membership request by this reporter was originally granted but revoked several hours later, making it difficult to ascertain the group's leadership, message and intentions.
Rich is the same man who walked into a special called meeting of the Maggie Valley Board of Alderman on July 30, 2020 — just after the "chaotic" July 18 BLM march but just before a slightly less hostile Aug. 1 BLM march — and volunteered to relinquish First Amendment rights of assembly and speech based on recommendations from his Facebook friends.
First, Rich said that there should be a limit on how many times any one group is allowed to demonstrate in the town. Then, he suggested that only residents should be allowed to organize a demonstration. Finally, he called for onerous fees that would have a chilling effect on protected speech.
In conjunction with Town Attorney Craig Justus and the UNC School of Government, attorney Brian Gulden drafted the enhanced protest ordinance being considered at the meeting. Gulden rejected Rich's legally dubious demands along with the suggestions of others who wanted to ban demonstrations within the town, or ban demonstrations on busy tourism weekends, or force demonstrators to remain in one place.
The ordinance passed unanimously, without the proposed restrictions.
"The events of July 18 showed many of us that Maggie Valley is not isolated," Mayor Mike Eveland said during the meeting. "In fact, these events illustrated how connected the town is to an evolving landscape of ideas and ideals that are being debated throughout our country."
The practical aspects of the enhanced ordinance dictate that poles or staffs upon which signs, flags and banners are mounted must be made of "corrugated material, plastic or wood," may not exceed 36 inches in length and must be blunted at each end.
Poles or staffs made of metal or metal alloys are expressly prohibited, as are dangerous weapons, fighting words, threats that might provoke a reasonable person to a breach of the peace, and profane, indecent, abusive or threatening language.
But to help the town ensure public safety for the inevitable constitutionally protected demonstrations that periodically occur even in times of relative calm, aldermen also implemented a procedure whereby groups wishing to demonstrate must deliver something called a "notice of intent to picket" to the chief of police no later than 72 hours before the scheduled action.
When reached for comment May 9, Maggie Valley Chief Russ Gilliland said that Steven Rich hadn't yet delivered such a notice for the May 22 event but had rented out the pavilion adjacent to town hall instead, apparently opting to remain in one place instead of conducting a march.
Whatever form the event takes, Western North Carolina's congressman Madison Cawthorn, R-Hendersonville, said he'd be there because he disagreed with the sign.
"Statements like these, that attack law enforcement and the officers who stand between us and violent gangsters are disgusting," Cawthorn told SMN on May 9. "I am proud to stand with law enforcement in my district and nationwide. We must always back the blue. The rule of law is not a partisan issue, nor should it be."
The Currins will be there too, or at least right down Soco Road — Our Place Inn is less than 100 yards from town hall.
"I will be operating my business as usual," Cody said.
They've also created a Facebook event.
"We do invite our friends to come visit us on that day," said Kitty. "We do have parking, we do have grills, it's probably a great day for a cookout and to just kind of hang out in solidarity and discuss police reform , like we all want to do."
Leave a comment
8

comments
Enough is Enough! These so called business owners need to back off! We ALL already know what a bad cop is!!!! We get and to be quite honest,I'm really getting sick of hearing about BLM!! WHAT ABOUT ALL THE WHITE POLICE OFFICERS THAT HAVE BEEN SHOT AND KILLED BY BLACK INDIVIDUALS? I GUARANTEE THAT THE NUMBERS ARE PROBABLY HIGHER THE THE POLICE SHOOTING BLACKS! I don't believe that one or so "bad cops: should stand for all the police officers across our country!This crap needs to stop?

Sunday, 05/23/2021

Michael H's language such as "infestation" is the exact reason this town needs its chains rattled. How can you demand others to be respectful when your prejudice is on open display? I'm certain he even considers himself a "Christian". For all the religion in this area, I'm shocked at the hypocrites. Jesus wept.

Friday, 05/14/2021

Clearly, there would be no demand for a BLM/ANTIFA infestation in this small town if these people hadn't come in and instigated it. This entire sham is a result of a couple outsiders- virtue signaling liberals who want to bring their brand of lunacy to town. Everyone should raise a holler and prevent them from getting their 501c3 designation. They are lunatic activists and purely political and that is a deal breaker for them receiving the certification from IRS. Complain to the IRS. They stand AGAINST law and order... Do you really want them having influence in your local government?

Thursday, 05/13/2021

Joseph Creighton is clearly a racist bastard himself based on his comments here.

Thursday, 05/13/2021

All blue uniform cops have a tuff job. We appreciate them very much. Really cannot understand why they are still choosing to be a cop after the way they are treated in some towns. I would suggest the motel owners move on from our beautiful mountain home of Maggie Valley. Thank you all law enforcement for everything you do and God bless you.

Thursday, 05/13/2021

If people would just learn to follow and obey laws, the police wouldn't need to actively get involved in their lives.
Don't fight a cop, don't shoot at a cop, don't act in a meaning manner to a cop. Just be polite and follow their instructions. There are 1,000's of interactions with police everyday, that don't end up with police shooting them or even arresting them

Wednesday, 05/12/2021

Not all but some of the police are bastards but ALL BLM provocateurs are bastards. That is a fact. All BLM and their supporters are bastards.

Wednesday, 05/12/2021

FYI, The Back the Blue Rally is NOT in response to anything. It is a rally to support LEO. It would be nice if you would get your facts straight before going to print. However, I have learned to expect nothing less from this left-leaning rag.
Steven Rich
Maggie Valley Patriots

Wednesday, 05/12/2021