Archived News
A tale of two rallies: Americans on all sides want change, but don't want to change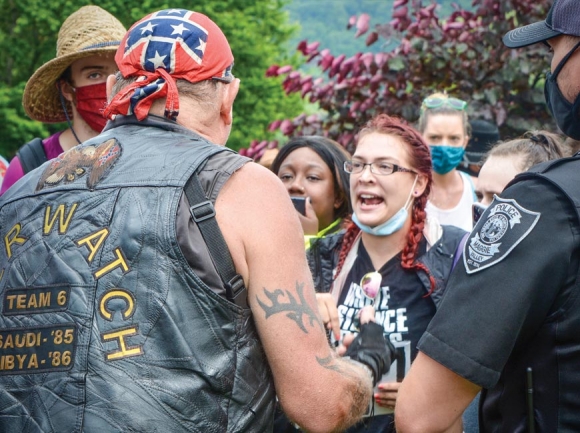 BLM demonstrators dialogue with counterdemonstrators in Maggie Valley on July 18. Cory Vaillancourt photo
Black lives matter. All lives matter. Defund the police. Back the badge. Take it down. Leave it up. Heritage. Hate. Reopen. Stay closed. Biden. Trump.
For the eighth straight week, protests, rallies and demonstrations continued in Western North Carolina, with no signs of stopping any time soon. Regardless of the cause behind them, these events have at least one thing in common — Americans are angry, and they're taking to the streets.
Despite the commonality, two separate rallies held on the same day last weekend showcase the widening gulf between competing ideologies that both want change, but both point accusing fingers at the other when asked who's to do the changing.
Before the Saturday, July 18, Black Lives Matter march in Maggie Valley began, several local business owners made known through signage that while protestors were welcome, their cause wasn't.
"If this group wants to come to Maggie Valley and walk down our sidewalks and hold their signs, I absolutely welcome them, if they do it peacefully because our Constitution protects that right of protest," said Robert Edwards, owner of A Holiday Motel on Soco Road. "I haven't individually talked to anybody representing that group, but the group that they call Black Lives Matter at large, there are probably a lot of people that are marching with that group that have good reasons, but the group in my opinion is not exactly having the best intentions across our nation."
The sign outside Edwards' motel said, "BLM incites racism & violence. All lives matter. One love — all humanity."
Dylan Davis, who helped organize the BLM march — he's also been out in front of similar events in Waynesville and Canton — wouldn't quite admit that the sometimes-violent actions of BLM protestors nationwide give business owners like Edwards ample cause for concern, but did say his group has proven through previous marches that they're not out to riot, loot or damage local businesses.
"We're just here trying to be peaceful. We're all here for the same cause, but we don't follow some of the same principles [as other BLM groups], said Davis. "People can have their own opinions, but we're here for a good cause and we're here to do it peacefully."
As a torrential downpour took shape, Davis and about 30 others began their march from Town Hall up the sidewalk on Soco Road, with Maggie Valley Police Department officers in tow.
Inexplicably, their route took them right past the Maggie Valley Festival Grounds, where perhaps a hundred counterdemonstrators had lined up, waiting for them, within arm's reach.
Waving Confederate flags, Trump banners and "all lives matter" signs, counterdemonstrators shouted, screamed and spat on marchers. Several heated exchanges were observed and racial slurs were uttered.
"I'm not sure who he was, but he ended up saying 'nigger' a couple times, and the officers heard him and didn't say anything. I was scared," said marcher Karley Simmons, of Canton. "Being a Black woman, I knew that things could get physical fast, but there would not be a lot we could do about it."
The march continued east on Soco Road for a few more blocks until crossing the street and heading back from whence it came, again inexplicably right past that same seething gauntlet of counterdemonstrators, who had already crossed the street and were waiting for them.
This time, there was a lot more engagement between the two groups, as bullhorns blared and thunder rumbled and rubberneckers in traffic stopped to watch. As the BLM group marched on, beneath the dark grey skies, several counter demonstrators attempted to follow the group.
One man took to harassing media covering the event, challenging Mountaineer reporter Kyle Perotti to "join the military." Perotti, a Navy veteran, told the man he had. The man told Perotti "you're violating your goddamn oath" and called him a "scumbag." The man then turned his attention to this reporter, offering vulgarities and lunging toward the camera in a feeble attempt at physical intimidation.
"I think for a lot of our protestors, some of them being young women, some of them being Black, I can't imagine how they felt," said Josh Merrell, who is white and lives in Waynesville. "The intimidation could have affected us negatively, but I think it gave us all a jolt of spirit."
And they'd need that jolt; as the march concluded, many were stunned to see the Town Hall parking lot where it had started full of counterdemonstrators, waving Confederate flags.
What would have been a series of speeches by BLM marchers quickly turned into an hours-long series of shouting matches between demonstrators and counterdemonstrators, who were separated by a contingent of more than a dozen law enforcement officers that had grown to include personnel from the Haywood County Sherriff's Office and the Waynesville Police Department.
"When we were organizing this, we had multiple business owners tell us they don't support it, that [racism] is not a problem in Haywood County, that we need to go where it actually is a problem, in the bigger cities," said Simmons. "That just goes to show that they don't want change. There is a problem."
A post on the Communities for Change Facebook page vowed that the BLM marchers would be back in Maggie Valley, on Aug. 1, "due to the events that had unfolded on Saturday."
Four hours later and 30 miles away, another rally was shaping up in sunny Bryson City — this one labeled by its organizers as an "Armed Patriots/pro-Trump/Second Amendment" event.
More than 200 people showed up, many of them armed, including a contingent of 3 percent militia members in full battle rattle. Across the street, a small group of counterdemonstrators waved signs.
"I just wanted to show the other side of the coin, and to make people that live here and visitors realize that there is another side," said Kathy Petersen, of Bryson City.
With her was Rick Wirth, also of Bryson City.
"I feel that Trump is a real danger for this country, and Biden represents stability and progress," said Wirth, who was holding a pro-Biden sign. "We can't afford four more years of Trump. We need to bring in a new man to set things right."
Unlike the counter demonstrators in Maggie Valley, Petersen, Wirth and the other half-dozen standing alongside them didn't engage with the rally, which featured speakers including Swain commission candidates Robert Lowe and Graham Allen, as well as former Rep. Mike Clampitt, who's once again seeking his District 119 House seat.
Also unlike Maggie Valley, absent were the face-to-face confrontations that resulted in many an ugly incident.
Swain County resident Patrick Smith, who helped organize the event and also spoke, told SMN that this rally, too, was about change, but given the rally's focus, it's certainly not the change the BLM folks were pushing.
"I'm tired of people complaining and nothing getting done. I'm tired of looking around and seeing things changing that I don't like, and I'm tired of people complaining about changes that they don't like but not doing nothing about it, so my goal is to push people to do something," Smith said. "We can't be silent anymore. Things are going to change with or without you and if you want to change it, get out there and do it."