Archived News
'Back the Badge' rally comes to Waynesville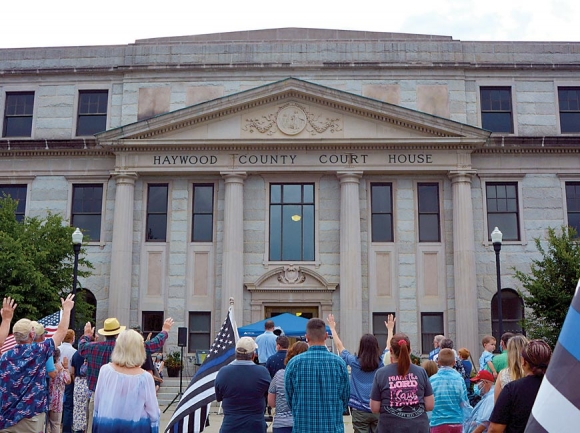 Supporters of law enforcement gather before the Historic Haywood Courthouse on June 27. Cory Vaillancourt photo
Last week, as demonstrations were taking place across the nation to call attention to police brutality and racial injustice, Canton resident Becky Trull was struck with an idea.
"I was on Facebook last Sunday night at midnight, and I saw some of the posts, and the Lord just laid it on my heart — you need to do something," Trull said.
What she did, along with friend Amy Lynn, was organize a march and rally designed to let Haywood County's law enforcement and first responders know they have community support.
"About a week ago, last Sunday night, one of my friends and I started text messaging each other, saying, 'Hey, we see all these people posting on Facebook but what if we actually all got together to pray for our community, to pray for our law enforcement?'" Lynn said.
Less than a week later, Trull and Lynn were just two of more than 100 people who marched from Waynesville's police department to the Historic Haywood County Courthouse, holding signs, banners and flags.
"We never imagined it would be a huge group, we just thought it would be a few friends. Everybody seemed to get very excited about something positive going on," Lynn said. "So we got the support of law enforcement, we got permission for the courthouse and people came out."
Lynn, who attends Cornerstone Fellowship Church in Waynesville, said that a number of area houses of worship were represented at the event.
"Many churches came together and contributed people," she said. "No one church officially sponsored this event."
Trull, who attends New Covenant Church in Clyde, said that the event was absolutely not a response to the Black Lives Matter movement, which has been holding events of its own across the region for nearly a month now — from Murphy to Canton, Bryson City to Waynesville, and places in between.
"This is through prayer. This is Christians saying, hey, we want to offer some hope," she said. "This is not anti-anything. This is pro-laws, this is pro-love, and pro-loving others."
Lynn agreed, and elaborated on the reason for the event.
"I have many friends whose family members are law enforcement, and they've been working thorough this whole shutdown, they just feel very beat down by the public sentiment against them," she said. "They're tired because they've been working non-stop while the rest of us have been home, so this was to show our gratitude and support of them. This is not counter or against any other group or any person."
As the procession arrived at the courthouse, another two-dozen people who couldn't march were already there, as was a small musical setup. Several religious leaders offered prayer in between worship songs.
Lynn said she hoped that people would depart with a greater sense of community than when they arrived. Trull lauded local law enforcement and wanted people to leave with the hope that the situation could be changed through Jesus Christ.
"We want to encourage our law enforcement. We are praying for them. We know they are not perfect, but we've got the best law enforcement in the world here in Haywood under the direction of Sheriff Greg Christopher and the other law enforcement agencies," she said. "They're the best."
The event wasn't widely publicized on social media, but was spread largely through word-of-mouth. It concluded peacefully about an hour after it had started, and no counterdemonstrators were present.