Archived News
Hospitals offer incentives to attract providers
Wednesday, March 24, 2021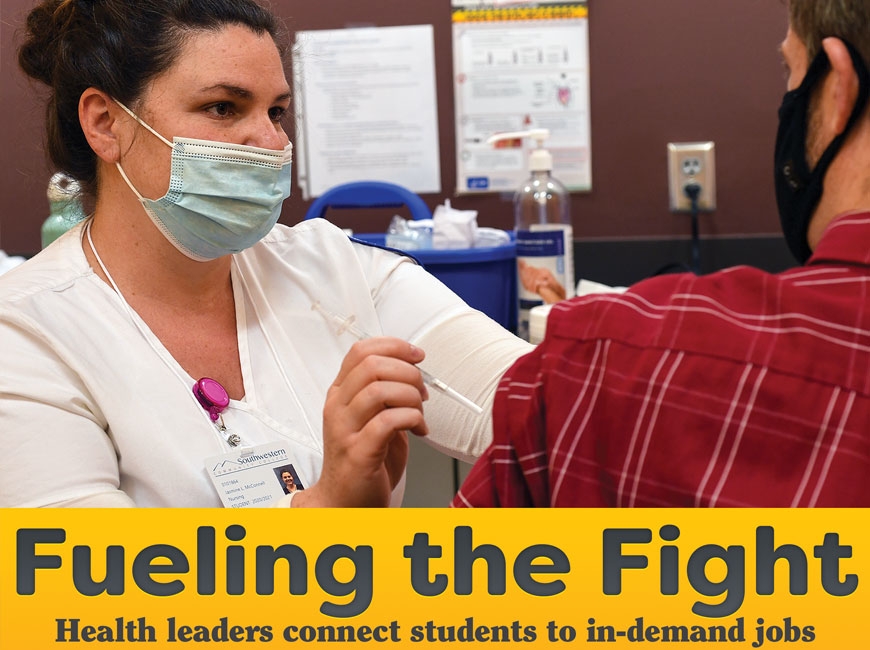 In 2019, registered nurses were listed as the third most in-demand job in the U.S., and even though enrollment in nursing programs is also on the rise, it's not keeping pace with the market demand.
The COVID-19 Pandemic has only intensified the immediate need for nurses in the U.S., but according to the U.S Bureau of Labor Statistics, the need for RNs will continue to be one of the largest areas of growth through 2029.
The U.S. is also facing a primary care provider shortage. According to the Association of American Medical Colleges, there will be a shortfall of 21,400 to 55,200 primary care physicians by 2033.
North Carolina as a whole hasn't been exempt from that shortage, but here in Western North Carolina it seems our rural providers do have a leg up on recruiting new nurses into their organizations, recruiting primary and specialty providers and retaining a highly qualified workforce.
"We live in the beautiful mountains of Western North Carolina — people want to come here," said Steve Heatherly, CEO of Harris Regional Hospital and Swain Community Hospital.
Judy Millard, director of human resources at Haywood Regional Medical Center, agreed that HRMC hasn't had the same prolonged challenges urban providers have had in recruiting primary care physicians as well as specialists because people want to move here.
"People are drawn to our area because it has so much to offer. Quality of life is important," she said.
Staffing in general, especially during the pandemic, has been a challenge for all health care organizations.
"It was a challenge in the early days of the pandemic. We had more staffing than needed because we had a limited number of COVID cases and shut down elective services for a span of time, so we really had an oversupply for a span of time," Heatherly said.
As COVID cases started to pick up, the hospital started to see an increase in COVID-related admittances in the fall. The surge that began in October caused a need for more nurses, lab techs and radiology techs.
"During the surge, which for us was October through mid-January, it felt like a double whammy because we had an influx of COVID patients and also staff that had the virus all happening at same time," he said. "To complicate matters, travel nurses were in short supply because they were being paid huge amounts of money to go to hotspots in the country."
HRMC also struggled with staffing during the surge of COVID cases in the winter.
"We've had similar experiences as other hospitals. I feel like our staff really pulled together as a cohesive team to meet the challenges of the pandemic, and now it's finally starting to feel a little more manageable with the numbers we have," Millard said.
SEE ALSO: Amid pandemic, educators train new generation of healthcare professionals
She said the hospital currently has openings in food service, medical office receptionist, behavioral health, as well as nursing positions in the Intensive Care Unit, Progressive Care Unit, MedSurg, Women's Care, Behavioral Health Unit and Geriatric Psychiatric Unit.
With a staff of about 940 people, Millard said recruiting and retaining staff for HRMC was challenging before the pandemic with openings across the board, but especially challenging finding enough nurses.
"There's never enough nurses and certainly we could use more nursing instructors in the area," she said. "We're working on different things to mitigate those challenges that I think is going to help."
Heatherly said he tracks staffing needs every week. With about 1,000 employees at Harris, Swain and associated medical offices, there are currently about 56 job openings across the board.
"That's not out of the normal range for us. These days no one can find enough nurses at any given moment and that goes in cycles through the years — sometimes there's a surplus but more often there's a deficit," he said.
SCC Nursing student Corrie Kinsland served at WCU's COVID-19 vaccination clinic on March 15 in Cullowhee.
Heatherly said he's been through a worse cycle of supply and demand in the industry than what COVID has created. The worst shortage he's seen was back in the 2001-2005 time frame followed by a huge surplus that was driven by the recession years.
Harris and Swain have taken proactive steps to work closely with Western Carolina University and Southwestern Community College to incentivize students to enter these high-demand fields and work in rural health care settings when they graduate. The hospital also offers tuition assistance for those graduates.
Harris works closely with SCC to identify students they can put through a training program at the hospital's cost if they agree to work for the hospital system for a certain amount of time after they complete the program.
Heatherly said Harris has two to four people participating in those programs at any given time. The hospital also chooses several students and pays for them to go through the nurse practitioner program at WCU. They come to work at Harris after they graduate.
Harris also acts as a training site for both WCU and SCC. Clinical students come to Harris to get a feel for what it's like in the real medical setting and they also establish a mentor type of relationship with someone in their respective department. That experience and connection with staff members makes those students more likely to stay in the system to work since they are already familiar with the processes and the staff.
"Beyond that, we do a lot of work around tuition reimbursement and investing in our staff — it carries a commitment to the organization," Heatherly said. "If we have a nurse that wants to get a BSN (a bachelor's degree in science of nursing) they can apply through our program to do that and commit to stay with us afterward for a certain amount of time. We found that those types of programs help engage our staff."
SEE ALSO: Nursing students find purpose amid difficulties of pandemic
Harris and Swain also offer recruitment bonuses for staff members who make a time commitment and also retention bonuses for staff members when they meet certain anniversaries.
"We recognize the value of having staff who are committed to staying with you over time, and those strategies have worked," Heatherly said.
Millard said HRMC is in the process of hiring new graduates in June through its own partnerships with community colleges and universities in the area, especially Haywood Community College and AB Tech in Asheville.
"I think students that attend AB Tech and HCC tend to want to stay in the community when they graduate, and one draw about our hospital is we have a family life culture," she said.
The hospital's educational department has designed an internal residency program that's really appealing for students graduating in the healthcare field.
HRMC also has what's called a "clinical ladder" program where employees can do a certain amount of work in different areas of the hospital, work on special projects, and serve on committees.
"Each assignment has a number of points to gather and once you achieve certain levels, it comes with various bonus amounts through the year," Millard said. "It lets our staff members grow professionally and increase their income."
HRMC has also established its own CNA (certified nursing assistant) school and graduated a class last fall. The program is for non-certified staff members who want to further their education in exchange for a time commitment to the organization. The hospital had to receive a special designation to start the program and has an educator on staff to work with the class.
"There's no cost to the student and if they want to pursue nursing after that, we have tuition reimbursement opportunities," Millard said.
Heatherly said Harris and Swain hospitals have had great success recruiting specialty physicians in recent years. In 2020, they recruited three new primary care physicians, a neonatologist, a general surgeon with a specialty in breast cancer, a neurologist and more.
While many rural health care systems struggle to recruit hard-to-find specialties, Heatherly said Western North Carolina is fortunate.
"I think there will continue to be a national shortage of physicians, but I'm optimistic about our ability to recruit the provider talent we need to take care of our community," he said.
The average pay for nurses in North Carolina, according to Indeed.com, is $33.84 per hour plus $10,125 in overtime. That average increases $9.62 an hour for nurses in the field for 10 years or more.
Heatherly said the hospital is continually assessing the pay for staff and adjusting compensation as needed to keep pace with the market. In a market where there is more demand than supply, rural health care organizations have to stay competitive to retain their workforce.
"I think that we're going to have to be committed to being competitive and I think that's one of the challenges of rural health care in particular," he said.
With the aging demographics of this region, rural health care providers rely on more Medicare reimbursements from the government and those reimbursements are less than what's typical with private insurance companies. Hospitals in urban areas have a better balance of private and public reimbursements than providers in rural areas.
Millard said one of HRMC's challenges is its proximity to other larger providers — particularly Mission Health that has locations in Asheville as well as a facility in Clyde now.
"We do compete with large health care organizations — that's often a challenge. We try to stay on top of things and convey our message of who we are and our culture," she said. "By and large, I think pay is good here, but there's always room for improvement."
For job opportunities at HRMC, visit www.myhaywoodregional.com/careers.
For job opportunities at Harris and Swain, visit www.myharrisregional.com/careers or www.myswaincommunity.com/careers.
Leave a comment
1

comment
Conclusion: Conclusions address both financial issues regarding the coverage of regional healthcare systems and equity issues on patient healthcare access. They also raise concerns on the new European Union (EU) directive inherent to patient mobility across Europe. In Italy, hospital accreditation either in the private or public sector has been carried out with the objective of implementing competition mechanisms among providers, improving the quality of care and containing the health expenditure. Patient free choice is the appropriate tool for enhancing these goals. However, as different authors suggest, competition does not necessarily lead to positive effects in the healthcare sector as results depend to a considerable extent upon the rules of the system ( 1 4 ). In Italy, the rules of the system are the following: the National Health Service (NHS) is set on a federal model where each region is responsible for the organisation and funding of the local health system. Patients do not have to pay for hospital treatments and can choose their healthcare providers according to their preferences, inside or outside their region of residence. However, if they choose a private provider, this has to be accredited by the health system of the region in which it is established in order to be free of charge. The accreditation process in Italy has been implemented without a uniform design: some regions, mostly the ones located in northern or central Italy, have accredited (among others) well-provided hospitals, whereas very few southern regions (including Molise) did the same (5, 6 ). As a consequence, there is a consistent annual flow of patients migrating from southern regions towards central-northern ones in search of hospital admissions: this phenomenon is significant, since 34.2% of total Cross-Border Mobility (CBM) moves in this direction, causing a considerable financial impact on regional budgets ( 6 10 ). We aim to investigate whether the regional rules governing financial coverage of hospital admissions might have been used as an incentive to private providers in order to attract patients from other regions. Private accredited hospitals are more used to marketing initiatives in order to attract patients, compared to public hospitals: while the risk of bailing out for the former is real, public hospitals have benefited from ex-post refunding by regions for many years. Therefore, in the case of excess production, patient inflows could represent a valid source of revenue for private providers.

Saturday, 02/05/2022