Archived News
Nursing students find purpose amid difficulties of pandemic
Wednesday, March 24, 2021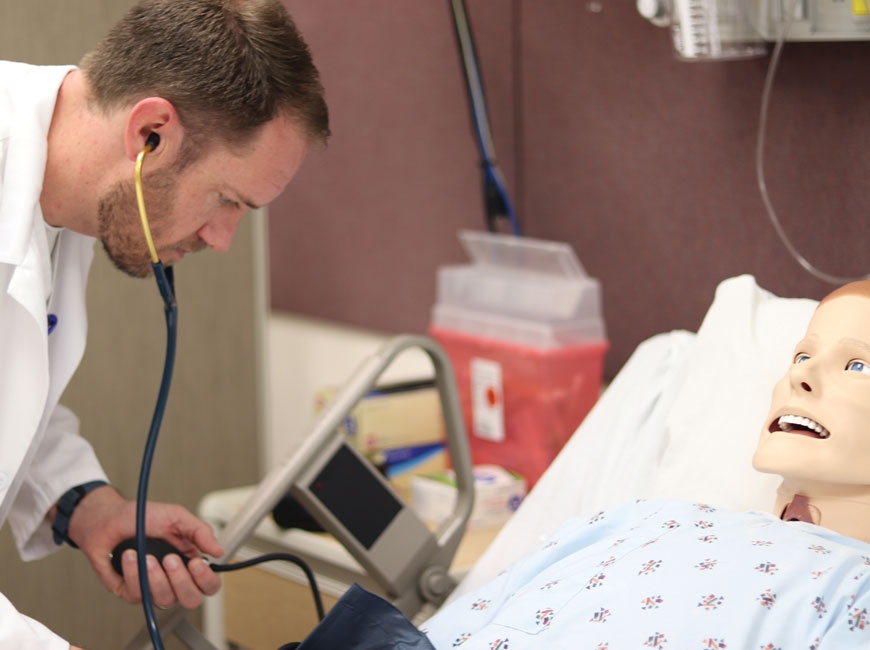 A nursing student at Haywood Community College practices his skills on a simulation lab dummy. HCC photo
For students in the nursing program at Western Carolina University, the Coronavirus Pandemic sauntered into their world during spring break 2020. On Wednesday of that week, the university informed students that the break would be extended by one week. By Friday, the news was more dire, students wouldn't be returning to campus at all.
Billy Pilcher, a third semester nursing student at WCU, remembers when the virus began to spread in the U.S. During his first semester, he can recall a conversation with his girlfriend, telling her that the government is prepared for this, that they would get it under control. Pilcher now knows that his girlfriend was right when she told him this was serious — something that was not going away any time soon.
Maria Fernandez was on spring break, halfway through her first semester of nursing school when friends of hers got the news spring break had been extended. She says that at that time she had no idea she wouldn't be returning to campus at all that semester.
Amaya Sawyers, also in her third semester of nursing school at WCU, was sitting on her back porch in Gastonia when the stay-at-home order went into effect. For her, that was the turning point from anomaly to long-term change.
Sawyers, like Pilcher, Fernandez and many other college students, had already returned home and started preparing for the unknown — fully-remote, online learning for the second half of their first semester of nursing school.
During the second half of that first semester, nursing students usually begin hospital rotations, learn skills in simulation labs and start clinicals. With stay-at-home restrictions in place, students were not able to go into hospitals and all learning was done over Zoom.
"The second half of my first semester was at the beginning of the pandemic and we lost all clinical opportunities," said Fernandez. "I had professors that taught skills labs over Zoom in their living room. It was very difficult because we were not able to practice skills in clinical, and we lost a lot of hands-on learning."
Regardless of the difficult situation, Pilcher, Sawyers and Fernandez were adamant that their professors worked hard to make sure they were still receiving the best education possible under the circumstances. Fernandez said nursing students always have to be on top of things and take initiative, but the pandemic has made her nursing class even more diligent, flexible and resilient.
"It really showed the resiliency of the nursing program and told me that even though my nursing education would be impacted, we could get through it together and with our amazing support from professors here at Western," said Pilcher.
The pandemic has reaffirmed these students' knowledge that they are on the right path, and has shown them the very real impact they will have on people's lives. They understand that they are coming into the field at a time when, as Fernandez put it, fresh legs are needed.
"At the start of the pandemic, I was extremely nervous about going into nursing," said Sawyers. "I was seeing all of these nurses talk about how burnt out they felt and how tired they were working the front lines of this pandemic. We have some family friends who are nurses and hearing them describe what a day in their lives was like on their units at the height of the pandemic was scary. I questioned whether or not I was capable of being one of them. To be someone who went into work every day and risked my life for the lives of my patients. However, I realized that every single day these nurses were making a difference in someone else's life and that is all I have ever wanted to do. Today, I can confidently say that I am excited to start my career as a nurse."
One of the more difficult aspects of studying nursing during this time is being privy to both sides — seeing and understanding how hard health care professionals are working and watching as people outside the health care world take restrictions and recommendations lightly.
Sawyer says she hates wearing a mask, just like everyone else. But she wears one, she washes her hands and social distances because she knows that may be what keeps someone else from contracting coronavirus and dying. Keeping other people safe is more important than how comfortable she feels.
Pilcher agrees, the rules are in place to keep one another from developing serious illness and watching as they become more relaxed has been hard.
In their second and third semesters this group of students has had the chance to complete hospital rotations. They help regularly at the VA Hospital in Asheville, and they have been on the front lines assisting with vaccine administration and education.
"Nursing students have had to adapt to whatever new information comes our way. We have learned to expect anything, and that things can change within a moment's notice. It can be stressful at times during the program having a plan all laid out and then having to rearrange everything, but these are things we learn from and can bring to our profession upon graduation," said Pilcher.