Archived News
Growing the pipeline: Amid pandemic, educators train new generation of healthcare professionals
Wednesday, March 24, 2021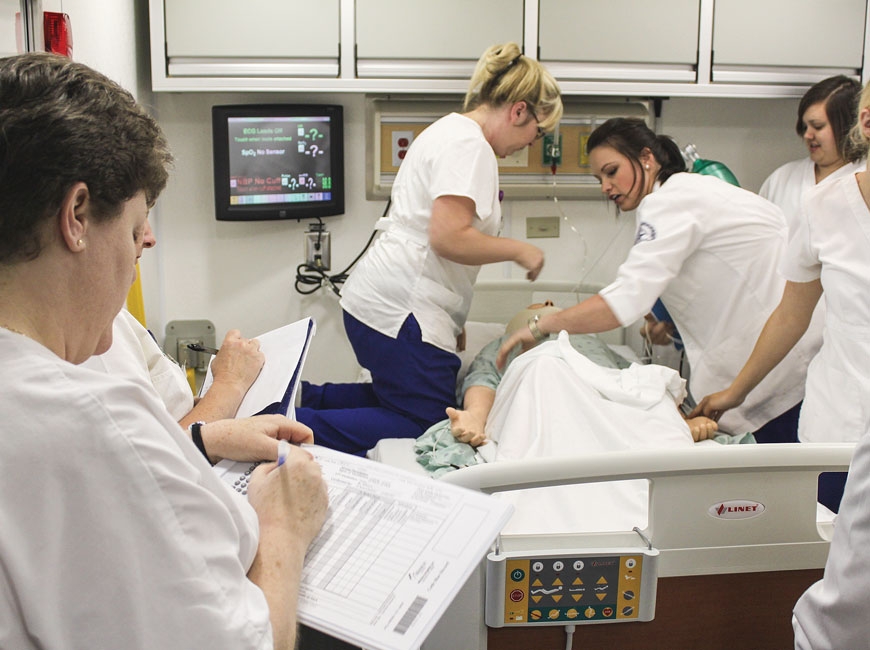 Haywood Community College students work with a simulation lab 'patient.' HCC photo
As a respiratory therapist, Bruce Moyle is trained to deliver breathing therapies to people who struggle to draw oxygen. As a respiratory therapy instructor at Southwestern Community College, he's trained to deliver the next generation of healthcare workers to a region that struggles to hire enough of them.
Those roles gave him a closer look than most at just how bad the pandemic got this winter — and at the critical importance of expanding Western North Carolina's standing army of healthcare professionals.
"This past midwinter, which we'll call December and January, was extraordinarily busy," he said. "There was reopening of areas that had been mothballed to take care of COVID patients. Workload was, to put it bluntly, extreme, because of the numbers of patients requiring extensive oxygen therapy, breathing modalities, pulmonary care. I was offered shifts every week."
Even as he was working one or two 12-hour shifts per week at Mission Health, Moyle was working full-time at SCC, doing his best to educate the 20 students enrolled in the college's two-year respiratory therapy program. Since COVID hit, that hasn't been easy.
"It's been a huge learning curve to go through what we've gone through, more so in the education environment than the actual provision of healthcare," he said.
Preventing exposure to dangerous contagions has always been part of the healthcare environment, even if those preventative measures did heighten during the pandemic.
"It was much more dramatic in the scholastic environment, because we've never had to go through it before," Moyle said.
'With a week's notice'
All across the region — the country — the world — students were in the final weeks of their spring semester when the pandemic forced institutions from kindergartens to graduate schools to shutter their classrooms and pivot to virtual learning. But for a nursing student learning draw blood or a respiratory therapist in training learning how to use a ventilator, Zoom just doesn't cut it.
While state mandates shutting down in-person instruction had exceptions for healthcare programs that require clinical experiences, many agencies and organizations that had previously hosted clinical students stopped allowing them in, especially in the first few months of the pandemic. That left instructors to figure out how to get their students the experience they'd need to pass their certification exams and deliver quality care in the field.
"We kind of had to put it together with a week's notice," said Colleen Hayes, director of Western Carolina University's undergraduate nursing program.
She used various online learning resources to help fill the gap, including a program called Shadow Health that allows students to work through virtual clinical situations. The university also reached out to retired doctors for help. The students would call the doctors to practice giving a patient report, just as they would do in a clinical setting.
Typically, nursing students must complete at least 120 clinical hours in their final year of education, of which only a percentage could be delivered virtually. However, the N.C. Board of Nursing temporarily waived that rule, stating that program directors would be responsible "for determining educationally sound modifications that are necessary, for identifying whether the program outcomes have been met, and for validating those students who meet the program outcome." The waiver is set to expire at the end of June.
Representatives from SCC, WCU and Haywood Community College all said that, despite the challenges, their students rose to the occasion, graduating and passing certification exams at high rates. In fact, SCC saw 92 percent of its 2020 graduating class pass the nursing licensure exam on the first try, "one of the highest rates we'd had in years," said Executive Vice President of Instruction and Student Services Thom Brooks.
Still, Hayes said of WCU's nursing students, "I'm sure it was difficult for them to get shortened at the end on practical experience and then go right into hospitals that were dealing with all the COVID stuff."
Different each semester
For last year's graduates, COVID was a factor only at the very end of their educational journey. Nearly all the health sciences students set to graduate this year, however, had to deal with pandemic restrictions through the majority of their chosen program, most of which are two years long.
However, by summertime two things were apparent: the pandemic would be around for a while, and everybody would need to start thinking about how to resume normal activities as safely as possible. As a result, restrictions during the following fall and spring were nowhere near as severe as in the early days of the pandemic.
"We did get to go back to clinical a little bit over the summer, and in the fall everybody was back in clinical some, and we did as many hours as we could," said Lorene Putnam, nursing director for HCC and Tri-County Community College.
While most locations began accepting clinical students again over the summer and even more into the fall, program directors often had a hard time getting students the same number of hours on the job they would have been expected to obtain pre-pandemic.
"In some units we couldn't put as many students just because of physical distancing," said Putnam. "They didn't want as many people there, which is understandable, and then hesitancy of clients — just hesitance to have anybody there that didn't absolutely have to be there."
Programs have gone to creative lengths to continue teaching what are by definition hands-on jobs while still observing pandemic protocol. Sometimes, instructors must offer labs twice as often in order to halve the number of students in the room at once. For other classes, instructors divide students into two groups, with one group attending in person and the other via video for any given session. With no conferences on the schedule, SCC has been using its conference center to hold nursing classes. The space is much larger than the usual nursing classroom, making social distancing easier.
The measures seem to be working. Brooks said that SCC has not documented any cases of a student contracting COVID-19 from a class, lab or clinical.
Students and teachers alike are looking forward to a more normal fall, and in particular to more opportunities for face-to-face interaction. But some pandemic-era teaching methods may persist.
"Some of the things we've learned, we might keep," said Hayes. "They kind of worked out better. So it's really made us look at everything, how we're teaching. I think that has been a lesson of COVID."
On the other hand, the rollout of the largest mass vaccination program in history is giving students access to a type of hands-on experience that their predecessors never had the chance to try.
"Each semester in COVID has been different," said Hayes. "But this one's really about the vaccine."
Students from WCU, SCC and HCC have all been volunteering at clinics across the region as they run in the race to vaccinate faster than the virus mutates.
"I think they appreciate the importance of it and the impacts that they can make by contributing," said Hayes. "Several seem to really appreciate that — that they're involved at this point in time with this pandemic, knowing that they're in nursing school, and they can make a difference right away."
Attacking the shortage
While the pandemic highlighted the need for more nurses, doctors, EMTs, respiratory therapists, radiologists and all manner of health care workers in Western North Carolina, it did not create the need.
A 2018 report from the N.C. Institute of Medicine looks at the number of primary, dental and mental/behavioral care professionals in each county to determine whether there's a shortage in any category. It names Cherokee, Clay, Macon, Jackson, Haywood and Swain counties as "health professional shortage areas" for all three, with Graham designated as a shortage area for both primary and dental care.
According to the report, salaries are not the main issue when it comes to attracting and maintaining health professionals in rural areas — in fact, salaries for rural areas are 13 to 16 percent higher than for urban areas. Instead, it blames lack of training opportunities, higher caseloads and community characteristics that may not be attractive to people looking for a place with more urban amenities.
SCC and HCC are hoping to attack two of those three issues with plans for new health sciences buildings. These projects aim to drastically increase capacity to train new health professionals and to pull from a largely local pool of applicants who are already familiar with the community's rural nature and likely to stick around after graduation. SCC, for example, estimates that about 90 percent of its graduates live and work in Jackson, Macon or Swain County after graduation.
HCC just broke ground on its new building this year, but SCC's has been under construction since 2019 and is scheduled for completion in June. The $21 million project will yield 55,411 square feet of state-of-the-art lab and classroom space that will house SCC's 14 existing health sciences programs along with two new ones. With the extra space, SCC expects to increase health sciences admissions by 57 percent over the next three years, with capacity growing from 506 to nearly 800.
"The building immediately gives us more capacity for the numbers of students that we can accept into our health science programs," said Brooks. "Most of our programs have limitations on the number of students that can be accepted into the program, and oftentimes that's tied to the physical space that the program has to provide adequate lab experiences to those students."
HCC's 16,000-square-foot building, meanwhile, will double the space available for nursing education, a program currently enrolling 49 students. Construction will last about one year, wrapping up in time for use in fall 2022.
Hope for the future
The pandemic has shown what a vital, difficult and sometimes dangerous field health care can be, but educators say that their students aren't backing away from the challenge.
"Not a single one dropped out due to COVID," said Eric Hester, EMS Program Coordinator for SCC. "They actually stepped up to the plate, and they accepted the challenge. It kind of just reaffirmed to them that, 'I'm needed, and let's get out there and get to work.'"
At 55, Hester's finding that working in the back of an ambulance takes an increasing physical toll, and during the winter, when nearly every call was for a COVID-positive patient and the vaccine wasn't available yet, it was downright scary. He found his students' response to the challenge encouraging.
"They're fresh and ready to go, and that's rejoicing to me because since I'm older I'd like to step back and let the younger people step up to the plate," he said.
Hester did see a lag in interest during the 2020-21 school year, with only seven students in a cohort that would usually have 14 or 15. Nationwide, community colleges saw a 10 percent drop in enrollment between fall 2019 and fall 2020, for a variety of reasons. But Hester is hopeful that applications will return to a more normal level in the year ahead.
Thankfully, the drastic decrease in Hester's program was the exception rather than the rule. Moyle said that he saw about the same number of applications for 2020-21 as for 2019-20.
"Most community colleges have seen a decrease in enrollment, but that hasn't been so much the case for our health science programs," said Brooks.
Putnam said that enrollment seems to be down "a little bit," but not significantly. However, that could change next year, because typically students planning to enter the nursing program will take their general education courses before applying. It's possible that fewer chose to do that this academic year, which could lead to fewer applications in the year ahead.
On a university-wide level, WCU saw record enrollment this year — again — and applications to the nursing program came in at the high end of normal, said Hayes.
Hope for a more typical school year this fall is high, and educators yearn to see that hope realized and to give their full focus once again to the most important task at hand — supplying Western North Carolina with a pipeline of professionals sufficient to serve the needs of an ever-expanding population of mountain residents.
"We had a big advisory meeting yesterday with representatives from literally all the EMS agencies in our general region," said Hester. "And every single one of the agencies are begging for medics. There's availability out there, and they are begging for people to come to work."