Archived News
DC dispatch: Jan. 19
Wednesday, January 20, 2021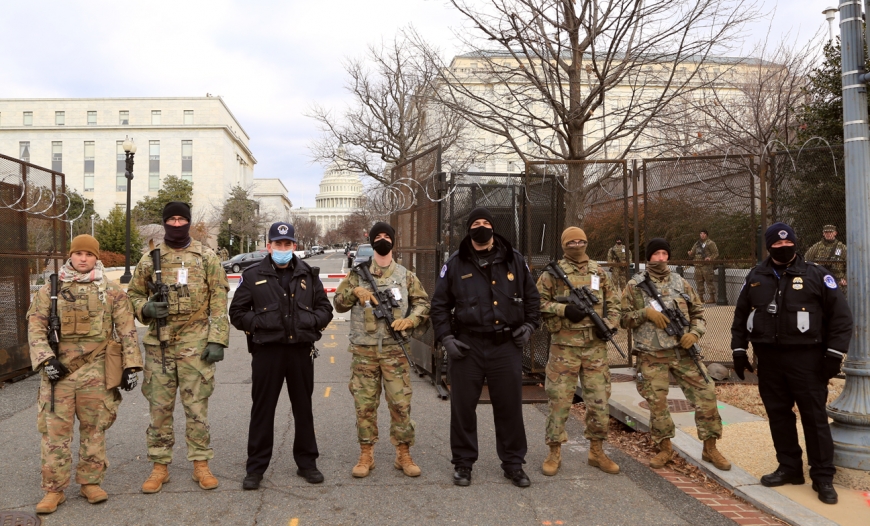 Capitol Police and National Guardsmen stand before a checkpoint on Washington, D.C.'s South Capitol Street on Jan. 19.
Jeffrey Delannoy photo
First it was 10,000. Then, 15,000. Then, 20,000. Now, they say, there are 25,000 National Guard troops in this city of 700,000, or about one for every 28 residents.
And it looks like it, too – in full battle rattle, congregating with rifles near checkpoints or standing stony-faced behind miles of fence cordoning off the Capitol complex, stopping cars and searching trunks, waiting for signs of trouble while watching high cirrus clouds make their way across the deep blue sky.
They're supplemented by all manner of federal law enforcement agencies, including the U.S. Park Police, Secret Service and Border Patrol agents.
Then there's the U.S. Capitol Police, their black-banded badges a testament to one of their own who died from injuries sustained during the Jan. 6 insurrection and to another who took his own life shortly after responding to the deadly riot.
Right now, Washington, D.C. could be the safest place on earth, or the most dangerous. It's hard to say.
Even with all that in mind, brief conversations with law enforcement through the palisade reveals them to be, well, pretty darn friendly, all things considered.
There's the D.C. cop from Rhode Island, talking about the Pawtucket Red Sox. Another, from New York, talked about how much he loved visiting Chicago last summer. Another, pounding Red Bull. A Guardsman from South Carolina who said she was cold and couldn't wait to get back home as she pawed the rifle slung over her shoulder.
"At least, they're feeding us good," she said. "They've been feeding us real good."
SMN Politics Editor Cory Vaillancourt and photographer Jeffrey Delannoy will report from Washington, D.C., all this week. Check back for more through Jan. 23.