Archived News
DC dispatch: Jan. 18
Tuesday, January 19, 2021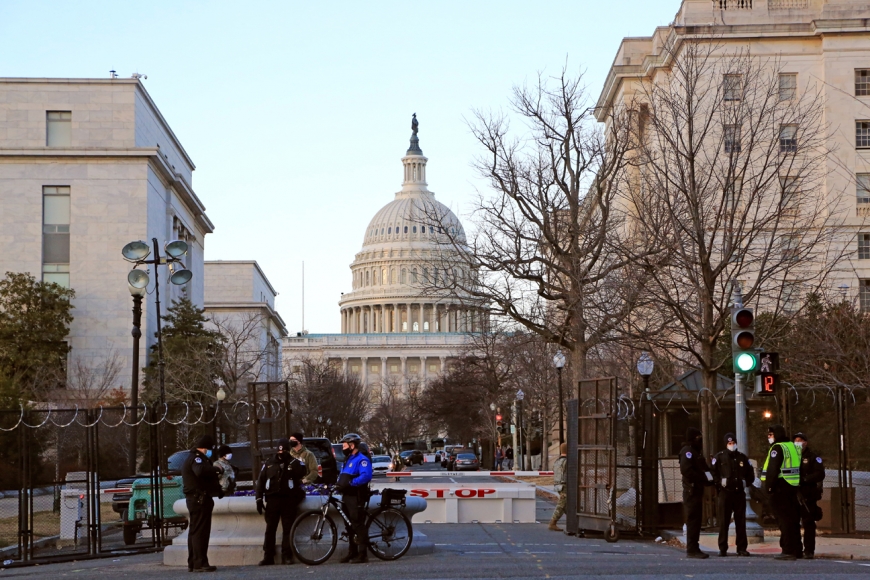 Capitol police guard a checkpoint just south of the Capitol dome in Washington, D.C. on Jan. 18.
Jeffrey Delannoy/Smoky Mountain News
No garbage cans. Temporary fencing, bolted together top and bottom. Armed soldiers in black ski masks every 50 feet.
That was a tense Washington, D.C. today, two days before the inauguration of the 46th President of the United States, Joe Biden.
The security measures (garbage cans are great places for IEDs) aren't as much the result of Biden's victory as they are of outgoing President Donald Trump's recent rally, held on Jan. 6 after months of complaining about an election that 50 states and 60 courts said was conducted fairly.
Now, barriers 12 feet high form a massive perimeter preventing access to the Capitol, the White House, the National Mall, the Washington Monument, the Smithsonian, all the symbols of those things still right and good in America today.
Empty streets. Underground trains, vacant both coming and going. Darkened restaurants offer only tables, chairs turned up.
With less than 48 hours left in Trump's presidency, Washington will remain locked down until the day after Biden takes the oath of office on Jan. 20.
In the meantime Americans are being invited to watch various inauguration week events online, as though the choreographed video productions will somehow help the world forget that just days ago insurrectionists stormed the Capitol, out for blood.
Washington, to those who've been there, has always been a welcoming and friendly city for Americans and international visitors alike. This isn't Washington; this is somewhere else, some other place that vaguely resembles some foreign land where highways are roadblocked with tension and dump trucks and miles of D.C. tinsel spool across the top of fencing all way to the now-closed Martin Luther King, Jr. Memorial – on MLK Day, no less.
"True peace is not merely the absence of tension," King said. "It is the presence of justice."
SMN Politics Editor Cory Vaillancourt and photographer Jeffrey Delannoy will report from Washington, D.C., all this week. Check back for more through Jan. 23.