Archived News
DC dispatch: Jan. 21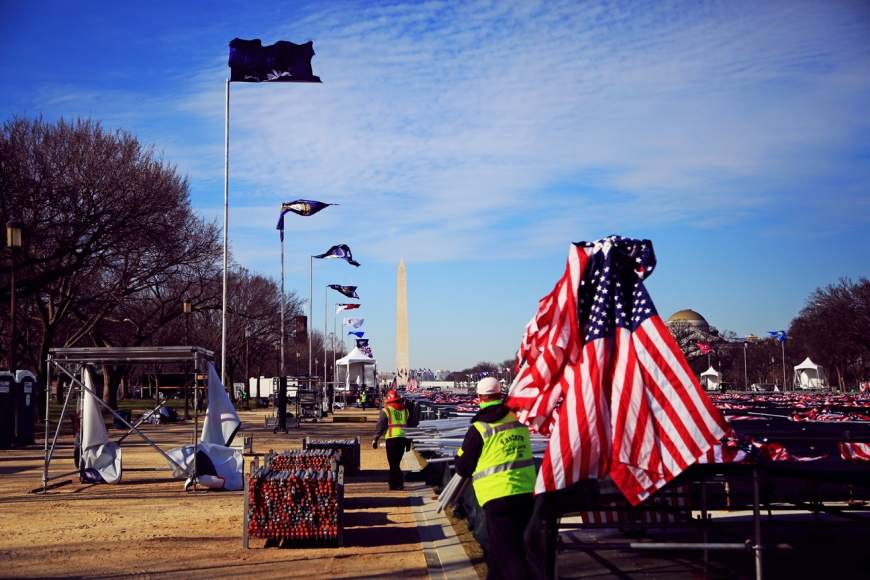 Workers remove what's left of the inaugural ceremonies in Washington D.C. on Thursday, Jan. 21.
Jeffrey Delannoy photo
It wasn't exactly the fall of the Berlin Wall, but on Thursday, Jan. 21, workers in Washington, D.C. began disassembling the miles of fence girdling the core of the federal district that kept Americans literally and figuratively separated from their government during the inauguration.
Not as significant as the Iron Curtain, no – if only because of its longevity – but still, in a nation where the citizenry generally feels safe generationally, the gulf between the guards and the guarded hadn't been greater in some time.
A return to normalcy is what it is. People on the streets. Garbage cans. Underground trains, both coming and going. Temporary fencing, stacked and packed by forklifts. Soldiers in black ski masks loading out, bound for warmer places. Demonstrators and journalists, too.
First it was 25,000. Then, 20,000. Then, 15,000. Now, they say, there are 10,000 National Guard troops in this city of 700,000.
Washington, to those who've been here, has always been a welcoming and friendly city for Americans and international visitors alike. This is Washington, again.
SMN Politics Editor Cory Vaillancourt and photographer Jeffrey Delannoy reported from Washington, D.C., all this week. Check back for print coverage and more in the next issue of The Smoky Mountain News, available online and on newsstands on Wednesday, Jan. 27.