Archived News
Outcome uncertain for Jackson's District 4 race
Thursday, November 05, 2020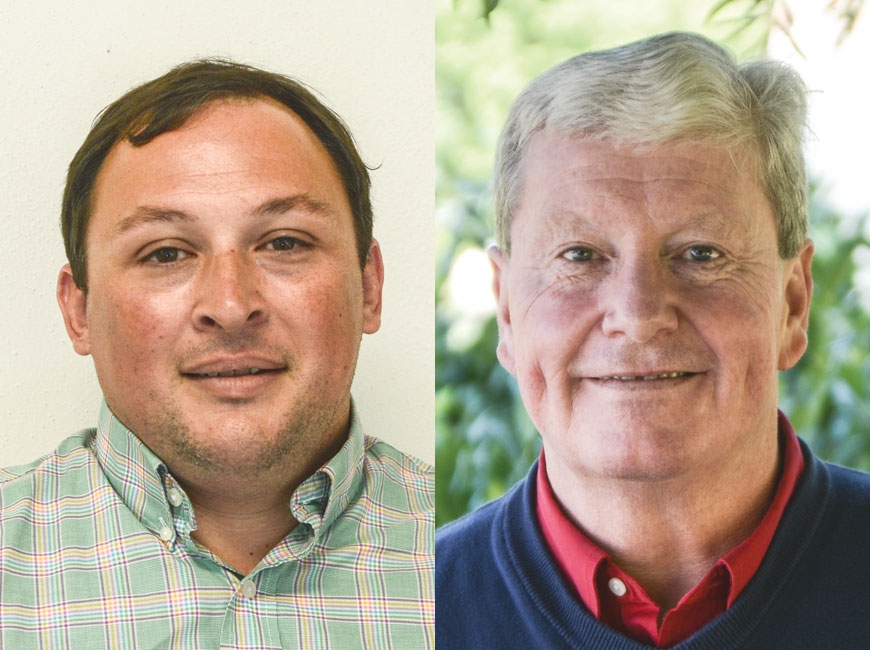 Mark Letson (left) and Mark Jones. Holly Kays photos
Election Day results showed Democrat Mark Jones edging Republican Mark Letson by a slim nine-vote margin in the race for the District 4 seat on the Jackson County Board of Commissioners, but Jones' victory is far from assured.
"I'm holding out hope that we find out on Friday (Nov. 13) that I won," said Letson.
Among in-person voters, 336 people cast provisional ballots, votes that are set aside for later verification when there is a question about the voter's eligibility to vote in the precinct where they show up. Election officials are now researching these ballots, and during the official canvass set to start at 11 a.m. Friday, Nov. 13, the Board of Elections will vote as to which ballots are legitimate and which are not.
Also still in play are the 50 absentee ballots received thus far after the Election Day tally, and more could come in over the next week. A total of 880 absentee ballots that were sent out for this election have yet to be returned, said Board of Elections Director Lisa Lovedahl, though she is not expecting anywhere near that number of votes to come back.
"A lot of those just went ahead and voted in-person instead of returning the absentee ballots," she explained.
To be counted, absentee ballots must arrive no later than Nov. 12 and be postmarked no later than Nov. 3.
It is likely that absentee votes will favor Jones, who received 72.3 percent of the 2,721 absentee votes counted on Election Day. Provisional ballots, meanwhile, will likely favor Letson, who received 65.2 percent of 3,631 in-person Election Day votes. Early votes cast in-person make up the largest share of the tally and were more evenly distributed between the candidates, with Jones receiving 49.6 percent and Letson 50.4 percent of the 14,387 votes.
Lovedahl said there should be no issues with the validity of the 50 absentee ballots received thus far, but there's no way to tell how many of the 336 provisional ballots will be accepted until staff begin researching them.
If the votes are still within 1 percent of each other after canvass, the losing candidate has until 5 p.m. the next business day — which in this case would be Monday, Nov. 16 — to request a recount.
Letson said that he expects a recount regardless of the outcome.
"Even if it was flipped the other way, I would hope Mark (Jones) would want to do a recount as well," he said. "Depending on the canvass results, I should probably go ahead and say I will have a recount."
If a recount is requested, it would likely occur on Wednesday, Nov. 18, said Lovedahl. However, if the large ballot scanner the board has requested from the state is not available on that day, the recount might be held on a different date.
"We've already put in a request for one of those, so it should not take as long as the process of having to put back all of those 21,000 ballots we have right now," she said.
Voter turnout was much higher this year than the 66.98 percent of 28,195 registered voters who turned out in 2016, with turnout this time around coming in at 72.07 percent of 29,593 registered voters.