Archived News
Gillespie keeps far-west house seat in GOP hands
Wednesday, November 04, 2020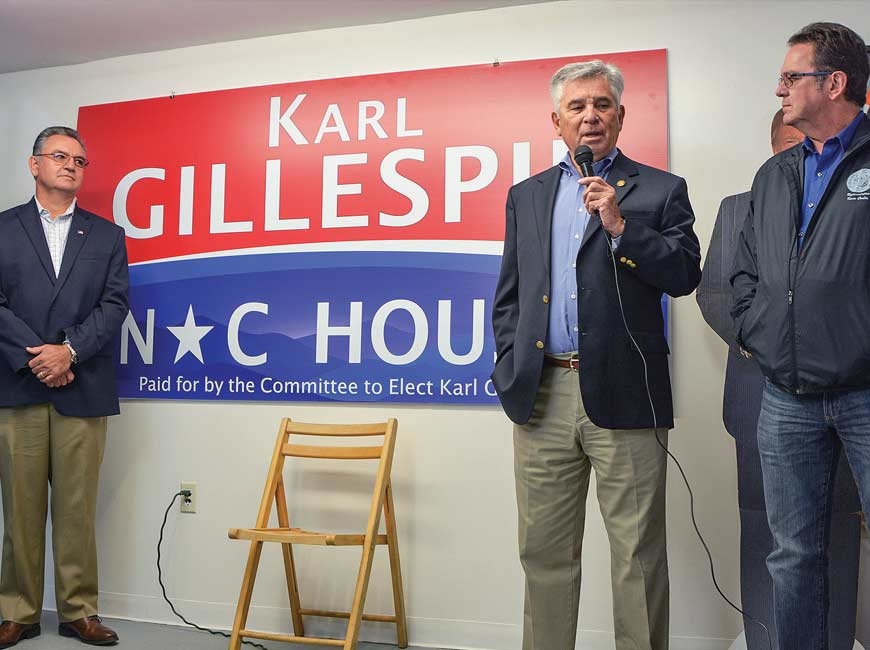 Macon County Commissioner Karl Gillespie (left) looks on as former Macon commissioners Jim Davis and Kevin Corbin (right) introduce him. Cory Vaillancourt photo
Franklin Republican Karl Gillespie will now become the third Macon County commissioner in the last decade to make the jump to Raleigh to represent the citizens of North Carolina's westernmost counties, with his convincing win over Murphy Democrat Susan Landis.
"We're very happy with the results. We spent the day traveling through the district, visiting the polls and visiting folks, and I look forward to serving the citizens of the 120th District," said Gillespie.
Gillespie defeated Landis in N.C. House District 120 by a margin of 74 to 26 percent, with 98 percent of precincts reporting on the evening of Nov. 3.
He entered the race last fall, the result of a domino-effect among Macon County legislators.
Longtime senator and former Macon County Commissioner Jim Davis, R-Franklin, announced he wouldn't seek reelection to his Senate seat and endorsed current District 120 Rep (and former Macon County commissioner) Kevin Corbin, R-Franklin, in the race to replace him.
Gillespie stepped into the void created by Corbin's departure, and also stepped into a heavily Republican district where Corbin won his two terms in the House with more than 72 percent of the vote, each time.
In light of Corbin's victory, the Western North Carolina counties of Cherokee, Clay, Graham, Haywood, Jackson, Macon and Swain will now see the tag-team legislative duo of Sen. Corbin and Rep. Gillespie, as opposed to the previous lineup of Sen. Davis and Rep. Corbin.
All three have prioritized issues that seem to affect the far west disproportionately, like the opioid crisis and access to rural broadband.