Archived News
Jones ahead in Jackson Commission race after canvass
Wednesday, November 18, 2020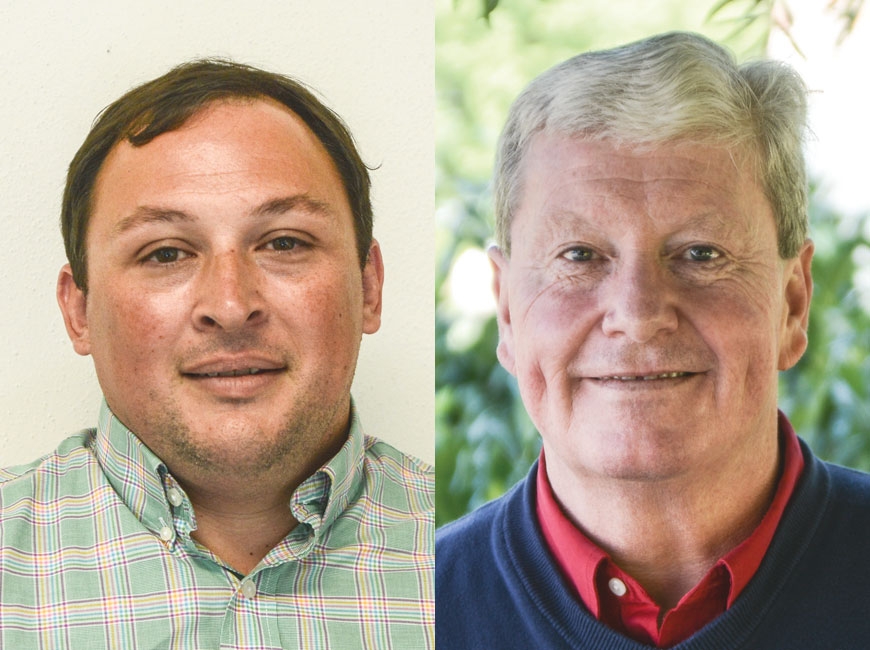 Mark Letson (left) and Mark Jones.
Following canvass Friday, Nov. 13, Democrat Mark Jones is still ahead in the race for the Jackson County Board of Commissioners' District 4 seat — but barely.
Election Day vote tallies put Jones, a 10-year veteran of the county commission seeking to rejoin the board after losing to Republican Mickey Luker in 2016, just nine votes ahead of Republican Mark Letson, who is seeking his first elected office. That count did not include provisional ballots or absentee votes that were postmarked by Nov. 3 but had not yet arrived at the Board of Elections. On Friday, the board added 68 absentee ballots and 90 provisional ballots to the count.
Letson narrowed the gap by two votes, but it wasn't enough to overtake Jones' lead. Though the tally is still subject to the results of a recount, Jones currently has 10,452 votes with Letson coming in just seven votes behind, at 10,445. When results come within 1 percent of each other, candidates have the right to request a recount. Letson has made that request, and the recount is scheduled for Thursday, Nov. 19. However, Letson allowed the outcome is not likely to change.
"The care that they (the Board of Elections) took to ensure that the votes are counted correctly is a testament to their standards," said Letson. "I don't see a swing in those votes, but you never know, and as close as it is it's worth a second look."
Jones, also, does not expect the outcome to change.
"I'm so humbled and proud," he said of his likely win.
Of the 336 provisional ballots cast on Election Day — ballots left out of the initial count because there is a question about the voter's eligibility that must be settled by the election board — 90 were accepted into the final count.
"You have to go through the process, and it's a good and fair process, and it works," Jones said.
Letson outstripped Jones in the provisional ballots, with 56.67 percent of those votes, while Jones did better with absentee voters, receiving 57.35 percent of the vote on those late-arriving ballots. The trends follow those observed on Election Day. Jones received 72.3 percent of the 2,721 absentee votes counted on Election Day while Letson received 65.2 percent of 3,631 in-person Election Day votes.
However, Letson pointed out that while he came up short overall, he won all the precincts in southern Jackson County by significant margins, losing only four of the county's 13 precincts. Letson lost by 34 votes in the Qualla district and pulled only 43.8 percent of 1,601 votes in Webster and 45.4 percent of 4,329 votes in Sylva/Dillsboro. His biggest loss was in the county's second-largest precinct of Cullowhee, where he received only 37.7 percent of 4,115 votes.
"I'm a little disappointed that Cullowhee is just determining who is our representative, but that's the way the rules are," he said.
If his lead holds, Jones will be part of a 4-1 Democratic majority on the board, with Commissioner-Elect Tom Stribling the body's sole Republican. New commissioners will be sworn in on Monday, Dec. 7, and serve through December 2024.