Archived News
Presnell's open seat draws competitors
Wednesday, September 23, 2020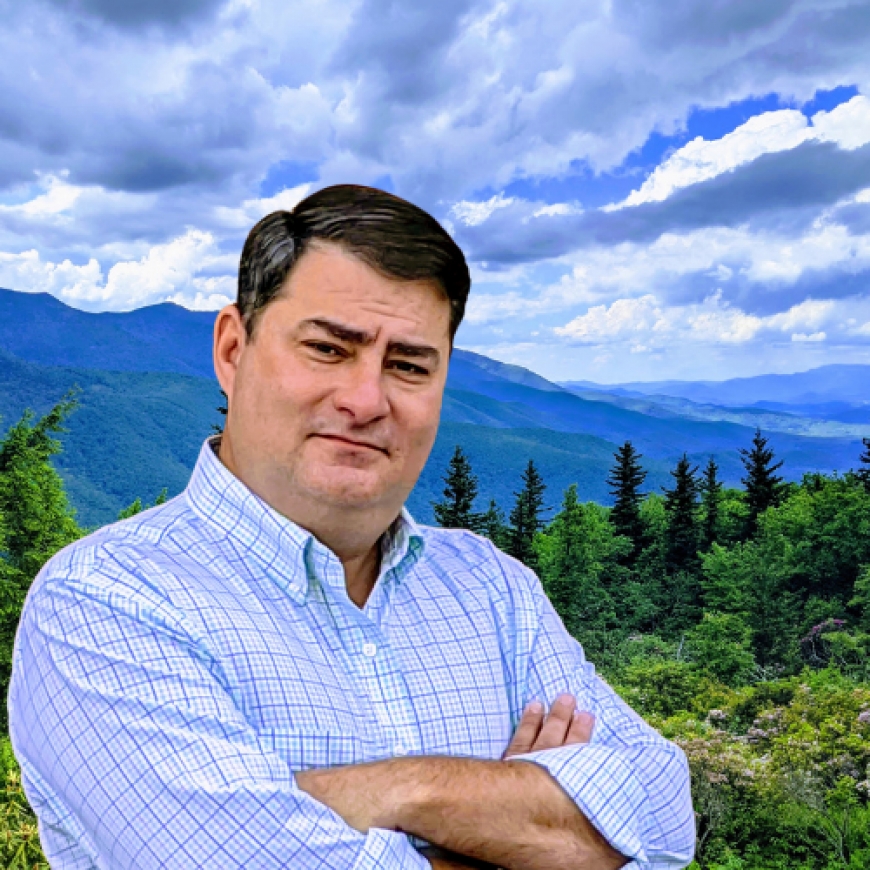 Alan Jones
After eight years in office, Burnsville Republican Rep. Michele Presnell will probably be better remembered for the things she didn't do than the things she did.
So-called "local bills" need the approval of a county's entire legislative delegation; as Haywood County is split between two North Carolina House districts, the local delegation consists of Presnell, Sen. Jim Davis and another representative — of late Joe Sam Queen, but from 2016 to 2018 Mike Clampitt. All three must agree before a local bill hits the floor of the North Carolina General Assembly.
Presnell used this veto power frequently to override the will of her Haywood constituents; she blocked a mutually-desired merger between the Lake Junaluska Assembly and the Town of Waynesville, she denied a unanimous bipartisan request by Haywood commissioners to stop electing its tax collector and she torpedoed an increase in the room occupancy tax rate requested by the overwhelming majority of Haywood's elected officials (twice).
But all that's not to slight Presnell — she's been effective for her conservative constituents at least, opposing higher taxes, infringements on gun rights and the removal of Confederate monuments, while also helping to eliminate vehicle emissions testing.
Those constituents rewarded her with four terms, beginning in 2012; she survived what were thought to be strong challenges by Canton Democrat Rhonda Cole Schandevel in 2016 and 2018, most recently pulling more than 57 percent of the vote.
At the beginning of the candidate filing period back in December, Presnell surprised many by announcing she wouldn't seek reelection, saying on Dec. 2 that it was "time to refocus on family and other opportunities that the Lord leads."
Haywood County Republican Commissioner Mark Pless was barely a year into his first term after finishing third out of six candidates in 2018 — narrowly besting longtime Commissioner Mike Sorrells by 43 votes out of more than 11,000 cast — when he filed to run for Presnell's seat.
"We need someone in Haywood County that will fight on a conservative side that will be able to defend the rights of the people, but also be able to bring some of the finances from Raleigh to Haywood County and to Western North Carolina," said Pless. "I don't think we've been getting a lot of that. I think we've been kind of left over and I'd like have an opportunity to be able to better the lives of the people here, because of the tax monies that are collected. It's going to somebody it's just not coming to us."
Canton native Alan Jones, a Democrat, became the only other candidate to file, thus ensuring the center of power in a district that also includes Madison and Yancey counties will now move to Haywood, regardless of which candidate wins.
"I just felt like working people weren't being recognized in the state. I felt inside that we were getting too close to these mega corporations. We're not looking out for our small businesses and our working people," Jones said. "I just felt that they wanted a voice, and I felt my opportunity was now to do that. I never had thought about running for public office and I saw where no one had put their hat in the ring and I said, 'Well, somebody needs to run. We just can't leave the position open.'"
Alan Jones
Age: 47
Residence: Canton
Occupation: Union official
Political experience: First campaign
Born and raised in Canton, Jones has a long history in construction and manufacturing, studying to be a sawyer at Haywood Community College and then progressing through a number of jobs in the lumber and textile industries.
It was at Enka where Jones got involved with the Iron Workers union, but he soon had the opportunity to work at the paper mill in his hometown of Canton, starting in 1999. In 2007, he was elected to the first of three terms as president of the United Steelworkers Local 507 but resigned in 2014 to take a position as a staff representative with the United Steelworkers International Union.
With such a background it's no surprise that his campaign centers around the many needs of working families.
"We're talking a lot about access to affordable healthcare," Jones said. "A lot of that is in the federal sector, but I think there's things in the state that we can do as well. Access to affordable healthcare is something that is very critical for us to look at."
Like many North Carolina Democrats, Jones supports Medicaid expansion — at least in part due to the opioid crisis ravaging rural America.
"No one wakes up saying 'I'm going to be addicted to opioids,' [but] in my job as a union representative, you see it every day. You've got people who are very productive five years before, a year before, six months before, then all of a sudden you see a change in them," he said. "The next thing you know, their whole lives are destroyed. Their families are destroyed. We need to find a way to help folks deal with these top addictions through treatment centers."
Securing funding for mental health and detox/rehab facilities in Western North Carolina has become an important issue in state-level races, due to the high cost of constructing and operating such facilities, but Jones is also supportive of the various harm reduction bills sponsored by Sen. Davis and Rep. Corbin and the local efforts that have arisen from them — something Pless has continually questioned in his brief time on the Haywood County Board of Commissioners.
"I feel they're reasonable steps to manage the issue, because support for people is what gets them moving towards recovery. Whenever they see they have no hope, having no hope is what drives people in many different phases of addiction," Jones said. "If we provide people with resources to give them hope, to become successful, productive citizens, I do feel those programs give people hope. I do feel they need to have accountability, but you can't necessarily determine how many overdoses you've presented."
As to Jones' union work, there are plenty of states where such an affiliation would be a tremendous campaign asset. Unfortunately for Jones, North Carolina routinely battles South Carolina for the lowest percentage of unionized workforce in the nation, making it more difficult to remind people of the victories won by organized labor on behalf of workers over the last century.
"We're very fortunate to have the 40-hour work week, paid holidays, paid sick time, a voice in the workplace, and not to fear intimidation and reprisal from a supervisor," he said. "A lot of the things that the union has brought people — OSHA and healthcare and all these different things — have been brought by people coming together and standing up for what they believe in."
Haywood County used to have the highest union membership rate in the state, but with the departure of manufacturing for foreign shores, that's no longer the case. Still, Jones thinks there's enough of a legacy here — especially at the mill in Canton — to help him win the seat.
"I feel that there is substantial membership in this area, or at least within the district. There's probably 3,000 to 4,000 [union]-connected families. I think people can see that I will stand up for what's right and if it's wrong, then I'll also say that as well. It doesn't matter who it is, what side it is," he said. "I believe in doing what's right for working people. Deep down in my heart I feel that's what my mission is."
Mark Pless
Age: 53
Residence: Canton
Occupation: Insurance agent
Political experience: Haywood County commissioner, 2 years
Pless was elected in 2018 as part of a monumental shift in Haywood County's power structure. Not only did he join Bethel resident Tommy Long and Canton resident Brandon Rogers on the Board of Commissioners — giving the eastern side of the county substantial clout — his was an important victory for Republicans, who picked up their first-ever majority on the commission.
Pless told The Smoky Mountain News back in October 2018 that he'd be a spending hawk.
"Taxes have raised by 4 cents over the last four years, and property values have also increased. I believe I could cut down what the government is spending, how much they're spending, in order to compensate for what they are wasting at this point," he said. "I know that county government has to grow, but my personal taxes have grown from around $500 to $790 over the course of four years and I don't see that I'm getting anything out of it."
While commissioners haven't been able to trim those tax increases back — and now, with COVID-19, it doesn't seem to be possible next year, either — Pless has spent a lot of time vigorously questioning a fair number of spending items that have come before the current board.
He's also cast more dissenting votes than anyone in recent memory, most recently when he opposed a measure to spend county funds on infrastructure for a vacant economic development site in hopes of luring businesses. The measure passed 4-to-1 anyway.
If he's elected, Pless said he'd do the same in Raleigh.
"Yes, that's my personality," he said. "I'm up there to ask the questions, to find out the answers when something doesn't sound right or when something sounds to me like we have a better option. I don't have a lot of discussions except if we're in open session, because if I have a question about it, the people have a question. I want to carry that to Raleigh … that takes a little bit of backbone, I guess you could say, to be willing to put yourself out there and let everybody see it."
Perhaps the most visible way Pless has done that is in his persistent demands for accountability from local harm reduction organizations, to the great irritation of some.
Although there have been a number of opioid-related legislative actions from Raleigh designed to stem the tide of the epidemic, Pless sees himself advocating for state funds to establish a treatment facility in Western North Carolina.
"If we could get the state to build us a facility — and I'm going to say Haywood County, because I'm a commissioner here — if we could get the facility build and get the [surrounding] counties to come together … for the funding to continue it, building the facility is the hard part, but they're going to be able to collect money off of insurance companies. They're going to be able to collect monies off of Medicaid," he said.
As far as actual Medicaid expansion, Pless cites a common argument against it; the federal government is currently offering to cover 90 percent of the cost of the expansion population, but there's no guarantee that number won't decrease over time, leaving state taxpayers on the hook for the bill. He's not strictly opposed to the idea, but he is opposed to making a decision without greater assurances it won't lead to fiascos in states like New York.
"I don't know that anybody at the federal level would give you a guaranteed amount," he said. "They say they will, they've done it with schools. They've done it with a lot of different things, but as those priorities change, they decrease the funding and that's my biggest fear. If they would give a locked in amount and it was going to be that way forever, that opens the table up for more discussion. I don't think you'll ever get it but, uh, that would open it up to where I would consider it."
With regard to the local bills issue, Pless told SMN last that week he'd be more representative of the district's desires than Presnell, who has given him her endorsement.
The General Election will take place on Tuesday, Nov. 3. However there are a number of ways to vote early in-person, or by mail. Mail-in voting is currently underway. Contact your local county board of elections to learn more.