Archived News
Haywood Early College students support each other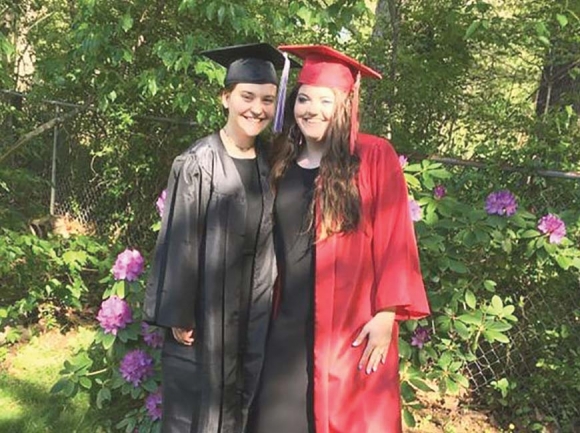 Lily Payne (left) poses in cap and gown with her sister, Olivia. Shannon Stokely photo
Canton native Lily Payne still remembers her last day of school at Haywood Early College.
"It was March 13," Payne said. "It was kind of chaotic, but no one really knew that it was going to be the last day of school."
Payne soon learned from a teacher that there would be a two-week break in in-person instruction.
"At that time it was two weeks that they said that we couldn't go back to school," she said. "At first I didn't think it was going to be two weeks, but as I kept going on and I kept watching the news, it didn't really surprise me that we weren't going back to school. I was upset about it, but I'm kind of a realist, so I was kind of expecting it."
Needless to say, Payne expected this time of year to be much different than it is today. Instead of spending time with friends as they all prepare to go their separate ways in pursuit of their post-high school aspirations, Payne and friends are dealing with the social distancing much like everyone else — on a popular teleconferencing application.
"We started Zoom calling and we made a group chat specifically for the COVID-19 quarantine," she said. "That's actually what it's called. It's the COVID-19 quarantine group chat."
The chat includes seven or eight people and is probably no less or more mundane than their regular old everyday pre-pandemic interactions would have been.
"We basically talk about how strange it is, and what we we're doing every day and if we needed any support, being quarantined all the time," Payne said.
Payne's effort to help support her cohorts isn't out of character — she served as a mentor to incoming freshmen in Haywood Early College's Wolfpack, and was also involved in the Interact Club, a group that in conjunction with the Rotary performs community service.
But that support goes around, and comes around — Payne credited her teachers with trying to maintain a supportive environment outside the classroom.
"I'm really grateful to be able to go to a school like this because our teachers are so supportive of us," she said. "They're always texting us and asking us how we're doing and giving us their support and just kind of making sure we stayed connected, even though we couldn't be together."
The lack of a formal, normal graduation has been "disappointing" according to Payne, but for her family doubly so, because Lily Payne is actually a triplet. Her brother, Hayden, will graduate from Pisgah High School next year, but her sister Olivia graduates from Pisgah this year and experienced interruptions much the same as Lily did at Haywood Early College.
"We got her a cap and gown and we went to take a whole lot of pictures," Lily said. "We went out to our grandparents house in our caps and gowns and let them see us, and we took pictures out in their yard and my mom posted them on Facebook. We have a bunch of family members sending us cards and stuff, like encouraging words and telling us that we have their support."
That support's been important for the class of 2020.
"People have been like, really good," Payne said. "We might not get to graduate and walk across the stage, but they've acknowledged our accomplishments and our hard work. I think that's definitely helpful."
Payne will attend Appalachian State University in the fall and plans to earn a master's degree in social work, with the intent of working in adoption services or foster care.