Archived News
Less pomp, more circumstance: Western North Carolina's future leaders graduate amidst pandemic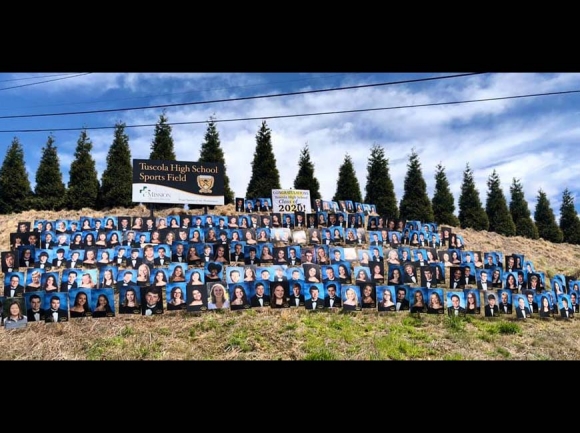 Graduate photos dot the hillside below Tuscola High School. Donated photo
The Class of 2020 will forever be remembered as the "asterisk" class. Whether it be high school, community college or university, the instructional disruption that came about in North Carolina in mid-March as the result of the COVID-19 outbreak will be as much a part of their permanent records as their marks in reading, writing and 'rithmetic.
That doesn't mean they're not ready for their next big steps; to the contrary, the Class of 2020 will also be remembered as the first to live through a global pandemic the likes of which the modern world has never seen.
And they've been watching us — their parents, their teachers, their elected officials. They've been watching business owners and religious leaders and entertainment idols. They've been watching journalists, scientists, conspiracy theorists and trolls.
As The Smoky Mountain News staff set about the task of speaking to recent graduates from across the region, one thing became quickly apparent.
The isolating nature of the pandemic hasn't distanced this generation of students from each other. It's actually brought many of them together and fomented a bond forged through adversity.
Much like the defining events of previous generations — the Great Depression, World War II — the pandemic has already taught them life lessons that can be learned in no classroom.
It's taught them about unpredictability and resiliency. It's taught them about the great strengths of our nation, and the great weaknesses. It's taught them that selfless acts of kindness can still take place even amidst selfish acts of hatred. It's taught them — far too early, perhaps — about the fragility of human life.
As they've watched us, their elders, try to maintain the balance between freedom and security, between liberty and tyranny, their reactions have varied; every student is different, every situation is different and every student has processed the situation in a different way.
Soon will come a time when they're no longer watching us. Soon, we'll be watching them. Soon, they'll be our teachers, our elected officials, our business owners, our religious leaders, our entertainment idols, our journalists, our scientists. Hell, some of them will even become our conspiracy theorists and trolls.
Hopefully, they will question our behavior and our decisions and rather than focus on how and where we've helped them focus on how and where we've failed them, and each other.
Hopefully, their shared experience as the next "great generation" that had no choice but to persevere when the economy crashed, or when the world went to war, will teach them to lead us in ways better than we've led them.
Hopefully, we'll quickly see that the asterisk doesn't make the Class of 2020 any less of a class.
Hopefully, it makes them more.