Archived News
Franklin senior misses chance at starting lineup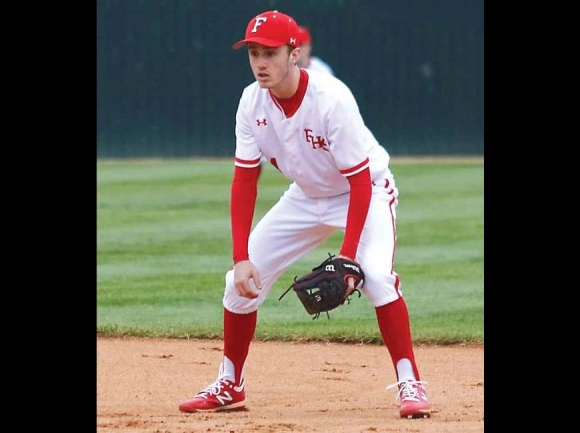 Trey Woodard stands ready at second base. Donated photo
Trey Woodard has been playing baseball as long as he can remember and was looking forward to being a part of the starting lineup for Franklin High School's varsity team this spring.
"I've been playing baseball since I was able to throw a ball. My dad played as a kid and taught me how to play. There's just some aspect of the game I love and can't get enough of. We were 4-and-0 and then all this happened," he said. "I've never been able to start a game before — not even in middle school — I thought my senior year I'd have a chance but also I'm fine just to be part of the team."
Trey's mom, Alisha Woodard, said he hasn't been too bummed out about missing a graduation ceremony or prom, but not being able to fulfill his dream of being the starting second baseman was his biggest disappointment due to the pandemic.
"For him, this was his year to shine in baseball. That's his sport and he's worked his way up to that position, but he got to play three games and that was it. It's been bittersweet for him," she said. "Also, I think another hard thing for him has been missing his friends. We were really stringent the first six weeks or so but after that we started allowing him to visit a friend if we knew they were in the clear and allowing him to have visits at home so that helped a bit."
But on a positive note, Alisha said Trey's been fortunate that the pandemic hasn't left him with too much free time on his hands to sit around at home bored. He's been working with his dad doing construction jobs and learning the trade in addition to completing his school work.
"Yeah, I've been working every day doing construction, carpentry, masonry and anything else my dad is working on," Trey said. "He's got plenty of work and is staying busy."
Seeing his dad's ability to maintain a career when so many people are out of work is part of the reason he decided to pursue a degree in welding at Southwestern Community College this fall. It's also a new aspect of construction that he hasn't learned yet since he never took welding at Franklin High.
"It's something new for me and there's always good money in welding, especially during times like this," he said.
For now he plans to stay at home while attending SCC for two years and then will probably transfer to a larger school or move out in order to enter the workforce. He wants to travel while doing underwater drilling on an oil rig.
He has received a $1,000 Vietnam Veterans scholarship because his grandfather served in the war, and Alisha said he's waiting to hear back about several other scholarship opportunities as well.
"It will be $500 a semester but that will really help me out a lot," he said.