Archived News
Vacancy, but no rooms available
Wednesday, April 08, 2020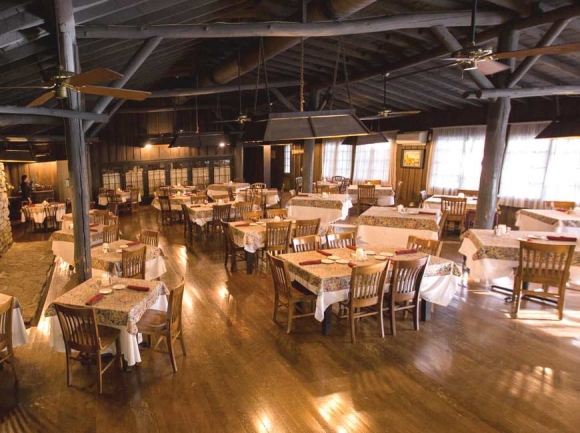 The Fryemont Inn dining room in Bryson City.
Sitting on the side porch of the Fryemont Inn one recent sunny afternoon, Monica Brown overlooks downtown Bryson City. The lawn is newly green, and so are the trees. But, the main lobby is empty, so is the massive dining room and all 37 guest suites within the historic property.
"The hardest aspect of all of this is the waiting. What's hurting us is the uncertainty," said Brown, an innkeeper whose family has owned the property since 1982. "This time of the year is right when we're getting ready to open, getting excited and invigorated about our guests coming here and about what's ahead for the season."
Named to the National Register of Historic Places, the Fryemont has been a staple of Bryson City and greater Western North Carolina since its inception in 1923. But, due to the coronavirus and state mandates closing all non-essential businesses until further notice, the Fryemont remains in a holding pattern for the 2020 season.
"North Carolina has a stay-at-home order through April 29, but that doesn't seem that far away when you really think about what's happening right now," Brown said. "So, who knows when we will return to some state of normalcy for residents and business owners?"
Early April is when the property emerges from another long winter — the windows are opened and the lodge cleaned from top to bottom. By mid-April, the first guests of the year roll in and it's off to the races for the facility.
"If you walked in here last April, you'd see several housekeepers, landscapers and inn employees all running around getting everything in place for our guests," Brown said. "And I'd be running back and forth to the phone taking reservations — it would never stop ringing."
But, that won't be happening this time around. Brown noted that all reservations have been cancelled through early June, with the rest of the summer not looking any better. The same goes for large-scale gatherings at the Fryemont, which included the 110-person Fly Fishing Museum of the Southern Appalachians Hall of Fame ceremony that was scheduled for April 18.
"The event was going to be fly fishing legends from all over the country coming together to celebrate the sport — it was going to be a pretty big deal," Brown said. "And right around that same time, we hold the Swain County Chamber of Commerce banquet, too, which also was canceled."
So, with the reservation phone silent and the rest of the property still in hibernation, Brown and her family are doing whatever they can to maintain the Fryemont — physically and financially.
"This place is so expensive to operate and take care of. We're walking around trying to figure out if there's any heat that needs to be turned off or if there's water leaking from any of the pipes," Brown said. "My father-in-law, who co-owns the Fryemont, is also the chief accountant. And right now, we're going through the steps to see what we need to do if we need to seek out grants and short-term loans."
But, regardless of the cancellations made and money lost, Brown's heart sympathizes with her guests, many of which have come to the Fryemont every year for decades. It's that loyalty to the business that deeply affects Brown and her family when they walk around the cold, quiet inn.
"These are families I've known since I first came here and I'm having to call up every single reservation and tell them we're closed," Brown said. "It's melancholy and it's scary, where we don't have an answer to give to people asking questions because we don't know the end game in all of this."
And yet, even with an empty lodge and a grim outlook for businesses this summer, Brown is optimistic of what may come when people, places and things return to daily life in Bryson City and surrounding areas.
"The world will come back to normal again, and that's going to involve travel, socialization and reopening our businesses," Brown said. "I feel a place like the Fryemont and a town like Bryson City are going to be more important than ever as people are looking for more authentic experiences — these mountains have healing powers for a lot of people who are hurting right now."