Archived News
Three GOP candidates seek Secretary of State nomination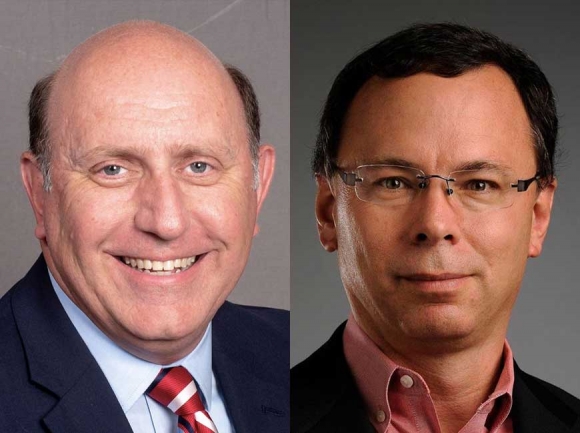 On Tuesday, March 3, Republican Primary voters will be asked to choose between three candidates for the Secretary of State race. The winner will face five-term Democratic incumbent Elaine Marshall in November.
The Smoky Mountain News: Not a lot of people know what some of these council of state offices do. Explain why this office matters, and why it matters to people's pocket books.
E.C. Sykes: There's three things that the Secretary of State office really does. The first one is to drive economic growth. So if people in North Carolina are concerned about jobs or prosperity, or their businesses, then they're concerned about the Secretary of State's office.
The second role that it has is administrative and regulatory management of the businesses that we have in North Carolina. If you formed an LLC or company, you've interacted with Secretary of State's office, but they also commission notaries.
And one of the great areas of controversy is that the incumbent has commissioned a large number of illegal aliens as notaries, so for the taxpayer there are the concerns about voter integrity and the integrity of the legal system documents that they sign.
The third thing it does is deals with scams, counterfeiting, cyber security — those issues are controlled through the Secretary of State's office.
Michael LaPaglia: The Secretary of State's office manages the entire business/legal environment of North Carolina. So the formation of companies, a lot of financial instruments flow through for record keeping in the Secretary of State's office. There's basically three functions, registry, regulation and relationships. The registry functions are everything from corporate and LLC registries through lien registrations on larger financial instruments all the way down to people like North Carolina's notary publics, who are commissioned and registered through the office. And that's one of the key parts that we have a problem with. But on a daily basis, most of the businesses that are not mom-and-pop or closely-held businesses are registered through the Secretary of State's office and that's where they receive their corporate charter to be able to operate in North Carolina.
SMN: The notary issue has come up previously, but is that the biggest issue in this race?
LaPaglia: It's more than a little bit of a problem. The biggest issue in the race is that the Secretary of State of North Carolina for 10 years been commissioning various types of illegal aliens as notaries public in North Carolina. It's a violation of federal law. It's a violation of state law. It's a violation of trust because a notary public is to prevent fraud in our system of documentation and with the secretary commissioning illegal aliens as notaries, it is not holding true. She's opening a big door for fraud in that area and one of the aliens she commissioned was already slated for a final order of deportation and removal from the United States before she gave him a notary public commission.
Sykes: The notary issue is an important issue. It needs to get resolved immediately, but it's a tactical issue. It's not something that's a four-year job to get resolved. It is a consequence of us having somebody in office that doesn't have the values that align with North Carolina voters' values. But outside of that, continuing to create an environment for prosperity for North Carolinians is going to be a critical role to his office.
SMN: You've got a couple of primary opponents. Why should primary voters should go to the polls and pick you?
Sykes: There are two other people that are running as you're aware. I am a first-timer. I'm an outsider. I'm not a career politician. I'm a businessman and as a businessperson, I've been CEO of two technology companies, one manufacturing company. I create jobs. I've also been an executive officer of a Fortune 500 company that was $28 billion. The North Carolina general fund is $24 billion, so I won't be doing on the job training. This is a job of complexity and it requires a skill set. I'm very comfortable with this, but also importantly I have a history, evidence of my conservative ideas. I'm a mentor on pregnancy life centers, we've been foster parents, we've been homeschool parents, we've been active in our church with leadership roles there. I reflect the values and people can judge the fruits of our conservative by our record.
LaPaglia: I ran in 2016 and when I ran, I got 2 million votes in the General Election, pretty much 48 percent of the electorate. That was closer than anyone who has ever run against Marshall in her 20-plus years of being in office. Because of that, we have built momentum and I continued my efforts to deepen my connections throughout North Carolina over the past three years. The Republican Party has never returned the same challenger against secretary Marshall and if you're going to unseat an incumbent Democrat that has a bureaucracy built up behind them, sometimes it takes more than one try and no one has ever come in with an issue that is as detailed as I have now. With the track record of having run and having gotten that close, I'm ready to finish the job this time. I think the momentum is behind us. Momentum is a huge thing when you're talking about running against an entrenched incumbent Democrat.
SMN: Like it or not, this is a partisan race and like it or not, the president is going to factor into it. Do you see that helping you or hurting you?
LaPaglia: The people who didn't like him to begin with still don't like him, but far more people are energized by the attacks that the left has been making on President Trump. Whenever I am out somewhere, the biggest, most common question I get is, "Do you support our president?" Let's talk about that for a second.
I'm the only candidate in the Republican primary who has ever spoken at a Trump rally in North Carolina — at the Asheville rally in September of 2016. I got out on the stage before he did and did some warm up remarks about the Secretary of State's race, about absentee ballot voting and all that type of thing. So I am clearly in favor. I'm supportive of and connected with the Trump movement in North Carolina, have been since the start. I think it is wonderful. Like I said, this issue, if you look at the issue I'm going to be talking about, we'll link up directly with president Trump's border wall, the issue of sanctuary sheriffs in North Carolina.
Sykes: A lot of the accomplishments that President Trump has made are similar and aligned with my value set as well. And as a result of that, it will help me, just like him. I'm a businessman, so was he. He was a first time politician with business experience running for office. I'm a first time politician with a business background that's running for office. I have conservative credentials, he's demonstrated his conservative credentials and so in many ways, his agenda and my agenda align.
Secretary of State
Chad Brown
Mr. Brown was not available for a previously scheduled interview.
Michael LaPaglia
Age: 48
Residence: Durham County
Occupation: Museum planning and construction consultant
Political experience: 2016 GOP nominee for Secretary of State
E.C. Sykes
Age: 59
Residence: Raleigh
Occupation: Commercial real estate firm
Political experience: First campaign