Archived News
Forest, Grange fight for right to face Cooper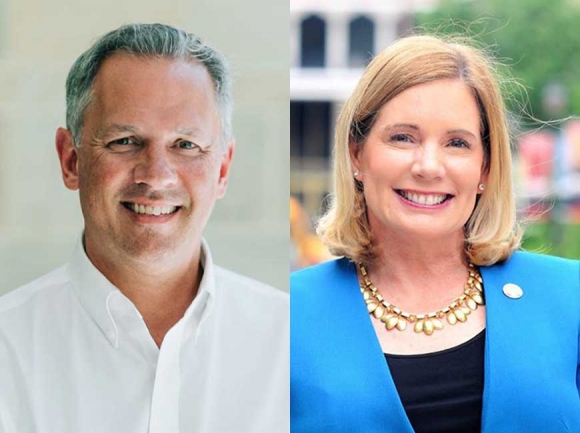 Two Republican candidates, Lt. Gov. Dan Forest and Rep. Holly Grange are seeking their party's nomination for the November gubernatorial election. Although Democratic Gov. Roy Cooper has a primary opponent, he's expected to cruise to victory on March 3, setting up a match with either Forest or Grange.

The Smoky Mountain News: What's the biggest issue in this gubernatorial race this year? Forest: In the minds of the American people right now I'd say it's law and order. I think people are watching what these big city sheriffs are doing, where they're letting violent criminals free on the street and not working with the federal ICE program and making sure they're keeping these guys where they belong. Government's first and primary responsibility is to keep citizens safe, and so I think that people are pretty up in arms about that right now. I think you'll always see the economy and education be up there at the top of the list, but the economy is rolling along pretty good for most folks. There's still some folks who are left behind, and we need to work on that.
Education is always going to be at the top of my list as well, so those are the things we talk about. But when we rolled out our campaign, it was built on a platform of unity, opportunity and possibility. And the unity piece is about bringing people together. The opportunity piece is just about opportunity in education and opportunity in the workforce and opportunity in the economy. Possibility is really about a vision for the future — what do we want to be in North Carolina, and how do we need to go about getting there?
Grange: Well, the biggest issue, well, the, the reason I'm running is because right now we have a governor who is not a leader. Our governor right now is serving only his political party and those special interest groups that support him and that's not beneficial to all North Carolinians. Our leaders, they need to bring people together to find solutions to problems and to get things done and that's just not taking place. Look at what is happening with our budget process.
SMN: So talk a little bit about your focus is on rural counties and the specific problems that we have that other places don't.
Grange: In Wilmington, there was a study done called the Castlight study and several years ago they actually named Wilmington the number one city in the country for opioid abuse. So we have dealt with that here in this community, and I've been very much involved with that. I think it takes bringing all parties together. It takes bringing mental health professionals and law enforcement and it takes bringing the medical community together, bringing together, those, rehabilitation centers. So it's a multi-pronged approach. It takes bringing everybody to the table to find solutions to these problems. And actually in, in Wilmington, we've had a reduction in the number of opioid deaths because we have put programs in place and the legislature has actually supported a lot of these programs. Putting programs in place that that do this multi-pronged look. It's not just if you're caught with opioids, you get thrown in jail — it's a more comprehensive approach to getting people off the opioids and getting the opioids off the street.

Forest: Well, it just so happens that right now I'm at a conference in Charlotte with the president. It's called Opportunity Now and it's talking about how we address the issues of those that have been left behind. In some ways, rural America feels like it's just been left behind from the cities, especially in a place like North Carolina where our cities are vibrant and thriving and growing at a record pace, but our rural communities are having a tough time keeping up. So it's certainly about things like education and make sure we're not only providing a sound basic education but the best education we can provide the young people. That gives them hope and opportunity for a future. Certainly we're talking about issues like workforce development.
So how do you go about doing those things and then making sure that you're spending enough time and effort trying to attract the kinds of businesses that would really desire to go to places in rural North Carolina? You're talking about manufacturing, you're certainly talking about agriculture, like a food manufacturing and food distribution and these types of things. We need to make sure that we don't have a "one size fits all" approach to economic development because those folks go to the big cities. We need to make sure that we have a specific plan for our rural communities. Then we need to make sure that we have a workforce in those rural communities that can actually meet the needs of these businesses when they show up.
SMN: Why should voters choose you to take on Gov. Cooper?
Forest: I think by now the people in North Carolina know that I have a proven track record of doing the work for the people. My background is architecture, not politics. I bring a business-minded approach to government. Architects were visionaries and planners and creative problem solvers, consensus builders, these things that are all good skills and talents for government itself. I'm in the problem solving business and we need creative problem solving right now.
Grange: [Lt. Gov. Forest and I] are similar on a lot of the issues, but I just bring more to the table. I'm a military veteran. I'm a West Point graduate. North Carolina is a military state. You have counties out in the West that have quite a large percentage of military veterans. We have more than 800,000 veterans in North Carolina and I think that that the veterans and the active duty military or active duty military units are usually the first to deploy if anything happens anywhere in the world. That happened a few weeks ago, um, with the 82nd Airborne Division.
Another thing that differentiates me is that I've got proven leadership experience. I've served in the military as an army officer. I've been on nonprofit boards in my community and statewide. I've served on the North Carolina Ports Authority board and in the legislature. I've actually been the deputy conference chair for the Republican House caucus both of my terms. So I actually have leadership experience. I've actually sponsored, debated and voted on legislation. The Lieutenant Governor has not done that, because he does not vote unless there is a tie in the Senate. That's never happened. I'm not a career politician and I don't come from a political family. I come from a military family.
SMN: And then along those same lines, if you come out of this primary as your party's nominee, how do you make these arguments to the 66 percent of North Carolinians who are unaffiliated or Democrat?
Grange: The primary one is his veto of some of the bills that the legislature has passed this past session, Primarily the ICE bill. Gov. Cooper vetoed that. And as you know, we no longer have super majorities in the legislature, so it's very difficult for us to override a gubernatorial veto. And as a result of that veto, there have been people harmed in North Carolina by violent criminals who have been released instead of being detained for ICE, and they've gone back out and they have committed violent crimes again. So there's one, one issue right there.
The other one I would say is the issue that we've been dealing with, with the Department of Transportation. As an executive, he is responsible. The buck stops with him. He is responsible for what happens in his agencies and with the Department of Transportation where we had to bail them out a few months ago in the legislature because they had run out of money. They had spent their money too quick. They did not spend their money wisely. And as a result, we had to bail them out because the alternative would have been that contractors were being laid off because they couldn't complete their projects. And you and I both know that it's no fun driving on an interstate or a road in North Carolina that has barrels blocking off the lanes and nobody working.
Forest: You have to go out and you have to be there, right? I mean that's part of the challenge. It's the kind of campaign we run is you have to get out there into their communities. You know, we obviously have to raise a lot of money to communicate with people through TV and radio and social media and those types of things. But I think it goes a long way to show up, to actually shake people's hands, to meet them, let them get to know you. And then when they do that, I think people can make informed decisions and I think when they meet us and when they talk and we have conversations, I think they'll decide to vote our way and we'll come out on top.
SMN: How do you think President Trump will affect the N.C. gubernatorial race in November?
Forest: Well, I think it's all upside for President Trump right now. I think he's doing great in North Carolina. He's very strong across the board here and people love him and he'll draw folks out to the polls. His people are my people. We have the same cross section of voters, so I think we'll help each other.
Grange: I can't predict the future. I can look at the past and the president won in 2016 but Gov. McCrory lost. So it's really hard to predict. I think any gubernatorial candidate that comes out of this primary needs to work for and earn every vote that they get. I am convinced that the president, if he does very well in North Carolina, could carry a certain percentage point, but I'd really think that that's not something that we need to count on, whoever the gubernatorial candidate is. It should be me, it will be me, and then I need to earn those votes.
Governor
Democrats
Roy Cooper (i)
After more than six weeks of correspondence with Cooper's Press Secretary Liz Doherty, The Smoky Mountain News was told that Gov. Cooper would only agree to a reporter for five minutes — insufficient for an interview. When asked why, Doherty stopped responding to emails from SMN.
Ernest Reeves
Mr. Reeves did not answer multiple phone calls requesting an interview.
Republicans
Dan Forest
Age: 52
Residence: Wendell
Occupation: Architect
Political experience: Two-term Lieutenant Governor
Holly Grange
Age: 59
Residence: Wilmington
Occupation: Military veteran, Realtor, consultant
Political experience: Two-term State House representative