Archived News
Jackson County welcomes new chancellor
Wednesday, August 21, 2019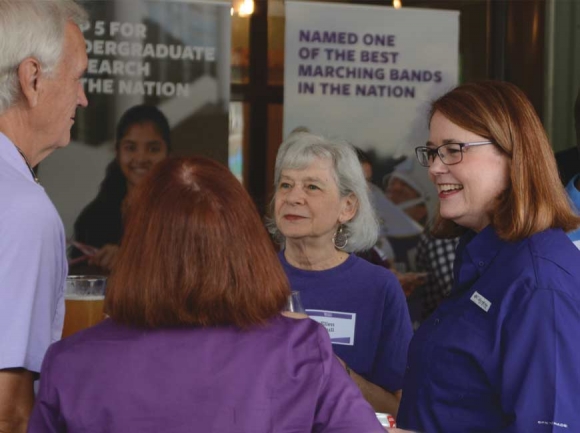 Brown greets community members during a welcome event held Aug. 19 at Innovation Station in Dillsboro. Holly Kays photo
More than 300 people crowded Innovation Station in Dillsboro on Monday, Aug. 19, to sip a beer and shake hands with WCU's new chancellor, Kelli Brown, who holds a Ph.D. in education.
The mass of purple and gold included elected officials; county and town employees; and staff, faculty, students and alumni from Western; and a variety of community members. About halfway through the two-hour event, Brown took to the podium to deliver a few remarks, but she kept her speech to less than 10 minutes.
"I think it's important that I spend time hearing from you rather than talking to you," she said. "This event, as well as others on my calendar, is important to help me get to know people like yourselves, the Catamount family. I am here to listen and to learn."
Brown began her speech with a tribute to the previous chancellor, David O. Belcher, who passed away in 2018 following a two-year battle with brain cancer.
"I want to acknowledge the fact that I am here tonight following the footsteps of a beloved leader, Chancellor David Belcher," she said. "His impact on this university is immeasurable, and he will remain my inspiration and guiding light as I take on this mantle of leadership here."
Brown told the crowd that she wants to be known as a collaborative and transparent leader, saying that this event and others like it included on her planned "Welcome Tour" will help shape the priorities of her new administration.
"Several people have asked me about my vision for the university and any new strategic direction that I may have," she said. "I have some early ideas, but I dare not come into this role thinking that I have all the answers. That's why I am here, to listen to you."
Brown will hold additional "Welcome Tour" events 5:30 to 7:30 Thursday, Aug. 22, at Selu Garden Café within Harrah's Cherokee Casino Resort in Cherokee; 6 to 8 p.m. Wednesday, Aug. 28, at Highlands Brewing in Asheville; 5:30 to 7:30 p.m. Thursday, Oct. 10, at Blue Ridge Community College in Flat Rock; 6 to 8 p.m. Wednesday, Oct. 16, at Sugar Creek Brewing Co. in Charlotte; and 5:30 to 7:30 p.m. Monday, Oct. 28, at Boojum Brewing Co. in Waynesville.
To participate in a tour stop, registration is required one week in advance with Elizabeth Honbarger, 877.440.9990 or This email address is being protected from spambots. You need JavaScript enabled to view it..