Archived Outdoors
The Naturalist's Corner: The St. Croix chronicles
Wednesday, February 27, 2019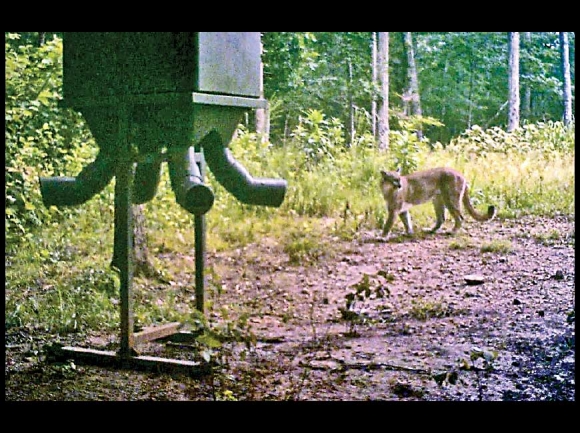 Trail cam pic of a cougar in Tennessee in 2015 (perfect setting to catch one - deer feeder in the foreground). Tennessee Wildlife Resources photo
St. Croix's adolescent hormones were coursing through his lean muscular body when the urge to leave the Black Hills of South Dakota became too strong to ignore. He set out, on foot, on an easterly trek in the fall of 2009 with no particular destination in mind.
St. Croix crossed Minnesota into Wisconsin, then likely dipped south through northern Illinois and northern Indiana, skirting Lake Michigan before reaching Michigan's Upper Peninsula by 2010. St. Croix eschewed human habitation and seemed perfectly content to live off the bounties of the wildlands he preferred. He seemed to be particularly adept at killing white-tailed deer and other game animals for sustenance.
Our sojourner left Michigan's Upper Peninsula for the wilds of Canada. Ontario seemed to appeal to our wandering young man because he kinda fell off the map. But St. Croix reappeared in New York State in 2011. Perhaps he had a hankering to see the Atlantic, because he kept trekking eastward. By late spring 2011, our intrepid traveler was in Connecticut. But, alas, this is where things went awry.
Perhaps St. Croix was focused on a white-tailed deer, or perhaps there was inclement weather, or maybe it was a lapse in judgment; but for whatever reason, on June 11, 2011 St. Croix was struck and killed by a vehicle on Wilbur Cross Parkway in Milford, Connecticut. St. Croix had traveled nearly 1,700 miles over two years, begging the question – why?
Well it seems St. Croix was looking for love. If you haven't guessed we're talking about a cougar, but not just any cougar – the first documented cougar in the eastern United States since 1938. St. Croix got his name because his first "confirmed" sighting was from St. Croix County in Wisconsin. And the story of this odyssey and how it was ferreted out by biologists and/or scientists is a very interesting read. You can find it here: https://doi.org/10.1093/jmammal/gyw088.
Some amazing outtakes from the article include:
"We detected this dispersing individual at 5 locations along its route (Minnesota, 3 times in Wisconsin and New York) with DNA from fecal or hair samples, and with multiple photographs from citizen-run camera traps (3 in Wisconsin and 1 in Michigan). The > 1522 mi straight-line distance (Black Hills of South Dakota to Connecticut) traveled by the cougar is the longest dispersal documented for the species. We propose a likely route of > 1678 mi over 2 years based on topography and our confirmed records … [I converted kilometers to miles in these quotes.]
"The documentation of such a rare biological event not only shows the great dispersal potential for male cougars but also highlights our ability to detect these movements with verifiable voucher DNA and photographic records. Evidence collected for this one animal, and complete absence of verifiable data from most anecdotal reports of cougars in the east, further confirms the lack of a breeding population in the region."
Yes, the great Catamount Controversy is far from being settled. And I am not about to tell you that your granddad, or your cousin or you, in fact, have not seen a cougar in the Southern Appalachians. Cougar sightings have been documented in western Tennessee in 2015 and 2016 — although they have apparently disappeared as quickly as they appeared.
The fact researchers could track St. Croix's travels and document his birth place make me confident that if there were a breeding population of cougars anywhere in the East their story would be chronicled just as St. Croix's was.
(Don Hendershot is a naturalist and a writer who lives in Haywood County. He can be reached at This email address is being protected from spambots. You need JavaScript enabled to view it.)