Archived Outdoors
The Naturalist's Corner: How can somethingthat doesn't exist be declared extinct?
Wednesday, February 13, 2019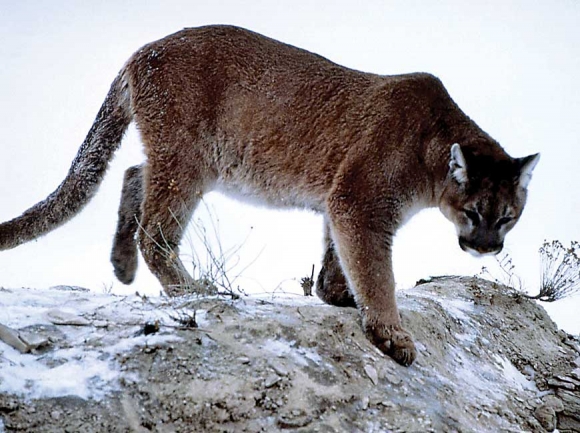 I believe it was around Jan. 22 of this year the U.S. Fish and Wildlife Service declared the eastern cougar officially extinct. I'm surprised there's barely been a ripple regarding the notice and the removal of the eastern cougar from the endangered species list. But I have an idea why — and since I've invested no real sleuthing time to date, I assure you I could be wrong. I will try and lay it out in simple terms here and do a bit of that sleuthing before reporting back on Feb. 27.
We all know that there are more panther, cougar, catamount, painter, mountain lion, etc. sightings and/or anecdotes from Western North Carolina than one can shake a paw at. But for the sake of a starting place let's talk about scientifically/biologically accepted references.
When I wrote about the big cat for Smoky Mountain Living Mmagazine this was the last accepted reference from this region: "The last report of a wild mountain lion being killed in the Smokies was in 1920. According to the story, Tom Sparks was herding sheep in Spence Field when a lion attacked him. Sparks said he fought the animal off, inflicting a deep wound in the cat's shoulder. A few months later a mountain lion was killed near present-day Fontana Village; the cat's left shoulder blade had been cut in two. It was believed this was the cat Sparks had wounded."
And according to reports announcing the cat's official extinction, the last two sightings in the East were in 1932 in New Brunswick and 1938 in Maine. Exactly what made these cougars "eastern" cougars appears to be where they were found. Because when European settlers arrived on the East Coast cougars were a natural part of the fauna. But the settlers feared and loathed the big cats; they competed for game and killed livestock. Every day was open season on cougars, they were shot, trapped and poisoned. This arduous persecution along with destruction of habitat led to the extirpation of cougars across the East by the early 20th century.
It seems to be a convoluted game of "Guess What Kind of Animal I Am." Cougars across North America were divided into subspecies based on physical characteristics like size and color. The U.S. Fish and Wildlife still adheres to taxonomy established in 1946 by S.P. Young and E.A. Goldman that lists at least 15 subspecies of cougar in North America, and using this classification placed two of those subspecies, the Florida panther, Puma concolor coryi, and the "eastern" cougar, Puma concolor cougar, both on the Endangered Species list; the Florida panther in 1967 and the eastern cougar in 1973.
But a peer-reviewed study in 2000 using DNA from 186 individuals of the previously described 15 subspecies of North American cougars concluded that they were all one subspecies.
However, in reading reports regarding the "extinction" of the eastern cougar and the subsequent de-listing, cougar advocates are saying this action could remove loopholes and complications of introducing a species in an area where they are considered endangered, leaving states to decide what actions may or may not be taken.
So, I guess the question is: is it easier, with regards to reestablishing a species, to declare said species (or subspecies) extinct rather than updating the taxonomy to note that said subspecies never actually existed in the first place? Hmmm?
(Don Hendershot is a naturalist and a writer who lives in Haywood County. He can be reached at This email address is being protected from spambots. You need JavaScript enabled to view it.)