Women in Business
Standard of quality: German-Cherokee couple sells authentic craftsmanship
Wednesday, October 24, 2018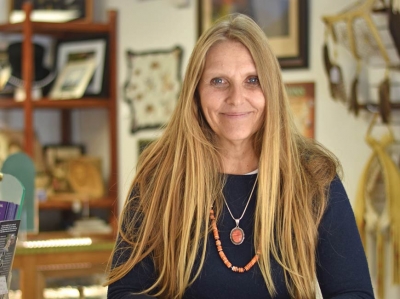 Ute Grant, originally from Germany, runs a store in downtown Cherokee that sells Native American craftsmanship made by her husband General Grant. Holly Kays photo
Growing up in Germany as the daughter of a repair shop owner, Ute Grant knew three things about how her life should go: she never wanted to go to America, she never wanted to get married and she never wanted to be self-employed. But life has a way of showing up the firmest of convictions.
"I had to learn that I had to do all of that to be happy," said Ute.
Now 51, Ute lives in Cherokee with her husband General B. Grant, an enrolled member of the Eastern Band of Cherokee Indians, and she owns Traditional Hands, a retail store selling traditionally crafted jewelry, artwork, knives, arrows and more — much of it created by General.
"Germans are famous for their level of quality in what they are doing, so luckily my husband has that too in his artwork," Ute said. "In his artwork he likes quality. He works with heavy silver and just execution on a high-quality level. So in that department we are a good team, and here in Cherokee I think we set a new standard."
It's a team that Ute would have never envisioned forming — until it did.
Ute and General met at a 2004 Sundance ceremony in South Dakota. Ute became interested in Native spirituality after going through some hard times at home, joining the Sundance after several years of studying the philosophy. General, meanwhile, arrived after having just lost his wife of 35 years. The two just talked at that first meeting, with Ute returning in 2005 to spend a full year in America, learning about Native spirituality on the land where it formed and going on the road with General as he sold his pieces.
By 2006, they were married. Ute made a permanent move to America.
"Coming here I was so in love that there was no question," she said. "If he would have lived in Timbuktu I would have followed him there. I didn't feel brave. It was just the right thing to do."
Ute and General hit the road together, selling his creations at various art and craft shows. In 2013, they opened the store, which Ute owns and operates. It was General's way of making sure she'd have some property of her own, since as a non-Cherokee she couldn't inherit land on the Qualla Boundary.
"I love this job because I really make people happy," she said. "It's so deeply connected to the culture, and that's what people are really hungry for and looking for."
From watching Ute do her job, it's apparent that she likes it, and that she's good at it.
A couple wandering in around lunchtime on a Thursday provides a solid example. The two slowly walk around the glass cases of turquoise and wampum-based jewelry, the wife making quiet sounds of appreciation and remarking on the beauty of a particular pair of swirling purple-and-white wampum earrings.
"They are really pretty," her husband agrees. "I wish I had the money to get them for you."
He turns to Ute.
"You say you have a layaway plan?" he asks.
Ute launches in a recap of the layaway plan, highlighting all of its more flexible features and offering the man a discount to boot. They could walk out of the store just putting down $40, she says. By the end of the conversation, the man has decided to buy one piece of jewelry outright and put a second on layaway.
"I think he likes you!" Ute says.
"I do love her. She's my sweetheart," he replies, calling his wife his "walking miracle" for twice beating cancer and giving him two sons.
It's a moment of connection, of something deeper than a man buying a vacation souvenir for his wife. The couple leaves, happy with their memories of Cherokee, while Ute stays, happy with the sale she's made to support herself and General.
"This store is way more than just a business," she said. "It means so much to a lot of people because we give them a part of the original Cherokee culture, what the people are actually really looking for."