Living Well
Everyone goes Keto: Health experts explain potential risks
Wednesday, September 05, 2018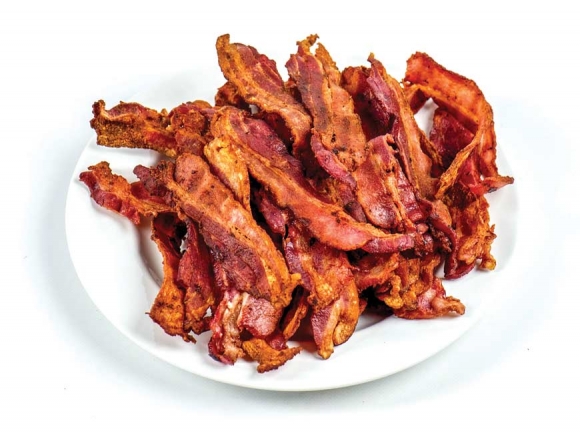 It seems like every year there's a new fad diet people swear is the panacea for quick weight loss.
This year has been no different with everyone on the keto bandwagon. A ketogenic diet is a low-carbohydrate, high-fat plan known for quick weight loss results. But as with many fad diets, nutritionists and health experts say there are always risks.
"The ketogenic diet was originally used in medically supervised settings to help patients with epilepsy. Since then it has been used therapeutically, under supervision, for people with Parkinson's, autism, ALS and other cognitive issues," said Dr. Linda Sparks, a naturopath doctor with Blue Ridge Natural Health in Waynesville. "Most people today who undertake this diet are looking for rapid weight loss."
Chelsea Burrell, community wellness outreach coordinator at Harris Regional Hospital in Sylva, said more studies are needed to fully understand the breadth of potential adverse side effects of keto dieting, but already people on the diet have reported feeling sick, dehydration, fatigue, dizziness, irritability, nausea, muscle soreness, irregular menstrual cycles, decreased bone density, sleep issues and constipation.
"Low-carbohydrate weight reduction diets, such as the ketogenic diet, are popular despite the dearth of scientific data on long-term efficacy and adverse effects," said Burrell, who recently wrote a literature review and research article on the ketogenic diet. "With the ketogenic diet creating a surge of interest, much like all other fad diets, it is important for people to remember that health is a life journey, which cannot be completed in weeks nor months."
How it works
The goal of the keto diet is to cut carbs down to less than 50 grams a day in order to achieve a state of ketosis in which the body starts burning fat instead of sugar for energy. Ingesting fewer carbohydrates allows the body to deplete carbohydrates as well as stored glycogen, conditioning it to begin using fat, leading to the generation of ketones for energy.
"Evidence indicates that low-carbohydrate diets could potentially be better in terms of short-term weight loss in relation to traditional low-fat diets; however, little is known about the longevity and safety," Burrell said.
Keto is similar to other popular low-carb diets like Atkins, but Atkins has four phases that start with extreme dietary restrictions and slowly add items back into the diet as you reach your weight goal. However, keto promotes one way of eating for the entirety of the diet.
The keto diet can also be misinterpreted. While people are advised to eat plenty of protein, low-carb vegetables, dairy and eggs, many people don't get enough variety in their diet or use it as an excuse to just eat fats like butter and bacon.
"Like most fad diets, the ketogenic diet is not sustainable due to its restrictions. One of the biggest challenges is being able to consume enough healthy fats like Omega-3 fats," Sparks said. "Many people who undertake the ketogenic diet, Atkins diet or paleo diet choose unhealthy forms of proteins or fats like processed meat."
Many people are attracted to the keto diet because you can still eat large portions of food and not feel hungry when in reality people should be working on portion control.
"One evident benefit of the ketogenic diet is the caloric intake being cut drastically without producing ravenous hunger," Burrell said. "The consumption of fat allows the body to be full quicker and longer, reducing the need to eat again later. Fat is satiating, which is an advantage of keto as it promotes an avoidance of overeating."
Health risks
Switching to a keto diet can cause some initial discomfort and gastrointestinal issues as your body adjusts to ketosis.
This so-called keto flu can cause vomiting, diarrhea, fatigue and lethargy, but usually passes within a few days as your body switches to burning fat when it runs out of sugar. The transition also means your gallbladder is working harder than normal to break down the additional fat in your diet, which can cause gastrointestinal issues.
During the ketosis process, Burrell said, the body removes ketones through frequent and increased urination, which may lead to symptoms such as dehydration, fatigue, dizziness, irritability, nausea and muscle soreness. The loss of electrolytes as well as fluid can lead to a loss of sodium, magnesium and potassium, which can result in acute kidney injury.
"Further, electrolytes are necessary for the heart to beat normally, putting the individual at risk of cardiac arrhythmia," she said.
Sparks said the biggest risk of keto is an increased risk of cardiovascular disease due to consuming large amounts of bad fats.
"There is also a risk for decreased micronutrient intake that can happen when people eat less fruits and vegetables," she said. "One class of micronutrients to consider is anti-oxidants. When these are decreased we age faster inside and out and are more susceptible to chronic diseases like cancer."
On a keto diet, you aren't getting the fiber you normally would from things like pasta and whole-grain breads — making it important to take a supplement or eat more fiber-rich vegetables.
"It is important to note that while sustaining a ketogenic diet, individuals must eat enough calories to avoid metabolic or thyroid problems that can be associated with a low caloric intake," Burrell said. "A lower caloric intake promotes weight loss as well as a reduction in body fat. However, it is harmful over an extended period."
Sparks said some studies show keto can lead to an increase in blood pressure as well. Those who have kidney disease or transplants need to be very careful with an increased protein intake.
Keto can be dangerous for people with type 1 or type 2 diabetes because it can trigger ketoacidosis. This condition can occur when your body stores up too many ketones — acids produced as a byproduct of burning fat — and the blood becomes to acidic. The build-up can cause liver, kidney and brain damage. Symptoms of ketoacidosis include dry mouth, frequent urination, nausea, bad breath and difficulty breathing.
"People who are insulin-dependent diabetics need to be supervised by their physician as their blood sugar can drop dangerously low when beginning an extremely low-carb diet," Sparks said.
Burrell's paper specifically focused on athletes using the keto diet instead of the long-accepted method of carb-loading before a major endurance event.
"The fat utilization theory suggests that fat burns in a manner that does not deplete calories, sustaining energy for longer periods of time," Burrell wrote regarding keto. "In contrast, a few studies indicate an impairment to performance during intense training with a low-carbohydrate diet — runners consumed various amounts of carbohydrate intake, and the higher carbohydrate diets improved performance."
In a recent study in the Journal of Sports Medicine and Physical Fitness, Edward Weiss, Ph.D., associate professor of nutrition and dietetics at Saint Louis University, found that participants performed worse on high-intensity cycling and running tasks after four days on a ketogenic diet, compared to those who'd spent four days on a high-carb diet. Weiss says that the body is in a more acidic state when it's in ketosis, which may limit its ability to perform at peak levels.
Sustainability
Because the keto diet is so restrictive, many people end up reverting back to their old eating habits, which causes them to gain the weight back.
"When they discontinue the diet and return to a SAD (Standard American Diet), they can become more sensitive to sugars and go back to their original weight or gain more than before," Sparks said. "This creates a yo-yo dieting cycle, which is a risk factor for gallbladder issues. Women over 40 are already more susceptible to gallbladder stones, and yo-yo dieting with increased fat can exponentially increase this susceptibility."
Regaining the weight can lead to new weight loss challenges — doctors say the regain will probably be fat instead of lean muscle. With a lower muscle mass, your metabolism will be lower, making it harder to burn calories.
Most dieticians will all say the same thing: any extreme diet, whether it's keto or the next fad, is not good for you. It's all about eating in moderation and exercising.
"My recommendation is to lead a healthy lifestyle, eating proportionate and appropriate macronutrients to sustain energy according to the individual," Burrell said. "A healthy lifestyle would include smaller portions, lean meats, grilled and colorful vegetables, fruits filled with antioxidants, and limiting all processed foods. A change in lifestyle versus a fad diet is easier to maintain and reduces dropout rate."
For those still looking for a specific diet that is more sustainable, Sparks said the Mediterranean Diet has been shown to be sustainable and also heart-healthy. She said the Whole 30 Diet is also more easily maintained and recommends a good balance of protein, healthy fats, vegetables, fruits and whole grains.
"While maintaining a healthy weight is important, it is not the sole measure of a healthy body. One must get a broad range of minerals, vitamins and macronutrients to be healthy," she said. "Moderate exercise is a must for those who are able, and addressing the mental-emotional and spiritual wellbeing of a person is equally as important to overall health."