Archived News
Religious community opposes Jackson Brunch Bill
Wednesday, March 21, 2018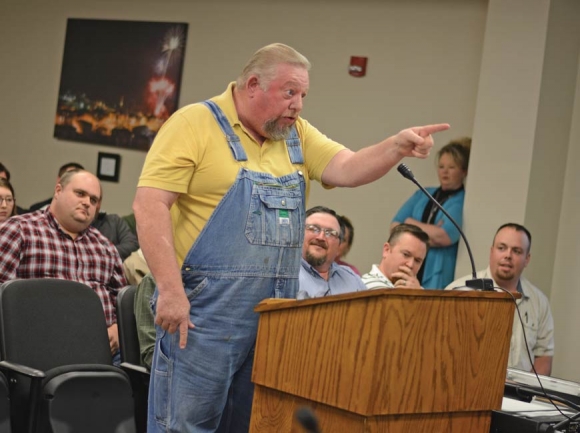 Johnny Ray Davis criticizes Commissioner Mickey Luker for selling beer in his store. Holly Kays photo
If the two Jackson County commissioners considering a "yes" vote on Sunday morning alcohol sales were looking to the community to encourage that point of view, the crowd that turned out for a public hearing on the issue March 19 certainly didn't deliver.
The commissioners' boardroom was near capacity Monday night, with about 75 people sitting in the 105 available chairs, nearly all of them members of one of the area's many Baptist churches opposed to alcohol consumption. In more than an hour of public comment, only one of the 24 speakers spoke in support of Sunday morning sales, a measure known as the Brunch Bill.
"When people say there's no harm in passing this law, think about the folks who have lost someone to alcohol," said Mark Stiles, pastor at Trout Creek Baptist Church, following an account of a church member who was killed by a drunk driver on his way home from church in 2016. "You're putting more people on the road with alcohol in their body at an earlier time of the day. It's time we as Christians stood and let our voice be heard."
Like many of the night's commenters, Stiles included a Bible verse from Proverbs in his comments, in his case Proverbs 20:1 — "Wine is a mocker, strong drink is raging; and whosoever is deceived thereby is not wise."
Each anti-alcohol speaker was met with applause from the audience, and often by a standing ovation, with exclamations of "Amen!" and "Speak it, brother," common as remarks were delivered.
To many of those in attendance, the issue boiled down to the value of money over the value of human lives and respect for the county's large religious community.
"Please remember that before there were any alcohol sales in Jackson County, the budget was covered without alcohol tax revenue," said Rebecca Whitmire Fowler. "It was covered by the citizens, not just business owners, and many of those citizens were nondrinkers."
Several speakers voiced their doubt as to how much expanded alcohol sales would even improve the region's economy, citing studies that seemed to show otherwise and pointing out that increases in alcohol-related crime and social issues would bring with them increased costs for law enforcement and health care.
"Our ER is full and running over. Our jailhouse is full and running over," said Amy Buchanan, a registered nurse and member of the Baptist church. "I ask you to prayerfully consider this."
Through tears, Amanda Buchanan told commissioners how hard it is to raise her daughter up right when, seemingly everywhere they go, alcohol is there. Jackson County was a dry county until 2012 — before that, any restaurant outside town limits wasn't allowed to sell it. Now, that window before noon on Sundays remains a brief time that folks who are offended by alcohol consumption can go out and not have it right in front of them.
"When we go out to eat at a restaurant, there's almost always a table beside us of college kids, somebody drinking drinks, and my 5-year-old asks, 'Mom, what are those drinks?'" Buchanan said. "Some of them look like slushies and she wants one, and I have to explain to my 5-year-old that those drinks are not good, that us as Christians we don't drink those drinks. It might not seem like nothing, like a little thing to pass, but it's much bigger than what y'all think."
Commissioners also heard from a large number of former alcoholics, or family members of alcoholics, who asked them to consider the strain on the family when there's no rest from wondering if a loved one is about to go on a bender. They described Sunday morning as a relief from that worry, as it's the one time when alcohol isn't available for sale.
"The times when there was nothing open for him to go to were the only times my grandmother could ever relax," said Fowler, recalling her experience growing up with a severe alcoholic.
At times, the comments got personal, with Shane Danner of Cullowhee Valley Baptist Church asking each commissioner in turn to name the place where they attend on Sundays.
"Now the word on the street is that there's three of you that want to vote against this. Two of you don't know where you stand. Let me encourage the two of you," said Danner. "If you were a member of my church, Cullowhee Valley Baptist Church, and you voted for this, the leadership of the church would drag you out by the earlobe and excommunicate you, period, simply because you went against the church covenant and what God's word says."
Commissioners Charles Elders and Boyce Deitz, as well as Chairman Brian McMahan, have said they are opposed to Sunday morning sales. Commissioners Mickey Luker and Ron Mau have indicated they might vote in favor.
Johnny Ray Davis followed Danner's comments by singling out Luker, whose business Caney Fork General Store sells beer.
"I want you to tell me, are you a Christian or not?" Davis asked Luker.
"I think I am," said Luker.
"I don't think you are," replied Davis.
"If God saved you, you'll go up there tonight, and I'll tell you what you'll do," Davis continued later in his comments. "You'll go up there and you'll lock them doors and you won't sell another can to nobody. If you're any kind of man at all, you'll go up there and lock them doors."
While the anti-alcohol crowd was definitely the majority in the commissioners boardroom that night, there was one voice in favor of expanded Sunday sales — that of Bernadette Peters, owner of City Lights Café in Sylva. Sylva has already passed the Brunch Bill, and Peters' restaurant has been serving alcohol with Sunday brunch since September.
"Have any of you ever been to brunch in Sylva at any of the restaurants?" she asked commissioners. "I would first invite you guys to go to one of the restaurants in Sylva where the Brunch Bill has been passed. It would be a good way to see for yourselves."
The brunch scene, she said, is far from the binge-drinking, stupor-causing, alcoholism-induced free-for-all the other in attendance fear. Rather, she said, it's "families, friends, gathering to eat breakfast, brunch or lunch, enjoying a mimosa or beer, typically one drink per person, maybe two."
She also pointed out that in 2012 voters opted to legalize alcohol sales in Jackson County, indicating that public support for the Brunch Bill might be quite a bit higher than what was represented in the room that night. If commissioners wanted to put the question out for a vote, she said, she'd be in full support of that.
Peters also took issue with the characterization that watching adults imbibe corrupts minors.
"Minors who witness responsible consumption of alcohol in an environment like a meal are less likely to abuse alcohol," she said, to laughter from the audience. "If you look at other countries, you see that."
While Peters was vastly outnumbered March 19, it's possible that the ratio will be drastically different April 16, when a second public hearing will be held in Cashiers. Business owners in Cashiers have the most to gain from passage of the Brunch Bill, as the economy there is highly tourism-driven and the unincorporated community is at the mercy of county policy, unlike incorporated towns like Sylva and Dillsboro.
Second public hearing planned
A second public hearing taking input on whether to allow Sunday morning alcohol sales in Jackson County starting at 10 a.m. — a policy known as the Brunch Bill — will be held at 5:30 p.m. Monday, April 16, at the Albert Carlton Cashiers Library in Cashiers. Anyone is welcome to speak for up to three minutes.