Archived News
Release date nears for movie shot in Sylva
Wednesday, November 15, 2017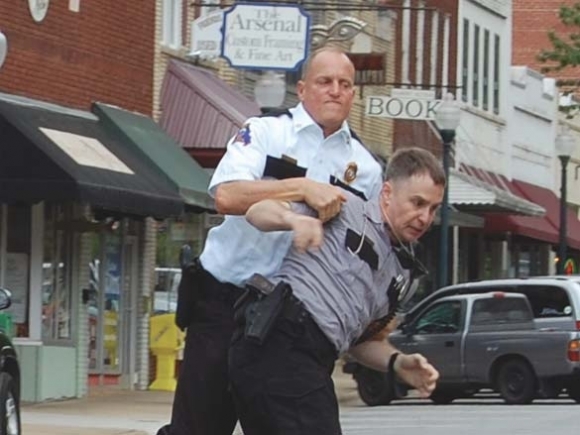 Film fever is hitting Sylva as the release of "Three Billboards Outside Ebbing, Missouri," draws closer.
The star-studded Martin McDonagh drama was mostly shot in Sylva during May 2016, prompting locals to line the streets off-camera during filming or offer their services as extras for a chance in the spotlight. Now, after 18 months in production the movie is finished and release dates determined.
A special screening Nov. 14 offered local officials, owners of buildings and businesses used on the set, and winners of randomly awarded tickets a chance for a sneak peak at the movie that Rolling Stone called the best movie of 2017, with a review by Peter Travers titled "Give Frances McDormand the Oscar Now."
"Really overall it's just generated a lot of excitement," said Nick Breedlove, director of the Jackson County Tourism Development Authority. "It's really catapulted Sylva to a national level in terms of recognition."
However "Three Billboards" won't show at Quin Theaters in Sylva until Dec. 1, which is the nationwide release date.
While the movie will come to select theaters in the Asheville area Nov. 22, that date will apply only to larger theaters. Neither Ruby Cinemas in Franklin nor The Strand at 38 Main in Waynesville know yet when they might be showing "Three Billboards." According to David Parlier, owner of Ruby Cinemas, the movie was shown in four theaters starting Nov. 10, will expand to 15 theaters Nov. 17 and will potentially show in 425 theaters Nov. 22.
"Expansion beyond that will be based on how the film does at these 425 theaters," he said. "A typical wide-release movie like "Justice League" will go to between 3,000 and 4,000 theaters. A film needs to be in the 2,000-theater range for them to consider the Franklin market."
In the movie, Sassy Frass Consignment became the Ebbing Police Department, Jackson's General Store became the Ebbing Advertising Agency and In Your Ear Music became the Music Emporium. Those familiar with downtown Sylva will see flashes of the familiar all the way through the film.
Breedlove believes that fact will yield dividends for years to come.
"'The Fugitive' was filmed (in Sylva) over 20 years ago, 1993, and people still come to see the train cars and find out more about the film," he said. "So the economic impact will be felt for many years."
The TDA has put up a page on its website, titled "On Location," dedicated to filming in Jackson County and recently published a blog post detailing what production was like.
Outside of cyberspace, the Main Street Sylva Association is drumming up excitement with its Sylva Red Carpet event 3 to 6 p.m. Friday, Nov. 17. Movie set locations, including Sassy Frass Consignment, will be offering photo opportunities, and "paparazzi" will take photos on a red carpet of attendees dressed to impress. The photos will be available for sale.
"It's really exciting," Breedlove said. "The community is just really waiting to see the film."
Breedlove hopes that the expected success of "Three Billboards" will lead to further film opportunities for Sylva. Film location requests are handled by the N.C. Film Office, so Breedlove isn't privy to every request that comes in. However, at least one recent request from a TV series has gone so far as to require location scouting in Jackson County.
The legislature's October decision to remove the sunset clause from the state's film incentive program also bodes well for future filming projects coming to Western North Carolina. Such incentives can have a significant impact on the cost of filming and figure heavily in decisions on filming locations — now North Carolina's program will no longer end on July 1, 2020.
"This is good news for filming in North Carolina," Breedlove said.