Archived News
Full-time work, part-time pay
Wednesday, December 14, 2016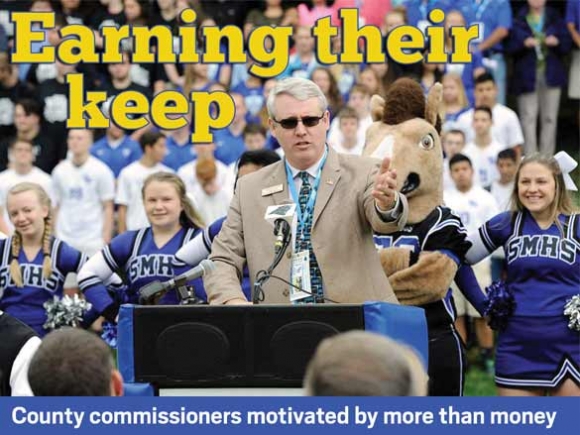 In fact, many of the businesspeople, professionals and retirees who currently occupy the halls of government across the region do so to their own detriment, and to that of their families, their free time, and their finances.
Most devote at least 10 hours a week to the job, but oftentimes they are called upon to do much, much more. There are meetings, more meetings, and then even more meetings. Then there are the emails. The phone calls. The reading. The writing. The arithmetic.
Then come the campaigns, the debates, the forums, the questionnaires, the endorsements and the door-knocking. The constant media scrutiny. The barbed social media slights. The slings and arrows of outrageous fortune. The five-minute trip to the market that ends up becoming a 30-minute debate on the philosophical role of government in society.
And all that before even a single vote is cast.
But as Thomas Jefferson said, "A nation that rests on the will of the people must also depend on individuals to support its institutions in whatever ways are appropriate if it is to flourish. Persons qualified for public office should feel some obligation to make that contribution. If not, public service will be left to those of lesser qualification, and the government may more easily become corrupted."
The overwhelming majority of county commissioners we spoke to during our research indicated that money was nowhere near the top of the list of reasons they give of their time and talents to serve their friends and neighbors.
However, county commissioners are real people, too, with mortgages, car payments, utility bills, retirement plans, hopes and dreams — which is why commissioners in our four-county coverage area all receive some sort of salary, along with transportation and technology allowances.
Some, like in Haywood County, also receive health insurance that can last far longer than their tenures on their various commissions.
Such public outlay does — and should — invite public curiosity; the inevitable stereotype among the uninitiated is that "government fatcats" take advantage of small workloads and large paychecks, much like the "honest graft" mentioned by powerful turn-of-the-century New York Democratic machine politician George Plunkitt in his seminal work, "Plunkitt of Tammany Hall."
Today, the reality of the situation is far different than in Plunkitt's time. Commissioners are bus drivers, land surveyors, retired educators and mechanics. They take time away from their already-busy lives to ponder the issues of the day as they plant trees under whose shade they'll never sit.
Or, they emerge from a hard-earned retirement to spend their time sitting through hearings that would make most eyes glaze over with either puzzlement or sheer boredom.
But the debate about just how "gainful" this ancient and honored form of employment should be continues.
Some argue current salaries are not enough; others think they're already too much. Both sides have their points, but according to a 2015 survey conducted by the UNC School of Government, Haywood, Jackson, Macon and Swain county commissioner compensation packages are all located near the middle of the pack, with salaries between $10,000 and $13,000.
Orange County commissioners earn more than $21,000 per year, while Alleghany County commissioners earn just $3,000. Of course, these salaries vary by the amount of residents served — Orange at 133,000 and Alleghany at 11,000 — but population isn't a hard and fast indicator of reimbursement.
Not that any of that matters anyway; at least one newly-elected local commissioner said he didn't even know how much he'd be paid for his work.
Like Jefferson said, these commissioners have felt the obligation to make their contribution, that our government for, of and by the people will never be left to those of lesser qualification.
County commissioner compensation
Population Chairman Salary Commissioner Salary Meeting Pay Health Insurance Travel Technology
Haywood 58,000 $14,802 $12,952 0 $10,200 $2,400 $108/mo.
Jackson 40,200 $17,100 $12,200 $75 $9,200 $2,600 $0
Macon 34,459 $11,724 $10.062 0 $562 $4,800 $0
Swain 14,000 $12,545 $6,273 0 $7,200 $3,250* $0
*Swain chairman gets $3,900 for travel