Living Well
Big city fitness in the heart of Waynesville
Wednesday, August 17, 2016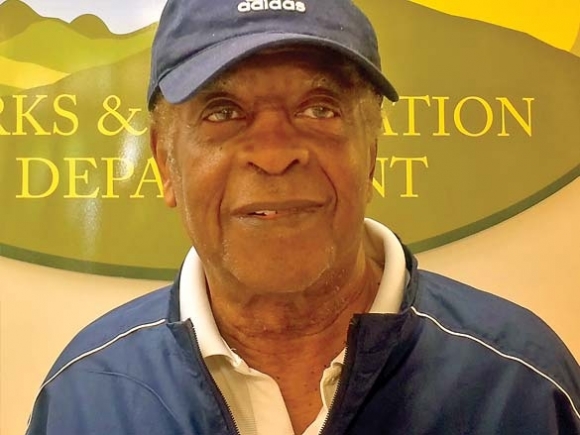 While motivating oneself to wake up early and hit the gym may be a constant struggle for some, whenever that nagging desire to roll over and go back to bed strikes, just think of Lewis Langston.
Langston, a fitness instructor at the Waynesville Recreation Center, teaches more than a dozen fitness classes each week, beginning at 6 a.m.
And, he's 83.
A former high-level aide to three Illinois governors in the late 1960s and early 1970s, the Chicago native worked on job development programs in the city's blighted underbelly until moving to Waynesville with his wife more than 20 years ago.
"I was looking for an area that offered a living in terms of good healthy living. I looked at a book called Sunbelt Retirement, and it talked about the health of the mountains and the type of place it was," Langston said. "This was a community that offered what my wife and I looked to as a place to retire."
Langston's been a lifelong fitness enthusiast, and learned the lessons of his hometown well.
"In the city of Chicago, on the south side of Chicago, fitness was something they did not only to keep people off the streets, but at the same time it was a health situation as well," he said. "It kept kids busy but it also was helpful for them physically."
Upon moving to Waynesville, Langston began training individuals, expanding into group fitness as the class grew by word of mouth alone. The reason, he thinks, is because of the unique nature of his training.
"I learned core fitness at the Lawson YMCA in Chicago, with the Chicago Bears and Chicago Bulls. That's where they were taught. Mike Ditka and guys like that had been doing this years ago, so when I started here, that's what I emphasized — core fitness; 20 years ago, people didn't know anything about the core."
Langston says that he concentrates on core training through isometrics and calisthenics.
"My philosophy is, without a core, you can't do much of anything," he said. "It doesn't matter what your sport is, my emphasis has always that you get a strong core, it's good for basketball, it's good for football, it's good for track."
Such training, he says, also enhances and enriches quality of life.
"I think the most important thing for me is that if you do not have good range of motion, even the quality of life can be interfered with," he said. "So it doesn't matter what your age is, because people have sleeping problems because of the inability of movement, and my feeling is that if you're not active, you're not going to be able to do much."
Langston teaches classes Mondays, Wednesdays and Fridays at the Waynesville Recreation Center, and for those who can't manage to get out of bed by 6 a.m. like 83-year-old Lewis Langston has been doing for years, there are alternatives.
"Elite athletes we try to have early in the morning, and that's 6 o'clock, and you'll have your triathletes, your more advanced fitness people," he said. "The 7 o'clock class, I call it a mid-class, and then we have an 8 o' clock class that's not as tough as the 6 o'clock."
For more information on Langston's classes or the other offerings at the Waynesville Recreation Center, call 828.456.2030 or visit www.waynesvillenc.gov.