Living Well
Brazilian Jiu Jitsu for health, fitness, self-defense
Wednesday, August 17, 2016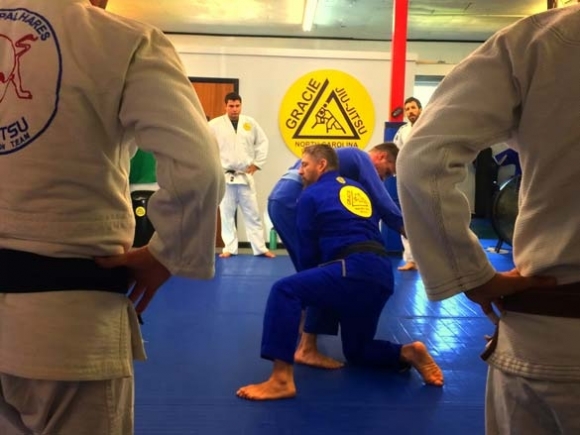 The Gracie family is well known to martial arts enthusiasts across the world; as perhaps the only martial arts practitioners as recognizable as Bruce Lee, the Gracies practically invented the modern form of Jiu Jitsu, known as Brazilian Jiu Jitsu.
"As the story goes, at the turn of the 20th century, a traveler named Mitsuyo Maeda was a martial artist who needed someone to help establish a Japanese colony in Brazil," said Armando Basulto, who with his wife Christine owns Waynesville's Basulto Academy of Defense. "It was one of the Gracie family who helped him. So in return he offered to teach his him and his sons Jiu Jitsu. My teacher's father Helio Gracie was one of them."
Brazilian Jiu Jitsu teaches that a person who may be physically outmatched can still defend against bigger, stronger, opponents through proper technique, the productive use of leverage, and, most importantly, grounding — forcing an opponent to the ground and utilizing chokes and joint-locks to end the altercation.
Basulto's experience training under Rickson Gracie gives him a direct link to the most influential and sought-after masters of this relatively modern martial art that's been increasing in popularity since the mixed martial arts craze first hit the United States in the mid-1990s.
Born in Miami but raised in the New York City area, Basulto has studied martial arts from a very young age.
"Our neighborhood's police athletic league ran things to keep kids out of trouble, and I was one of those kids," he laughed. "So I was put in Judo, and later on boxing. I did Judo from about age 6 until 13, boxed from age 10 to 14 and then did kickboxing."
One of his oldest memories, he said, was going to kung-fu movies on 42nd street in New York; he spent his youth making nunchuks out of broomsticks in the basement of his apartment building, and his room was covered — floor to ceiling — in Bruce Lee posters.
"I lived, ate, slept and drank training, all the time. Training with friends — I don't remember a time in my life when I wasn't training," he said.
Later in life, Basulto fought amateur muy Thai kickboxing in Thailand, and also spent time fighting in Spain and France, where he met his wife.
"I met Armando on a train in France," she said. "I was studying overseas though Virginia Tech and he was traveling and living abroad," she said. "And then we just — literally right out of a storybook — fell in love. I came back, finished school, moved up to New York and got a job teaching in the Bronx."
It was there that they became pregnant with twins about 12 years ago.
"We had an academy outside Manhattan in North Bergen, New Jersey, and when we found out we were going to have twins, we knew we wouldn't have much support there," he said. "I made a very conscious decision that I did not want to raise my children in that environment."
Despite being raised in South Florida and the D.C. area, Christine and her family had connections in the Waynesville area, and the two left the big city for a quiet mountain town; Armando began teaching classes twice a week, building up to three or four days a week.
"We were having lots of classes at the Waynesville rec center and as the academy grew, we kind of outgrew the space," he said. "So we said, 'Let's open another academy' and we found this space."
At the Basulto Academy of Defense, Armando and his wife bring years of fitness and self-defense experience, all centered around Jiu Jitsu.
"Gracie Jiu Jitsu is the lynchpin of everything we do," he said. "I feel that it is the base, the foundation to build all other skill sets on top of; I try to offer lots of things. I like people to train in Jiu Jitsu, and we don't make it a hard fast prerequisite but we like people to have six months training in Jiu Jitsu, just so they have a foundation and know how to work with other people, how to work with a partner without hurting each other."
The training at Basulto Academy is mostly about the repetition and perfection of technique.
"What that creates is an environment where you have to actually exert yourself," he said. "You have to work. There's the technology — the technique — and the delivery system — your body. Your body has to train itself to do all of the techniques, and there's no lying about it. You can't fake it, because somebody else is trying to smash you."
The result of Basulto's style of training results is increased flexibility, stamina, strength and confidence, but also a greater degree of self-awareness and reflection.
"On the days you're going to train, for example, you're thinking, 'What did I eat today? I better remember to eat well,'" he said. "People think about staying out late — I have people who have stopped drinking, not because I proselytize, but you feel like such crap that all of a sudden it's, 'I haven't drank in weeks, because I can't find the time. I'm too tired.'"
Basulto's training also holds another benefit, especially for women.
"To me, as a woman, being able to defend myself while standing is a huge aspect of not being a victim," Christine said. "The reality is I may try to be thrown on the ground — that's a reality of attacks against women."
What Jiu Jitsu does is, in essence, level the playing field.
"I've heard as much as 80 percent of altercations end up on the ground, even just from tripping. People get into a scuffle and end up on the ground," she said. "The great thing about BJJ is I know how to orient myself really really quickly and get myself in a position where I can defend, and then after I'm safe I can be offensive and create a situation where I can get out."
The Basulto Academy of Defense is located at 218 Branner Ave. in Waynesville. For more information, call 828.230.5056 or visit www.wncbjj.com.