Outdoors Latest
Ripple effects and recreation: Outdoor Economy Conference tackles range of complex issues
Wednesday, September 27, 2023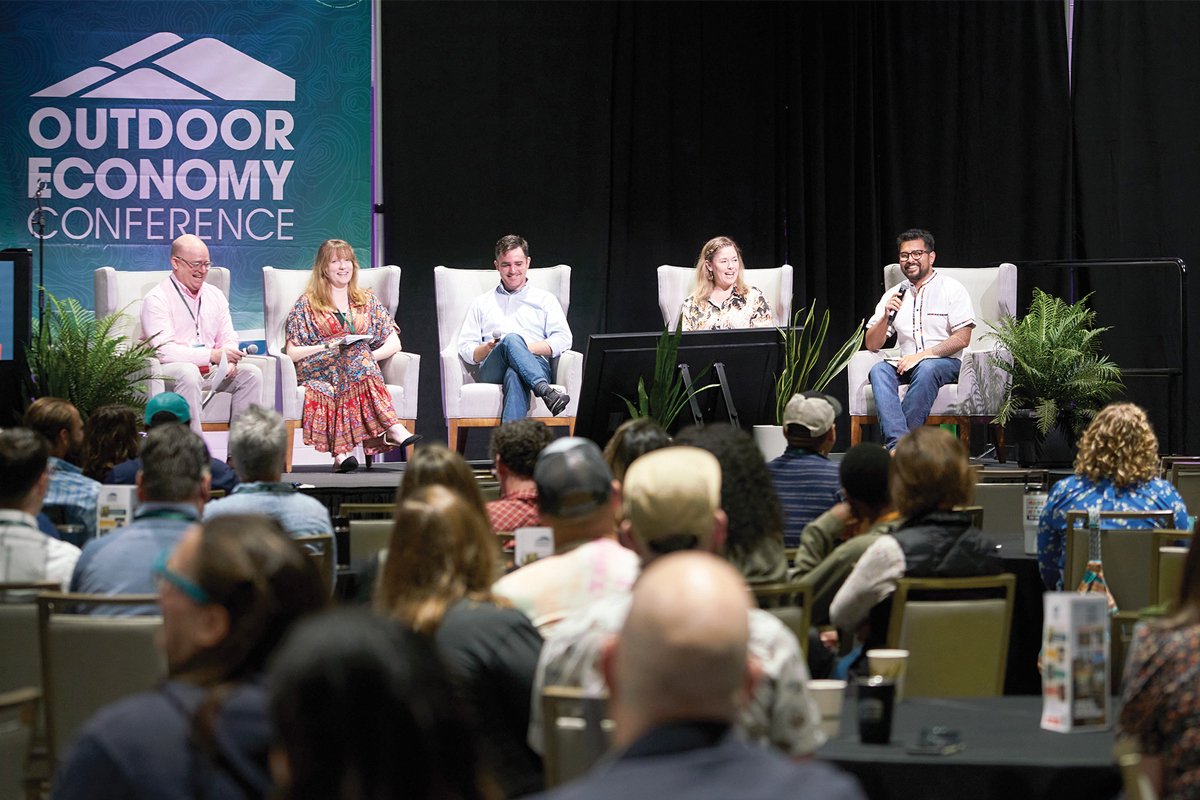 A panel discusses key policies to advancing the outdoor economy during a session Wednesday, Sept. 20. David Huff photo
More than 600 people from across the nation converged in Cherokee last week for the fifth annual Outdoor Economy Conference, the nation's leading economic development conference focused on outdoor recreation.
Through three days of programming featuring 82 speakers and a variety of excursions, attendees celebrated the potential of recreation projects to lift up local economies and improve quality of life — while also discussing how best to guide that growth in a way that safeguards both ecological resources and human communities.
"It's not just a tourism conference, and it's not just an industry conference, and it's not just economic development," said Amy Allison, director of Made X Mtns Partnership, which organized the conference. "We're bringing all those people together in the same room with our conservation partners and our parks and land trusts. And that's how we're going to move together faster and more effectively."
The conference started in 2018, when Western Carolina University hosted a one-day event focusing on outdoor economy issues that drew about 250 people from three states. Now organized by Made X Mtns, the conference has become an event of national importance. Attendees hailed from three dozen states.
"I've been really so thrilled to meet people and learn from people from literally all over the country," said Corrina Ruffieux, executive director of the Haywood County Tourism Development Authority. "Even though we all have our own niches and nuances, and mountains are slightly different than beaches, and some places have bears, and some places have elk and some places don't, there's still a lot of similarities within the outdoor economy."
Tuned in to trails
Nationwide, outdoor recreation is big business . According to the most recent numbers from the U.S. Department of Commerce Bureau of Economic Analysis, the industry accounted for 1.9% of the nation's gross domestic product in 2021, generating $454 billion. North Carolina was on track with the national average, with outdoor recreation accounting for 1.8% of its GDP.
"I think this is a really exciting time because we have power," Megan Lawson, leader of Headwaters Economics' research in outdoor recreation and public lands, said during a presentation. "We have the attention. We know that our economy is a political force, and folks are paying attention to us, both at the local, the state and the federal level."
In a separate session discussing key policies for advancing the outdoor economy, panelists listed numerous recent wins, pointing out that many of these — including 2020's historic Great American Outdoor Act — were bipartisan efforts. In 2022, said Tom Bugart, state and local government affairs manager for REI, 33 states passed an "incredible" $4.9 billion in local parks, green space and recreation funding.
North Carolina is also granting heightened recognition to the role parks and trails play in local communities. In an historic 2021 budget, the new Complete the Trails Fund was created and $29.5 million appropriated toward building out the 12 trails that were then recognized as official state trails. The same two-year budget gave two key conservation programs more than double their previous annual funding.
Also in 2021, only one legislator voted against a bill declaring 2023 "Year of the Trail" in North Carolina. A nonprofit group called the Great State Trails Coalition drove the designation and efforts to celebrate it, recording more than 1,400 Year of the Trail events statewide since January. This year, the coalition will celebrate Great Trails State Day for the first time. The statewide trail celebration is slated for Oct. 21, the third Saturday in October.
"We want to see more different kinds of people feel welcome on trails, but also demonstrate the importance of trails to elected officials so they recognize trails as a very important part of community infrastructure," said Palmer McIntyre, coordinator of the Great Trails State Coalition, during a session highlighting Year of the Trail efforts.
Elected officials seem to be paying attention. The 2023-2025 state budget , which the legislature ratified Sept. 22 and Gov. Roy Cooper intends to let pass into law unsigned, creates the new Great Trails State Fund and supplies it with $25 million over two years. To be managed by the Department of Natural and Cultural Resources, the fund will offer grants for construction of new trails and extension of existing ones around the state. The Complete the Trails Fund will receive an additional $5 million, with an additional $24.9 million appropriated for specific trail and greenway projects across the state.
"I can't even say how thrilling it is to get this fund in the next General Assembly session," McIntyre said. "So we're so excited … our legislature is tuned in to trails right now. They are seeing that that is a worthy investment."
Weighing the 'forever costs'
The argument in favor of trails and other outdoor recreation amenities spans the gamut from economic returns to improved mental and physical health to incentivizing land conservation. A 2018 study from N.C. State's Institute for Transportation Research and Education found that every dollar invested in trails returns $1.72 annually in local business revenue, sales tax and health and transportation benefits.
But the conference also explored the caveats around trail-building.
"My first question for any trail project is, 'Why?' followed by, 'How are you going to take care of it?'" said Shane Prisby, trails program director for Foothills Conservancy of North Carolina. "I know there's a lot of buzz and excitement around recreation for economic development, and it is certainly a wonderful aspect of it, but it's a forever cost. These are generational projects that we're doing, and that takes a generational level of thought."
Prisby joined Owen Carson, botanist and senior ecologist for Asheville-based Equinox Environmental Consultation and Design, and Andrea Leslie, mountain habitat conservation coordinator for the N.C. Wildlife Resources Commission, in a session titled "Think Before you Dig: Ecological considerations for recreation planning."
"We felt like it's a really important concept to underline the fact that the ecology of this place here supports all of the wonderful experiences we have in outdoor recreation, and therefore it makes sense to think before you dig," Carson said.
He gave several examples of Equinox projects in which careful planning resulted in a project that balanced human needs with ecological integrity. Meanwhile, Leslie spoke to a paradox that's become increasingly apparent as visitation continues rising at WNC parks and public lands.
"People want to be outside," she said. "They want to appreciate the natural world. How do we balance the need, an increasing need, of people to be on the landscape with the needs of the natural environment?"
When designing trails, it's important to build them right, minimizing impacts like erosion, and to choose routes that avoid ecologically sensitive areas. When welcoming visitors, it's important to educate them in responsible enjoyment of the place.
But in some cases, Leslie said, "The concept of 'leave no trace' might not be enough. Maybe it's, 'stay away.'"
Leslie spoke in support of encouraging outdoor recreation activities that are light on the land, pointing specifically to the new Blue Ridge Snorkel Trail that encourages people to check out the native fish at 10 sites in Western North Carolina. But she also questioned common perceptions about what constitutes overcrowding — and whether it's always a bad thing. For example, she said, Bent Creek Experimental Forest near Asheville is often discussed as an instance of overuse.
"It's a real focus for recreational use, and some folks would argue that it's too high. It's loved to death," she said. "But I argue that that's awesome, because we're focusing so much impact there so that it relieves that same impact spread out over other natural areas."
A rider zooms down a trail in the Fire Mountain Trail System A rider zooms down a trail in the Fire Mountain Trail System during a conference excursion Tuesday, Sept. 19. David Huff photo
Avoiding the amenity trap
Human communities also run the risk of being loved to death — or, at least, to rapid and unwelcome change — when their outdoor recreation economy efforts are successful. In a session titled "Avoiding the Amenity Trap," Lawson and Chris Estes, co-director of The Aspen Institute's Community Strategies Group, explored this phenomenon — and strategies for avoiding it.
"Everything we do has a ripple effect, and so we have to be thinking about how bringing people in does affect the land that we're on, the people in the communities that we're visiting and traveling in and recreating in," Allison said. "So it is about outdoor recreation and the economy and growth and opportunities and supporting our businesses, but we've also got to make sure that our communities are intentional about the way they're going about outdoor recreation and tourism."
The amenity trap is not a new phenomenon, Lawson said, but the pandemic accentuated it. Prior to 2020, rural counties without recreation amenities were losing population, while rural counties with such amenities were gaining about two people per 1,000 residents each year. Since 2020, that number has grown to 10 people per 1,000 residents.
"That might not sound like a lot, but it's a five-fold increase, so places that were already growing quickly, it really just accelerated and threw gasoline on the fire," she said.
This results in challenges that are becoming apparent across Western North Carolina related to the cost and availability of housing and pressure on public resources like roads, water systems and law enforcement. During their presentation, Lawson and Estes presented a buffet of potential solutions that communities might adopt to address these challenges — because measures like moratoriums on building permits aimed at halting growth simply don't work, they said.
Housing is a particularly sticky point, because recreation destinations need affordable homes for locals but also accommodations for tourists. Such areas often have limited buildable land and a limited labor supply, causing the market to favor wealthier landowners over median-wage locals. Regulatory changes to allow for smaller dwellings and increased density, and use of less labor-intensive modular homes , can help the situation. But when it comes to reducing the ratio of short-term to long-term rentals, both "carrot" and "stick" solutions can be used — and there are some "really interesting programs on the carrot side of things," Lawson said.
Breckenridge, Colorado, has started a program that pays property owners cash for converting from short-term to long-term rentals, she said. The town spent $300,000 on that program in the first year, less than the cost of building a single unit of affordable housing in that community. It's not a long-term solution, Lawson said, but effective in a crisis.
Nearby Vail, Colorado, launched a program aimed at the analogous issue of lacking home ownership among Vail residents. Using a tactic that is similar in concept to a conservation easement, the town paid homeowners who were willing to place a deed restriction on their property requiring that, should the home be sold, it must go to a local buyer.
"It's funded through the general fund in this community, because they recognize this is a really big problem, and they're throwing some real money behind it," she said.
Lawson also threw out solutions for problems related to infrastructure, finances and natural disasters.
"Rural places, and I would say most of Western North Carolina, has this history of thinking from a deficit framework," Estes said. "What are we missing? What don't we have? And that calls us to think about how can we get other people to come here, to create jobs or to spend tourist money?"
It's time to change that paradigm, he said, and instead use the outdoor recreation economy as a tool to build local ownership and local control of the community's destiny.
"It's something that we can all be thinking about," he said. "How are we setting a narrative about how people think about our communities, particularly in the outdoor rec world, that is not just an extractive playground?"­
An earlier version of this story said this year was the sixth annual Outdoor Economy Conference. It was in fact the fifth annual.