Outdoors Latest
Give back to public lands
Wednesday, September 13, 2023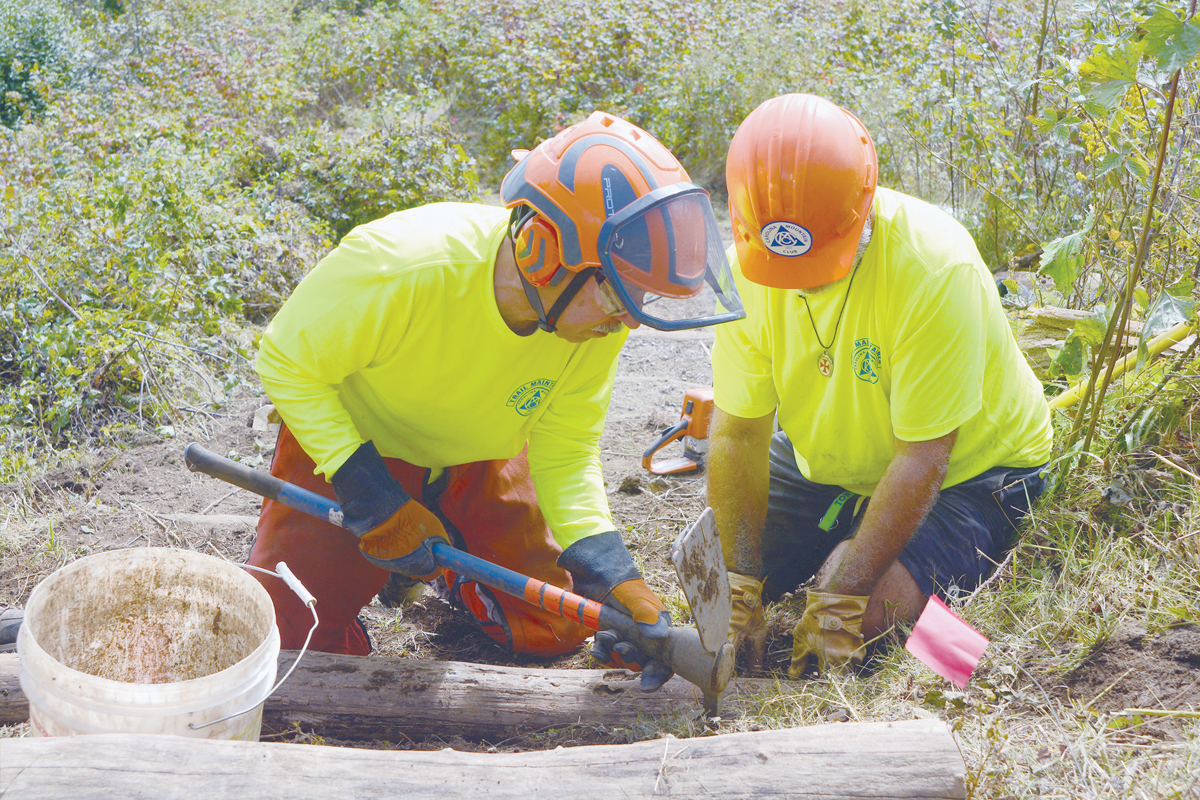 Volunteers build fences and stairs at Max Patch. Holly Kays photos
Celebrate the millions of acres of public lands covering Western North Carolina during National Public Lands Day Saturday, Sept. 23.
This will be a fee-free day when parking tags are not required in the Great Smoky Mountains National Park, and there will be multiple opportunities to participate in volunteer projects giving back to some of the region's most beloved trails.
• A workday at Max Patch in the Pisgah National Forest will be held 9 a.m. to 3 p.m., organized by Carolina Mountain Club. No experience is necessary, with tools and hardhats provided along with guidance from experienced CMC trail maintainers. Volunteers should bring work gloves, lunch, water, sturdy shoes and long pants. A carpool opportunity will meet at 8 a.m. in Canton. Once the workday is over, everyone is invited for a 3 p.m. celebration at BearWaters in Canton. RSVP to Paul Curtin at This email address is being protected from spambots. You need JavaScript enabled to view it..
• Help Friends of Panthertown and Environmental Educators of North Carolina remove invasive species on Deep Gap Trail near Granny Burrell's homesite, within the Panthertown Valley Backcounty Recreation Area in the Nantahala National Forest, 9 a.m. to 3:30 p.m. The excursion will include plant talks, geological features and waterfalls, with all tools and safety equipment included. Participants should wear long pants, a long-sleeved shirt and closed-toe shoes, and bring lunch, snacks, water, sunscreen and weather-appropriate clothing. Sign up at eenc.org/event-5394571.
• Help maintain a 3-mile section of the Fonta Flora Trail near Old Fort, known as the Copper Ridge Trail, during an event 9 a.m. to 1 p.m. Volunteers will meet at Hillman Brewery and carpool five minutes to the trailhead. From there they will split into smaller groups to tackle a variety of tasks — parking lot beautification, trimming the trail corridor, improving tread, weed-eating, brush-cutting and removing fallen trees. Tools, safety equipment and training will be provided, along with water and light snacks. Volunteers should bring a daypack to carry water and tools and wear closed-toed shoes and long pants. Sign up at foothillsconservancy.org/volunteer.
• Enjoy an afterhours sunset hike 7-8 p.m. on the Outcropping Trails in Chimney Rock State Park. The Outcropping Trails is a newly designated section of Hickory Nut Gorge State Trail. A local steward will place the first designated Hickory Nut Gorge State Trail marker at the trailhead, and selected volunteers will place additional trail markers along the way, with a state park official placing the final marker near the top of the chimney. Registration is required at chimneyrockpark.com/event/national-public-lands-day-sunset-hike.
To view all the National Public Lands Day Events scheduled nationwide, visit neefusa.org/npld-event-search.