Outdoors Latest
'Hard to believe': Downstream fish populations explode following mill closure
Wednesday, August 02, 2023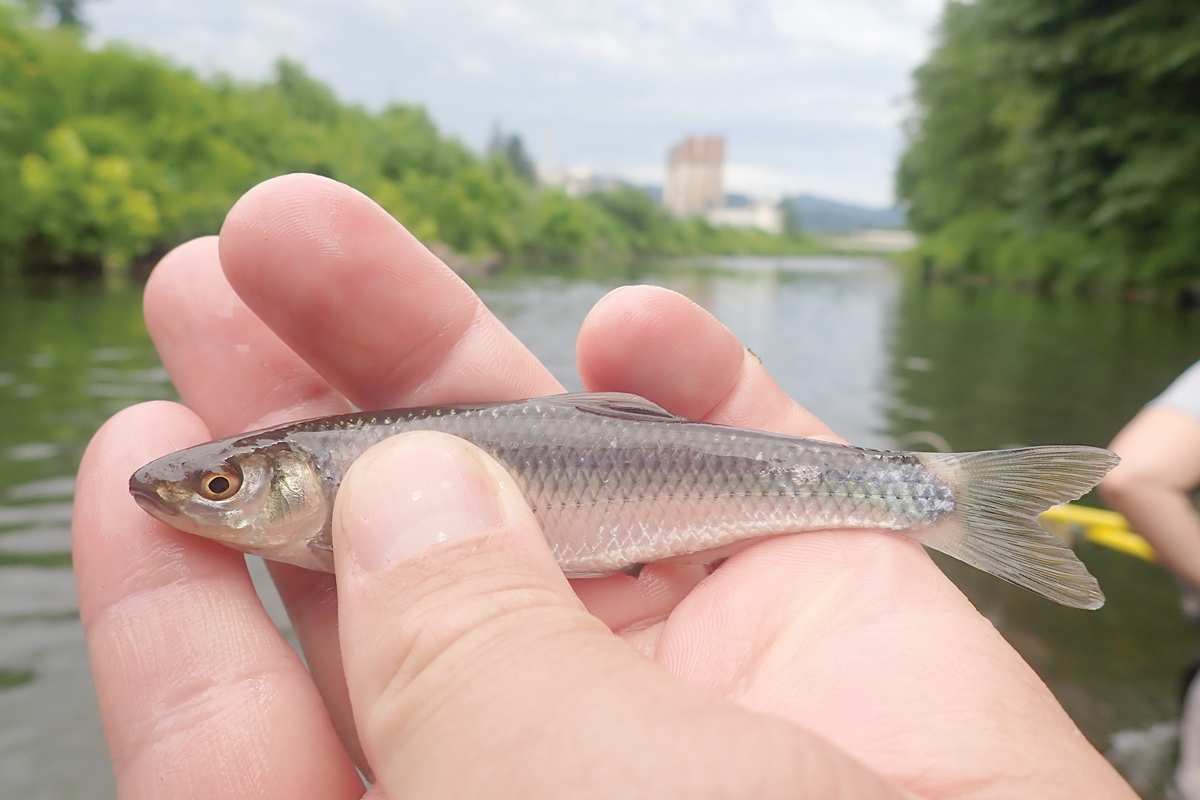 A whitetail shiner caught during sampling is held up with the mill in the background. NCWRC photo
When the impending closure of Canton's paper mill was announced in March, conservation professionals predicted a swift improvement in downstream water quality once papermaking stopped.
After a recent round of fish sampling, Luke Etchison, the western region aquatic wildlife diversity coordinator for the N.C. Wildlife Resources Commission's Inland Fisheries Division, is surprised to see just how quickly that recovery is unfolding.
"So far it's hard to believe how much of a difference there's been," he said.
In late July, the Wildlife Commission sampled fish populations at three sites downstream from the mill — just below it at Blackwell Drive, midway between Clyde and Canton, and at the Charles Street bridge in Clyde. When they sampled the same three sites in May, before paper production ceased, they observed 14 species between the three sites, and 157 total fish. July's sampling yielded double the diversity and a 15-fold increase in fish found — 28 different species and 2,626 fish.
Rock bass, which had been absent during May sampling conducted before the mill closure, was found at all three downstream sites in July. NCWRC photo
Perhaps the most startling results came from the site between Clyde and Canton, where 13 fish representing seven species were found in May. In July, biologists counted 16 species and 831 individual fish. Of those, 644 were silver shiners. While there might normally be some seasonal variation between May and July observations, a doubling of species diversity is unheard of, Etchison said.
The team found nine olive darters at Blackwell Drive, tying the record in their database for the most found at one time — typically, when the species is present, only one or two are seen at a time. At a site located between Canton and Clyde, there were five mottled sculpin, a coolwater fish species that seems to be heading into the area now that the mill is no longer keeping the water unnaturally warm.
At both the Canton and Clyde sites, a single brown trout was observed. This is an encouraging sign, but even so, the river is unlikely to become a trout fishery. The habitat might be good enough for a few trout to survive temporarily, but it's too warm for them to reproduce and survive the warmest summer weather, Etchison said. However, the team did observe juvenile smallmouth bass, which is a good sign for bass anglers.
Overall, there was "an absolute ton" of juveniles from a variety of species. Before carrying out the sampling, Etchison had assumed that improvements to reproduction wouldn't be observed until next year.
"It just seems like for most species, the ones that we had very few records of, we found a decent amount of juveniles," he said. "I think everything just had a really good reproduction year, and I think the mill helped a lot with that."
The change in temperature likely played a role in the explosion of aquatic life. Data gathered between 2016 and 2018 showed an average temperature difference of 6 degrees in the Pigeon River above the mill and below its discharge point. There were 161 days with a temperature difference greater than 10 degrees and 118 days with downstream water temperatures over 80 degrees.
Most mountain fish species can't survive in exceptionally warm water, and high temperatures have an especially detrimental effect on reproductive success and on the survival rates of juvenile fish.
"I think the temperature really had to do something really beneficial for them," Etchison said.
He also noted the precipitous drop in conductivity levels between the May and July samplings. The number indicates how much material is dissolved in the water. A clean, clear mountain stream typically comes in at 10-20, while a body of saltwater will be in the thousands. Most local streams are 50 or less.
In May, the Pigeon River below the dam logged a conductivity reading over 600, but now it's down to 150. That's a reflection of "less junk that's getting released into the river," Etchison said.
"I can't help but think it's partially related to the success," he said, "because conservation fisheries, when their conductivity is too high, they will often have not as much juvenile survival, as high as survival or egg hatching success. I'm sure that translates to some degree."
Caddisfly larvae cling to a river rock. NCWRC photo
Typically, the Wildlife Commission would conduct fish surveys on a body of water like the Pigeon once every year or every couple of years, but the agency is taking advantage of this "one-in-a-lifetime opportunity" to track the river's recovery. Another round of sampling is planned for early fall, and after that samples will likely take place in June each year.
The river is "not quite out of the woods yet," Etchison said, but the latest sampling results make him optimistic for its future.
"The improvement gives me hope that we're going to potentially have the Pigeon be a happy, healthy river way sooner than I expected," he said.