Outdoors Columns
Notes from a plant nerd: A lily so superb
Wednesday, August 02, 2023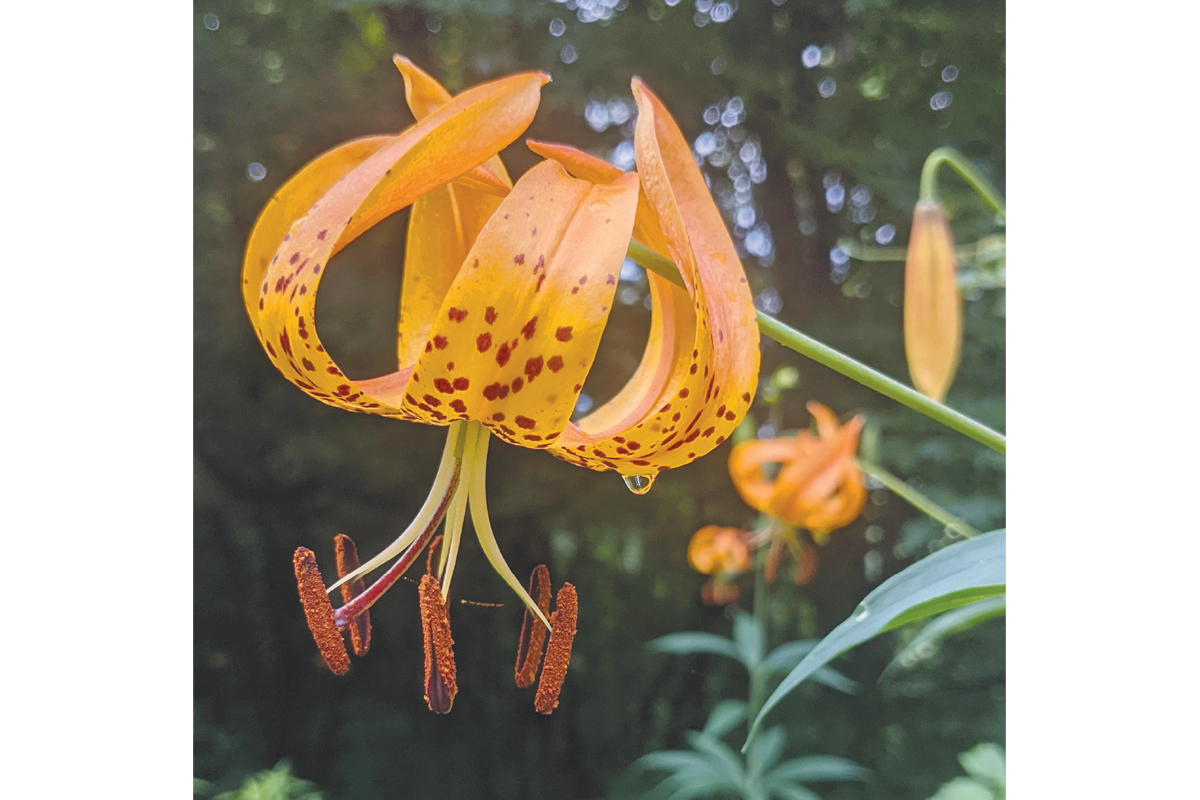 Sometimes standing as high as 8 feet, the native Turk's-cap lily is often taller than most people. Adam Bigelow photo
Right now, throughout Southern Appalachia, and especially along the Blue Ridge Parkway near Balsam Gap in either direction, one of the most beautiful and iconic flowers in all of Appalachia is in bloom.
And it is stunning, lighting up the roadsides and forest edges with large, orange flowers and stacks of big, green leaves in whorls all up and down the stem, looking like a pagoda.
The plant in question is a lily so superb that it was given the botanical name of Lilium superbum. Today, I am celebrating the beautiful flowers of the Turk's-cap lily. Standing tall at 4 to 6 feet, sometimes over 8 feet, this plant is taller than most people. Their flowers nod downwards with large, reddish-brown stamens covered in thick pollen. The flowers are often covered up with butterflies like pipevine swallowtails (Battus philenor) drinking nectar and helping to pollinate this plant, so there will always be plenty to bloom in coming years.
Seven species of lilies are native to North Carolina, with five of them occurring in mountain counties. And while the Canada lily (Lilium canadense), Gray's lily (Lilium grayii), Carolina lily (Lilium michauxii) and wood lily (Lilium philadelphicaum) are all beautiful in their own ways, the tall stature and large clusters of flowers, often containing 10 to over 25 individual blooms on the same plant, make the Turk's-cap one the showiest, in my estimation. Luckily this is not a competition, and we can enjoy them all.
The flowers of Turk's-cap lilies can be confused with those of other lilies, both native and exotic. They do look similar to the many cultivars, or cultivated varieties, and to hybrids of tiger lilies, which have parentage native to the Asian continent. But, while the flowers of tiger lily tend to face upwards and the plants only grow to 3 or so feet tall, Turk's-cap's flowers nod downward and the plants, as already mentioned, are giants.
They can also be confused for one of the other native lilies found in Southern Appalachia, primarily the Carolina lily. The main differences between these two related species are that the Carolina lily grows shorter, usually, and has fewer blooms per stalk, usually. I qualify these traits because sometimes the Turk's-cap can have fewer flowers and grow shorter, especially when it is a young plant and growing in deeper shade than it prefers.
One fool-proof way to identify the flowers of Turk's-cap versus Carolina lily is that at the base of each petal of Turk's-cap there is a green triangle that forms a five-pointed, green star where all the petals meet in the center. You have to look up and into the center of the flower to see it. Luckily, the Turk's-caps are so tall that makes it easy to see into their center. The Carolina lily, however, has petals that are orange all the way to the center. Both species exhibit purple or brown spots along the orange flower petals, as well.
The curved petals of Turk's-cap are really a type of flower part called a "tepal" which is a portmanteau, a word created by combining two separate words together. In this case, it is a combination of "petal" and "sepal." A petal is often showy and colorful, and it covers the reproductive parts of a flower. A sepal is a modified leaf that covers and protects the unopened flower bud, and then serves to hold the opened flower from below while it's in bloom.
No matter the proper terminology, or what you like to call them, the flowers of Turk's-cap lily are stunning. They make driving the already risky Blue Ridge Parkway even more dangerous, as I crane my neck out the window to ogle them and coo at their superb beauty. So, go check them out at mid to high elevations around Western North Carolina right now. Just be sure to drive slowly. Or better yet, park your car at an overlook, and get out to observe them up close and personal. You won't regret it.
(Adam Bigelow lives in Cullowhee and leads weekly wildflower walks most Fridays and offers consultations and private group tours through Bigelow's Botanical Excursions. This email address is being protected from spambots. You need JavaScript enabled to view it..)