Archived Outdoors
Carolina Mountain Club celebrates 100 years: CMC birthday party draws a crowd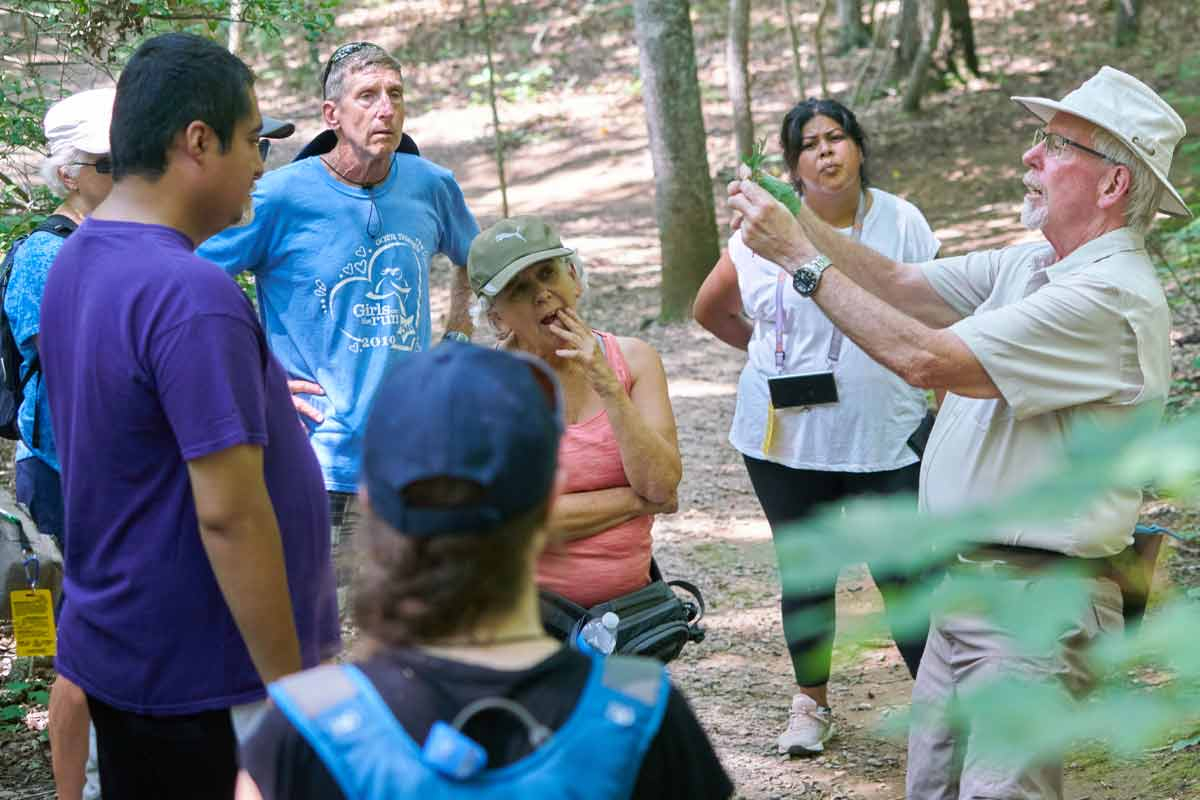 N.C. Arboretum volunteer Tim Southard explains the difference between white and red oak leaves to his group of hikers. David Huff Creative photo
As temperatures neared 90 degrees on the sunny afternoon of Sunday, July 16, the forested Carolina Mountain Trail offered a shady respite for the 20 people joining Tom Southard for a 2.1-mile hike through the woods of the N.C. Arboretum in Asheville.
Southard, a volunteer with 13 years of experience leading walks at the arboretum, stopped frequently to tell the stories of the thousands of plant species responsible for the forest's green, damp scent and cooling shade. He extolled the unique honey made from the blossoms of sourwood trees like the crooked-trunked specimen growing alongside the trail, discussed how to tell a white oak from a red and explained where the water goes when it flows off the property.
He also told the story of the trail itself, built 30 years ago with the help of Carolina Mountain Club volunteers.
"We're forever grateful for that," said Southard.
N.C. Arboretum volunteer Tim Southard explains the difference between white and red oak leaves to his group of hikers. David Huff Creative photo
Celebration of the century
That gratitude is what led the Arboretum to host a once-in-a-lifetime event: CMC's 100th birthday celebration. Founded on July 16, 1923, CMC has become a leader in spurring volunteerism and use of public lands. Despite being completely volunteer-based, with no paid staff or headquarters building, the group hosts four to six hikes each week and organizes 10 weekly trail maintenance crews. It is responsible for maintaining nearly 450 miles of trail in the region. While there's no exact figure as to how many miles of trail the club's crews have built, it's safe to say that number is in the hundreds as well.
Another figure reaching into the hundreds? The number of people who came to the celebration. Finding a spot in the arboretum's large parking lot was nearly impossible that afternoon.
"I don't think they're here for the free ice cream or the free cupcakes or the free cookies," said CMC President Tom Weaver. "They're here to help us celebrate our 100 years. The public turned out, which is great."
During the four-hour event, arboretum volunteers like Southard led 10 guided hikes on three trails while live bluegrass music played at the center of a garden walkway populated by more than two dozen booths, hosted by the many organizations CMC has partnered with through the years. Sawyers demonstrated how to use a cross-cut saw at the Southern Appalachian Wilderness Stewards booth in the amphitheater and N.C. State Parks gave away freebies ranging from sunglasses to dog waste bag carriers. Friends of the Smokies and Friends of the Mountains-to-Sea Trail shared their mission with attendees while CMC sold books and T-shirts and served handfuls of birthday treats.
A young outdoors enthusiast helps sawyers with the Southern Appalachian Wilderness Stewards cut a log. David Huff Creative photo
Widening the tent
The 100 years leading up to this celebration included a plethora of accomplishments — the preservation of Max Patch , the building of the Mountains-to-Sea Trail , the completion of the Appalachian Trail — but also many challenges. CMC has survived the Great Depression, World War II, massive shifts in culture and communication, and the Coronavirus Pandemic.
David Huff, who serves as the club's ccouncillor for communications, believes CMC's mix of professionalism and openness is part of its success.
"It's run like a business in the sense that it's so well-organized, but also anybody can participate," he said. "Everyone's welcome. You don't have to have any skill set to participate."
But Weaver doesn't want to see CMC rest on its proverbial laurels as it starts the journey toward year 200. During the club's last annual meeting, he challenged members to think about what they can do to bring CMC through the next century, whether that be inviting new people to join or contributing to the club's new endowment fund, which aims to fund CMC's next 100 years of outreach, trail maintenance and education.
Recognizing that its membership is less diverse than the local population, CMC has also formed a new diversity and inclusion committee to increase the variety in age, race, ethnicity and other demographics on the club's membership rolls.
As part of those efforts, CMC is hoping to grow its partnership with Latinos Adventuros en las Carolinas , a group that organizes hikes and outdoor adventures designed to make Spanish-speaking people feel at home. The group had a booth at the celebration, and its members composed about half of the 20 hikers Southard led along the Carolina Mountain Trail.
"We didn't only promote the event as the birthday party, but come so that you can hike," said Vivianette Ortiz, a leader in the group.
Ortiz, who lives in Gastonia, now spends a lot of time in Western North Carolina. But she hadn't explored the region much before the Coronavirus Pandemic, when she started discovering trails and learning about hiking. Soon, she saw a need for more support for Latino people interested in the outdoors.
"Where this might come naturally to some people, if you're coming here from another country, you need guidance," Ortiz said. "I think that it all starts with the interest to welcome the Latino community outside, and then provide information in Spanish."
Ortiz was excited that Latinos Adventuros was invited to set up a booth at CMC's celebration and looks forward to continuing to build a strong relationship with the club. CMC leaders are experts at how to organize a hiking club and the ins and outs of caring for trails — Ortiz is eager to absorb that knowledge into Latinos Adventuros, and CMC is excited to encourage the group's enthusiasm for stewarding the trails they've come to love.
"They're out on the leading edge, getting their population out into the forest," Weaver said. "And that's what we're trying to do as well."
Danny Bernstein holds up a copy of her book on CMC's history. David Huff Creative photo
More trails to build
CMC has many more projects on its plate as it kicks off its second century.
Through a partnership with the Blue Ridge Parkway Foundation, the club will be tearing down and replacing the observation platform at Mount Pisgah, which was built in 1979. Additionally, it's received final approval from state and federal agencies in North Carolina and Tennessee to take apart the aging and poorly situated 85-year-old Walnut Mountain Shelter, located 7.5 miles north of Max Patch on the Appalachian Trail, and rebuild it as a historical display in Hot Springs. CMC plans to build a new shelter nearby in the coming years.
The club is also making plans to add to its list of built trails. N.C. State Parks has reached out for input on trail design for the new Pisgah View State Park in Candler, and Weaver thinks it possible CMC could have a hand in building those trails. The club is also collaborating with the Southern Appalachian Highlands Conservancy on trail design for the 343-acre Deaverview Mountain property overlooking Asheville. The land trust has signed an option agreement for the land and hopes to turn it into a park.
"We're looking to put our footprint or our mark on those two projects," Weaver said.
A new trail – and the structure to ensure it's maintained — is perhaps the most lasting gift an organization like CMC can give its community. The arboretum's Carolina Mountain Trail was built three decades ago, before Carroll Kopplinger, who at 93 is CMC's oldest active member, joined the club in 2001. He served as sweep while Southard led, ensuring none of the 20 hikers got lost or left behind. It's a job he was well suited for — Kopplinger knows the arboretum trails well.
"I live near here, so a lot of times I just come out here for a 4-5-mile hike, bring my lunch, sit up on the rocking chairs in the arboretum — just relax and sit back and realize how thankful I am," he said. "How fortunate I am to be here and be able to hike it."