Archived Outdoors
Transformation on trail: Volunteers converge to secure Max Patch's future
Wednesday, September 29, 2021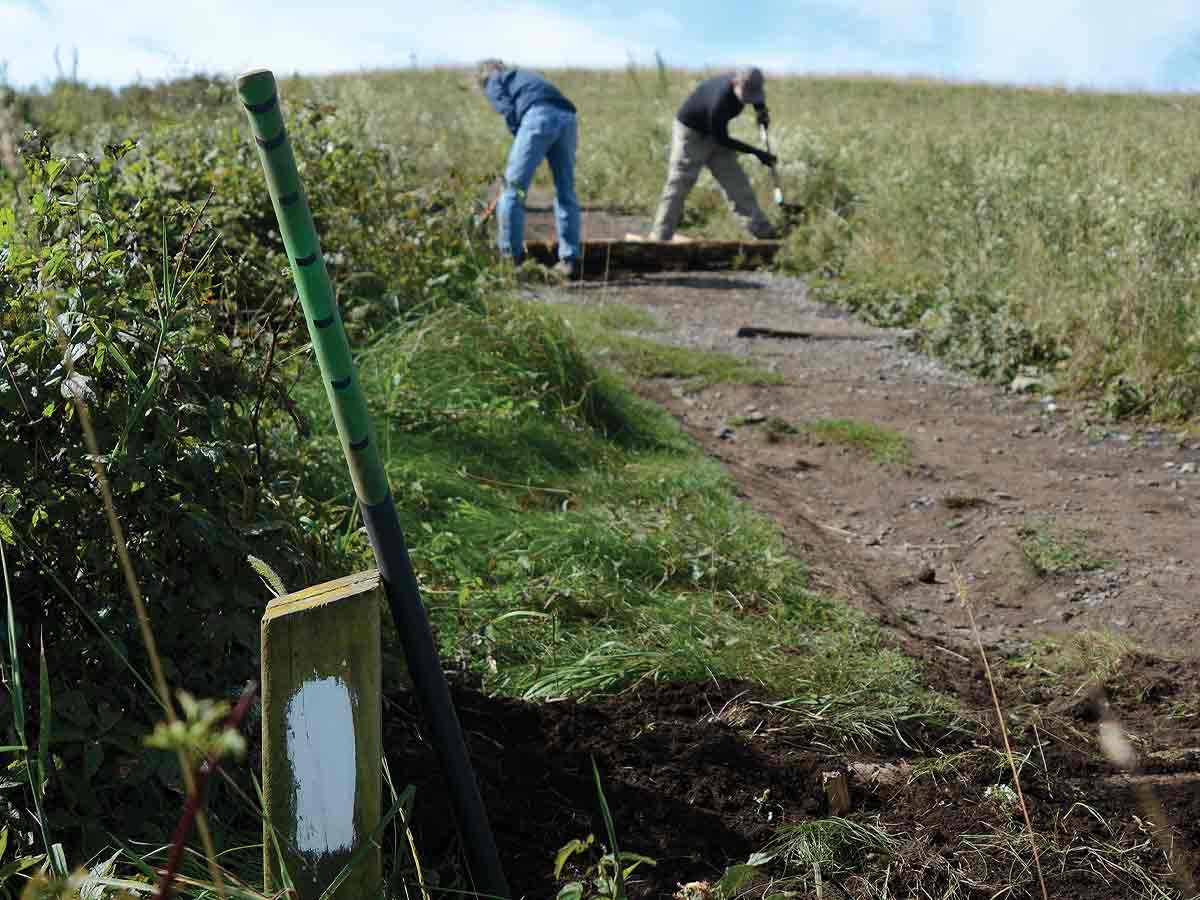 Mike Wurman and Scott Varn work to install a locust log water bar on the Appalachian Trail at Max Patch during a Sept. 25 volunteer work day. Holly Kays photo
On a sunny Saturday in September, tall grasses wave a fringe atop Max Patch, framing mountain layers fading from ripened green to hazy blue. Blooming heads of goldenrod and aster dot the slope, a brisk wind whisking autumn chill into the sun-warmed air. Slope and shrubbery combine to create pockets of privacy on the open bald, fostering an illusion of wilderness that's broken only when the white-blazed trail brings two travelers together.
It's a wholly different scene than the one that sprawled across the mountaintop just one year ago, when Asheville artist Mike Wurman flew his drone over the bald to capture what became a viral image of 130 tents blanketing a trampled-down Max Patch.
"It just feels different," says Wurman, who on the morning of Saturday, Sept. 25, is digging a trench along the trail to install a locust log water bar. He's one of 50 people who came out for a National Public Lands Day event to rehab the trail and reinforce it against misuse.
"I actually saw birds fly," he says of today's experience on the bald. "I've never seen birds up here, because there's always too many people."
Anyone who hikes or lives near Max Patch can readily attest that abuse and overuse were problems at Max Patch well before Sept. 19, 2020, when Wurman took his drone shot. But as the saying goes, a picture is worth a thousand words, and the image of Max Patch covered with tents demanded action.
"It definitely kickstarted things," said Paul Curtin, Appalachian Trail manager for the Carolina Mountain Club.
Since 2017, a coalition that includes CMC, the Appalachian Trail Conservancy and the U.S. Forest Service had been working on a long-term plan to manage surging use at Max Patch, but Wurman's image ramped up the project's urgency.
"Without that this might have happened, but it would have taken longer," said Curtin.
Grass and flowers are growing tall on Max Patch after new rules went into effect cracking down on overuse of the area. Holly Kays photos
Groundswell of support
"This" could refer to the July 1 Forest Service order that laid out a new set of rules for Max Patch, including a ban on camping, off-leash dogs and groups of more than 10 people.
But it could just as easily refer to the swell of enthusiasm for keeping Max Patch beautiful that arose following media coverage of the situation. In the year since, volunteers have held countless litter cleanups on the bald to remove trash and raise awareness of the importance of packing it out.
A roster of volunteer trail ambassadors mans the trailhead on busy days like weekends, educating visitors on how to use the place responsibly. The neighborhood just below Max Patch has rallied, doing whatever it can to support management efforts — including raising $1,200 to purchase supplies for the Sept. 25 Public Lands Day projects. One of the neighbors even brought his tractor to help distribute the gravel.
Of the 50 people who showed up on Saturday, about half were completely new to trail maintenance work. They came because they'd heard about the issues facing Max Patch, and they wanted to help.
"My husband and my two sons are Scouts, and they're out doing this stuff all the time," said Fairview resident Sam Varn, 55. "I thought, well, I have an opportunity to do something too, so I wanted to come out and participate."
Public lands are a priority for the Varn family — Sam and her husband Scott, 54, run the nonprofit Preserving a Picturesque America, which works with artists to recreate the vistas documented by early photographers. The resulting pieces are then sold, with profits benefiting public lands in need. Wurman is one of the artists they work with, and in the coming year Max Patch will be one of the locations benefiting from the program.
Meanwhile, blogger Charlene Bell said she saw the workday as an opportunity to give back to the outdoor spaces that have given her so much.
"When REI sent the email and showed that we can actually come out and take care of trails and do some work with this organizations, it was like, 'Sign me up,'" said Bell, 45, of Charlotte. "Even though I was fatigued and tired, I really was excited to just come out here and be part of this, because I love nature."
Bell is a Realtor and also runs the blog Lazy in Nature, which promotes spending time outside just for the sake of being outside, rather than rushing through a trail to reach a destination. The day before the Max Patch workday, she was in Alexandria, Virginia — but she traveled all the way out to the Haywood-Madison County line to wander the trails with a three-person crew, installing signposts to display the newly established rules at the boundaries of the regulated area.
"Working in a building, I would probably be complaining a little and having a little regret, but out here I feel so alive, and you probably can't even really tell that I didn't have sleep," she said. True to her word, she spoke in a bright tone that belied any sleep shortage she may have had.
That high-energy feeling seemed to extend all around the bald that day, with three hours of labor yielding a long list of accomplishments. The 51 volunteers who pitched in for National Public Lands Day improved 200 feet of trail tread on the northbound approach to Max Patch, rebuilt 30 steps on the northbound staircase and added 11 to the southbound descent, built 105 feet of fencing near the parking area to aid habitat recovery on former hiker shortcuts, installed various drainage features, eliminated seven fire rings, installed 19 posts for signage and wayfinding and spread 16 tons of gravel to improve trail hardening and hiker footing.
Volunteers build fences and stairs at Max Patch Sept. 25. Holly Kays photos
It's important and blood-pumping work, but Curtin said that the commitment it spurs in volunteers is every bit as important as the tangible results of their labor.
"For us this is a big outreach thing, to try to introduce what we do to the community," he said.
Spreading the message
Seemingly simple changes like building fences and posting rules clearly can go a long way toward influencing visitor behavior, but a permanent change at Max Patch will require more than infrastructure. Visitor education and community buy-in are every bit as critical as tread work and water bars.
That's where the trail ambassadors come in.
"What I usually do is I bring my own little chair and my lunch, and I jump up and talk to people," said Asheville resident Marjorie Vestal, the ambassador on duty Sept. 25. "And it is so satisfying, because everybody says, 'Thank you. Thank you for being here.'"
CMC launched the trail ambassador program in 2019, but due to pandemic impacts on training and recruitment, there weren't any ambassadors on duty last year, when Max Patch transformed into party central.
"We would actually interview people last year, just casually, and say, 'How did you hear about Max Patch?'" said Alice McVey, who lives just off Max Patch Road, within easy walking distance of the trailhead. "And it was, 'Oh, it's the party place on social media, a place to go to have a great time,' and we understood that a lot of those people were college students, and they couldn't do that on campus because of COVID — so Max Patch was a good getaway."
That crowd didn't treat Max Patch like the iconic mountain gem that it is. Instead, they left behind their trash, their campfire rings and even their feces when they departed in the morning. They cut down signposts and used them for firewood. They let their fires smolder, keeping residents on edge when the weather turned dry.
Vestal's job is to confront those behaviors — and, hopefully, prevent them from even popping up. While on duty, Vestal spends her days answering questions, briefing visitors on Leave No Trace principles and reminding people of the new rules. After spending an hour or two at the trailhead, Vestal will take a loop of the trail, looking out for tents, campfires or other violations.
"I have no authority, but I can say to them, 'Are you aware of the ordinance?" she said. If a ranger sees what they're doing, she'll tell them, they could end up with a fine.
Visitors enjoy the trail with dogs on leash, as required under the new regulations. Holly Kays photo
Three months into the new regulations, camping violations are rare. The biggest issue Vestal deals with is illegal weddings. Too often, people see Max Patch as a free and beautiful place to tie the knot, not realizing that the 10-person gathering limit also applies to nuptials. Rangers aren't ticketing weddings yet — nobody wants to write a citation for someone in a wedding dress — but Vestal has been busy contacting area wedding officiants to let them know that tickets are coming soon.
"The problem with weddings is they get all caught up with what they're doing and forget to pack it out," Vestal said.
Fragile victory
That observation points to the fragility of the victory at Max Patch. In the years to come, an ever-changing group of hikers and campers and sightseers will find themselves at the Max Patch Trailhead, and many of them won't be familiar with the principles for responsible use that are intuitive for people who regularly spend time outdoors.
"Everybody's got to be Leave No Trace trained," said Scott Varn. "As a Scout master, it's very common for us. But we would not have thought 100 people or more would descend and then just leave their crap and ruin it for everybody."
That training will have to come from somewhere. Right now, it's coming from trail ambassadors like Vestal, who donate their time and enthusiasm to bestow it. Keeping it up will require a continued refreshing of the ranks — or else Max Patch could someday return to the sorry state of 2020.
A volunteer carries locust logs to be made into fencing Sept. 25. Holly Kays photo
While 2020 brought the hordes, the crowds had been there well before that. McVey, who has lived in the neighborhood fulltime since 2005, said the situation had been bad since 2017 or so. Despite her proximity to Max Patch, neither she nor her neighbors would ever go there. It became "an embarrassment," she said.
Now, she said, it's different.
"People (from the neighborhood) will email me or call me and say, 'Do you really think we can go on a Saturday? We've got company coming into town,'" said McVey.
These days, she readily answers yes.
"It's totally turned the corner, and it looks like it's supposed to look now," said Curtin. "When you go up there, you see blackberries growing up and flowers and milkweed, and there's birds flying around, and butterflies and bees."
It seems to be a new day for Max Patch. McVey hopes the transformation sticks.
"When people are hiking the (Appalachian) Trail, a lot of it is tree canopy and not a lot of long-distance vistas, so when you pop out onto Max Patch, there you are, and it's such a shocking and beautiful place, and it's free to enjoy," said McVey. "We love the fact that people come. We just want to make sure respect is given to that beautiful spot."
Pitch in on trail
The Carolina Mountain Club has a variety of trail maintenance crews and always welcomes new volunteers.
For more information, contact Todd Eveland at This email address is being protected from spambots. You need JavaScript enabled to view it. or check out work schedules at www.carolinamountainclub.org. When outdoors, always practice Leave No Trace principles. Learn more at www.lnt.org.
Leave a comment
4

comments
There is a new trail in the making in southern Madison Co. called The Trail of Dreams. It will be for foot traffic only. It's a 3.6-mile loop to the ridgeline back down to Duckett Top Tower Rd.

Saturday, 10/02/2021

There is a new trail in the making in southern Madison Co. called The Trail of Dreams. It will be for foot traffic only. It's a 3.6-mile loop to the ridgeline back down to Duckett Top Tower Rd.

Saturday, 10/02/2021

There is a new trail in the making in southern Madison Co. called The Trail of Dreams. It will be for foot traffic only. It's a 3.6-mile loop to the ridgeline back down to Duckett Top Tower Rd.

Saturday, 10/02/2021

There is a new trail in the making in southern Madison Co. called The Trail of Dreams. It will be for foot traffic only. It's a 3.6-mile loop to the ridgeline back down to Duckett Top Tower Rd.

Saturday, 10/02/2021