Outdoors Columns
Up Moses Creek: The creek runs blue and red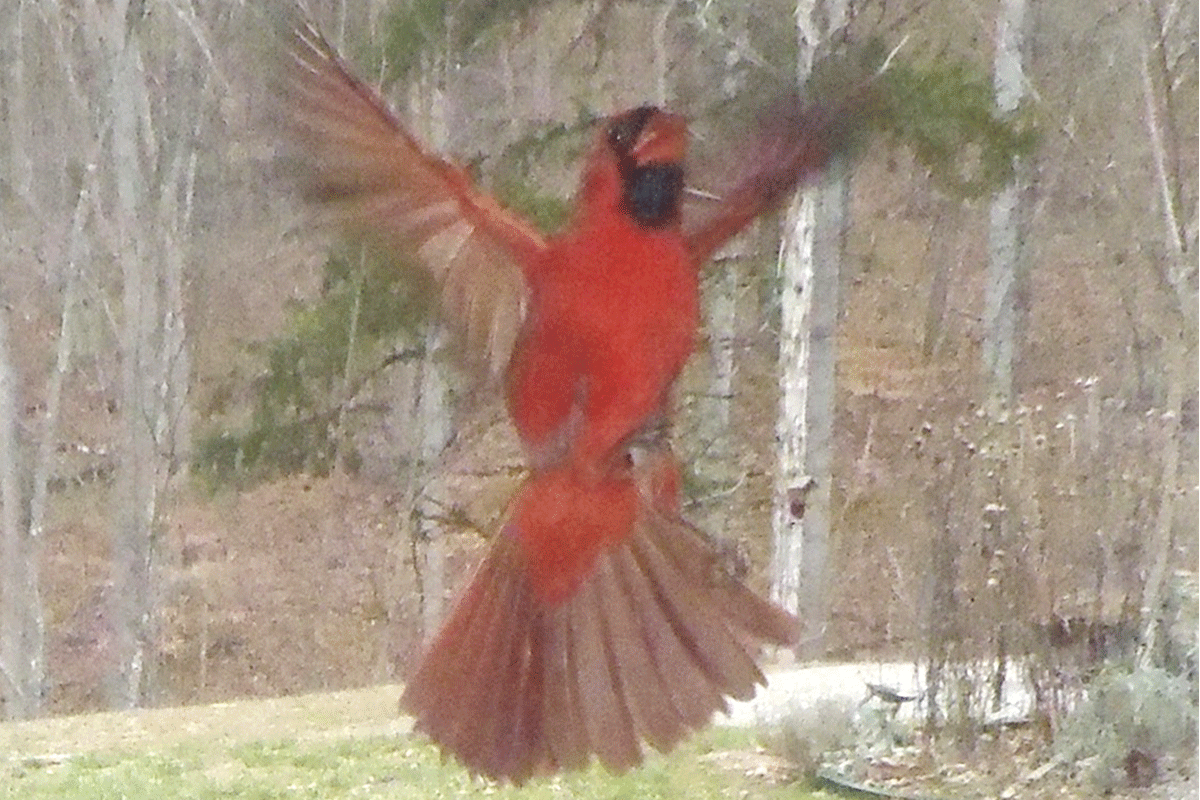 American Narcissus fights his reflection in the window. Burt Kornegay photo
A bluebird has been knocking at our door this week — at the glass storm door, that is — and at the transom over the door and the windows nearby.
Knocking with his beak. You'd think he wants to be a woodpecker, the way he goes at it. But what he really wants is this: to be at the top of the bluebird pecking order in our yard.
Ornithologists say that many female birds choose to mate in places where they can best raise their young. So to attract females, males vie with each other for the prime breeding spots. A male sings to females,
"Come live with me and be my love,
And we will all the pleasures prove"—borrowing verses from Christopher Marlowe. But to other males, his song says,
"Butt out."
When our bluebird sees his image in the window, he thinks it's a rival and attacks.
Becky has hung strips of cloth outside of our windows to alert oncoming birds to window strikes, but this male lands right on the strips, where he clings and pecks and flaps at his reflection in the glass, making little blue cries all the while. He strikes with his number-two end too — call it projectile defecation. The glass streams with bird snot and black-and-white goo. But the harder he attacks, the harder his spitting image fights back, beak for beak and doo for doo. Now I know why bluebirds are classified in the family turdidae.
At least the male pileated woodpeckers I watched square off in the woods this morning were both real life birds. They landed on the opposite sides of a tree trunk then hopped sideways towards each other, clinging to the bark with their feet, until, coming into sight, they flared their wings and gave air-pecks — "take that!" Then they hopped sideways in the other direction to flare and peck again. So intent were they on intimidating each other that as they flew from tree to tree they came ever closer to me. When they reached a trunk I could almost touch, I wondered if they would land on me next.
But for a case of self-destructive fighting with one's own image, our bluebird can't match the fiery red cardinal that a couple of years ago battered his likeness in my study window. I'd be reading quietly by the window, trying to climb Plato's ladder of love or to hear the rich melody in Keats's ode to a nightingale, when, WHAM! the cardinal would hurl himself into the glass, rattling the window in its frame and my brain in its skull.
I tried yelling at him, rapping on the pane, running out to chase him off. I'd barely be settled down again when, Wham! What happened to the cardinal pair I used to see in the yard with young in tow, all tenderly "chipping" to each other?
One day I pretended to be reading, but I had a camera in my hand. Out of the corner of my eye I saw the fireball coming. I quick held up the camera and snapped. The photo is fuzzy, but it does show the deranged glint in that bird's eye when he body-slammed the glass.
Is it coincidence that our manic birds are red and blue? Sometimes I can't help but wonder if today's diseased politics, enflamed by self-serving politicians and cunning opinionators, has infected Moses Creek fauna. Other times I think maybe it's the other way around — that our yard bird psychosis has jumped to humans and spread from coast to coast. We seem to have become a nation of birdbrains banging at "the enemy" — when often the "they" we see reflects the suspicion running wild inside our own minds. Almost 200 years ago Thoreau put his finger on this feverish condition humans are prone to: "I know of no rule which holds so true as that we are always paid for our suspicions by finding what we suspect." Today, a psychologist might diagnose it as projectile paranoia. I call it foul.
The cardinal fought the window for weeks — an American Narcissus eyeing himself in the glassy pool, though with hatred instead of love. Then one morning the slamming and glaring stopped.
Hearing Becky tap on the window, I went out to see what she was pointing at. There lay the cardinal crumpled in the grass, his once-handsome feathers soaked from an overnight rain. Before he scrambled his brain or snapped his neck, had he even taken time to mate?