Ask Leah! The Ingles Dietitian
Sponsored: 10 tips for budget-friendly meals
Friday, November 12, 2021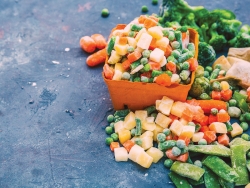 • Shop store brands ( Laura Lynn and Harvest Farm) to save money.
• Stock up on buy one get one (BOGO/B1G1) sale items that fit into meals.
• Check unit pricing on the shelf and don't be fooled by packaging.
• Check the weekly sales paper for your Ingles store to find deals on key meal items.
• Think about meals for the week and "cook once/eat twice" dishes.
• Use frozen fruits and vegetables and grains, pasta, rice (especially whole grains) to expand meals.
• Think about meat, chicken, fish and pork as condiments to your plate - rather than a major portion on the plate.
• Make your own desserts or have fresh, frozen or canned fruit for desserts.
• Instead of sodas - have Laura Lynn milk or water.
Leah McGrath, RDN, LDN
Ingles Markets Corporate Dietitian
facebook.com/LeahMcgrathDietitian
800-334-4936